Seji Hong, creator of Korean Pop-Up and brand BomBom Kitchen, has been working hard over the past few months. Having carefully developed three condiments that prove staples in any Korean pantries, BomBom has created an offering to encourage those who might not be very familiar with Korean cuisine to incorporate Gochujang, Ssamjang, and Kimchi mayonnaise in their everyday cooking.

Hawkker is excited to share this new range of condiments from BomBom with our readers, and we were lucky enough to have Seji speak to us about her new creations.
What makes each of these condiments unique and essential for one's kitchen?
BomBom's sauces are Korean fermented sauces. It's not an authentic version, but delicately twisted for everyone. If you bought authentic Gochujang, you would need authentic ingredients to harmonise them, but ours can be used for any dishes you want.
These fermented sauces go well with any meat and vegetable, so I'm 100% sure people will enjoy this newness on the dinner table, even if they have never experienced Korean food before.
When and how did you decide this was something you wanted to pursue as a part of your business and food offering?
BomBom started in 2018 as a Korean music distributor (which is what my background is in), and I used to have a supper club at my home in Wimbledon as a cultural event.
As the brand had been getting more and more traction, I have collaborated with restaurants and bars in East London which gave me a singular opportunity to meet many people. I then started planning to open a Korean restaurant, but it fell through because of the Covid situation. Then I popped an idea from the positive feedback about our sauces through my supper club, and got Ssamjang and Kimchi Mayo in some markets. People really liked it and came back to buy it again, which gave me a lot more confidence in the product, and I wanted to introduce these amazing sauces to more and more people.
I set out to develop the recipes to deepen their own flavours, found a factory that is suitable for our special sauce making process and establishing a supply system, and finally our first baby, Gochujang, has come out into the world.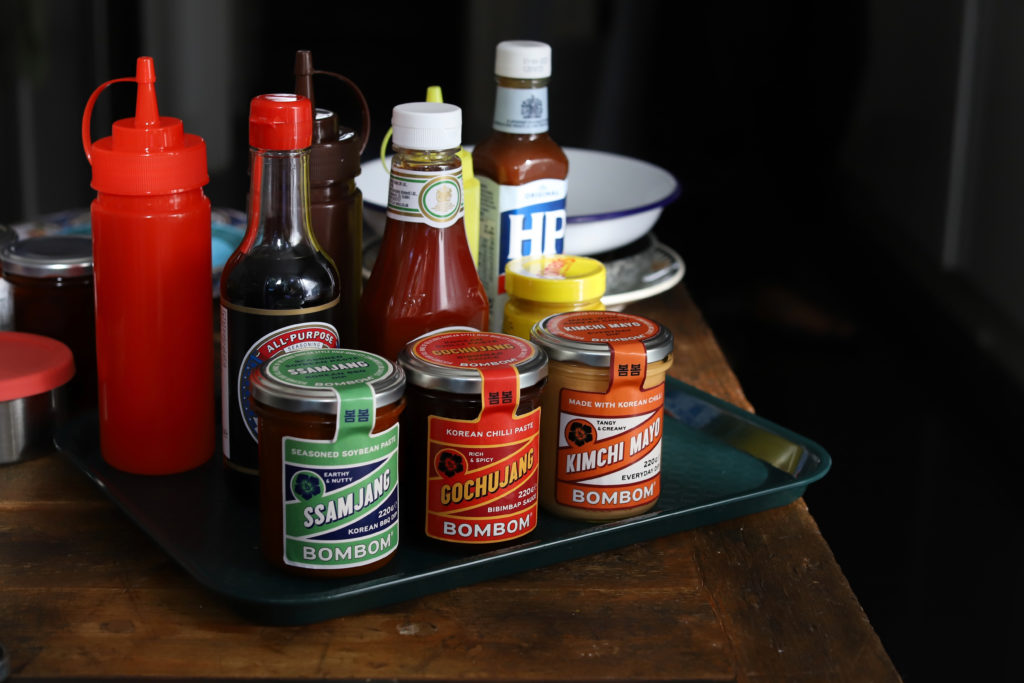 Actually, Gochujang was going to be 100% made locally but it is realistically difficult to do so as there is no Gochujang artisan here, so the Gochujang base is made in South Korea with an artisan's secret recipe, and then imported for additional touches.
How do you typically use them over a week, for example?
I would like our sauces to be everyday sauces for everyone. You can have your Sunday roast with all three – grilled beef with Gochujang, grilled vegetables with Ssamjang and chips with Kimchi Mayo.
The very next day, you can make Bibimbap by just mixing up the leftovers and Gochujang. You can have grilled aubergines with Ssamjang on Tuesday, home made burgers with Kimchi Mayo on Wednesday, then creamy Gochujang rosé pasta on Thursday. Korean fried chicken with Gochujang will make your Friday night special, and Kale salad with Ssamjang dressing for Saturday brunch all make an awesome meal plan for one week!
What are the key ingredients in each one?
For Gochujang, the key ingredient is definitely Gochu (sundried chilli powder); it has a medium spicy note so I would recommend it if you are a hot-sauce lover. Fermented beans are the one for Ssamjang, and their nutty and earthy flavour is bound to captivate anyone's tongue, and of course Kimchi for Kimchi Mayo – the tanginess and creaminess are similar to Sriracha but it's a lot more addictive.
The Gochujang is available to buy, which is super exciting. When will the other two be available?
We are looking forward to launching our Ssamjang and Kimchi Mayo next January, our sauce factory in Portsmouth is doing their best (it's made in the UK)!
Are there any updates you'd like to share with our readers regarding BomBom?
We are going to regularly host pop-up events with the menu based on our sauces. If you are a big fan of Korean food, you will probably know the sauces but if not, it would be great if you could come join our pop-up and taste Korea. As BomBom is also an online natural wine bottle shop, pairing Korean food with natural wine would be one of the new and fun parts of our events.
Discover more vendors like BomBom on Hawkker, or find Korean cuisine near you.