If you don't know what "Eat What You Want Day" is, allow us to enlighten you. Taking place May 11th, Eat What You Want Day was created to cut through the constant dietary restrictions most of us place on ourselves, for better or for worse. This day was started by Thomas and Ruth Roy as a way to encourage people to let loose and enjoy food freely, even if just for 24 hours. In fact, many nutritionists agree that being too restrictive, too often, can lead to unhealthy binges on highly processed, junk food.
The takeaway from this special day (pun intended) is for people to forget the dietary rules they place on themselves – of course, dietary restrictions because of health concerns are not included – and indulge in something special they wouldn't otherwise eat.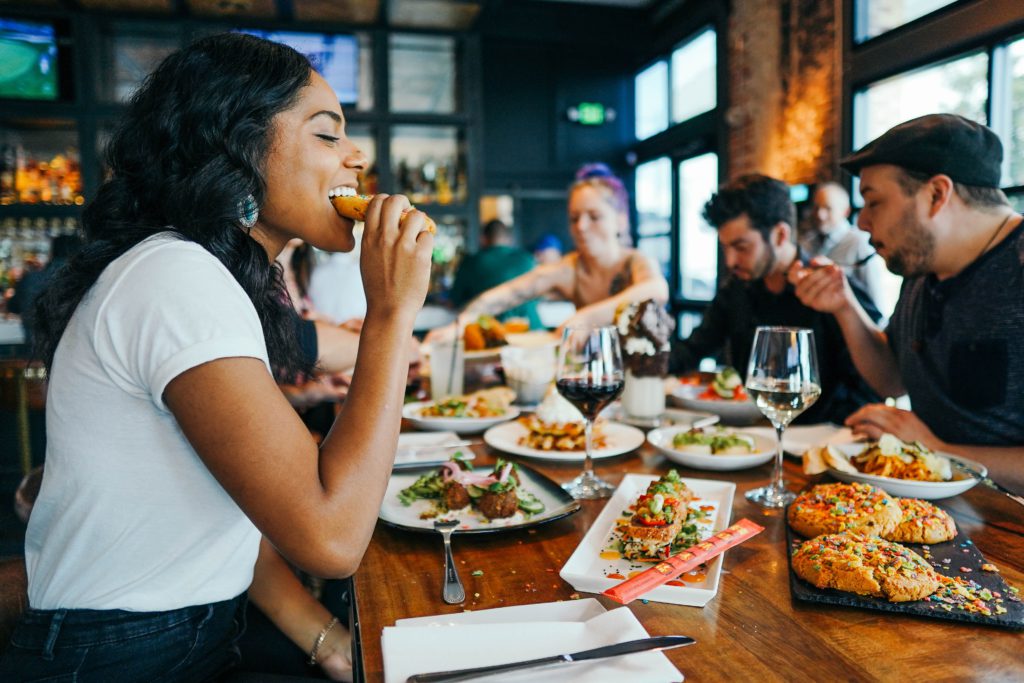 At Hawkker, we celebrate great tasting food of fantastic quality, made by talented, passionate, independent food vendors. Eating what you want doesn't necessarily mean that it needs to be something bad for you – it could simply be a moment of decadence, trying something new, or allowing yourself to eat foods you usually restrict.
In celebration of the occasion, we've compiled a list of great, unusual and unforgettable food spots in London that would be great places for you to enjoy Eat What You Want Day.
Fallow
Check out Fallow for some innovative yet simple modern British cuisine. From lemon peel pudding with a salted caramel filling, to Carlingford Oysters and Venison Tartare, Fallow has a wonderful menu that will make anyone jump at the idea of dining out again. With intelligently created fish and meat dishes, brilliant and hand-crafted condiments – such as Fallow's own Sriracha or Kombu Ketchup (which they suggest you use in their classy bacon butty) – and a house-brewed Negroni mix, Fallow is definitely one to visit.
The Farrier
Tis finally the season for pub gardens in England, and luckily The Farrier is here to oblige. A beautiful British pub that champions seasonal menus and natural wine, The Farrier is Camden Market's first-ever pub. If you're lusting after a stunning Sunday roast and a glass (or two) of Pét-Nat wine, or perhaps fancy a seasonal house martini with your Cornish Haddock and Triple Cook Chips, we think this may just be the spot for you.
Ayllu
Located in Paddington, Ayllu offers a unique fusion of Peruvian and Japanese cuisines. Serving contemporary small plates designed for sharing, freshly made sushi, and innovative cocktails to complement their fresh yet warm flavours, consider visiting Ayllu if you want to spend Eat What You Want Day expanding your culinary horizons.
Brat at Climpson's Arch
Open for bookings of 2-6 people with a covered outdoor dining area, Brat Restaurant is operating a residency at Climpson's Arch in Hackney. Working closely with farmers, fishermen and producers, Brat's menu is led by the ingredients and seasons. Serving the likes of roasted chicken rice, whole crab with hay butter and wood fired breads, you won't want to miss out on this place.
Flor
Inspired by the "buvettes" of Paris and the "pintxos" in San Sebastian, Flor is one of London's best wine bars, bakeries and restaurants all rolled into one. What makes Flor work is their combined quality and simplicity, flawlessly executing pastries such as apple chaussons, or creating inventive, savoury Danishes guaranteed to surprise your palate (their asparagus, Perroche aioli & Corra Linn Danish is just one example). Open for indoor dining reservations from May 20th, you can still drop by and order some of their fantastic creations for takeaway.
Search Hawkker for any cuisine of your choosing in which to indulge this Eat What You Want Day.