The rise in Modern British cuisine's popularity has been well documented in recent years. Now, the commitment to quality, hard work, and innovation have made Modern British the highest trending cuisine in the United Kingdom, as confirmed by The Food People's Food and Beverage Trends Report 2020/21. This is an exciting shift for Brits, whose gastronomic output has long been found wanting by the global community. Battered fish and chips, mushy peas, sausage rolls, meat pies – we are not exactly renowned for delicate, inventive, or complex dishes.
However, British food has experienced a slow-burning renaissance thanks to brilliant chefs taking old classics and running with it. Finding inspiration in our native landscape's fresh produce, herbs and spices, meats, and fish, Modern British cuisine is deeply rooted in its respect for the craft and trade of farmers and fishermen, who provide top-quality ingredients. This cuisine doesn't come with flashy bells on, but trades in taste depths and layers, contrasting textures, and underscore the importance of the dishes' origin stories. In this mini-series, Hawkker shines a light on some of the chefs and restaurants that have helped define Modern British cuisine.
St John is iconic. Established in 1994, St John was set up by Fergus Henderson, Trevor Gulliver, and Jon Spiteri, building its reputation on their talent to source, prepare and serve food in all its glory. Indeed, St John is famous for using meat from "nose to tail", wasting nothing and tasting everything. And while much of the restaurant's cuisine is rooted in traditional British cooking, what makes it a relevant lieu of modern cuisine today is not only its consistent, high-quality reinvention of traditional dishes, but how St John has nurtured a significant number of world-class chefs over the years.
One of the many iconic items within St John's repertoire is a British staple: pies. Intelligently combining stunning quality meat, vegetables, and flaky pastry, it is something special to behold. Another landmark of British cuisine that St John has heightened to global acclaim is the Welsh Rarebit, a delightfully simple dish that brings together Guinness, Worcestershire sauce, and strong Cheddar into a delicious and quintessentially British delicacy. But don't just take our word for it! Momomfuku's Dave Chang spends a solid few minutes of his podcast raving about St John's specific Welsh Rarebit, and it is quite the love letter. And let's not forget St John's famous Eccles Cakes. Again, unapologetically British, this is a dessert that would typically be warmed up and enjoyed with a side of ice cream. The folks at St John however, recommend you pair the cake with a side of Lancashire cheese.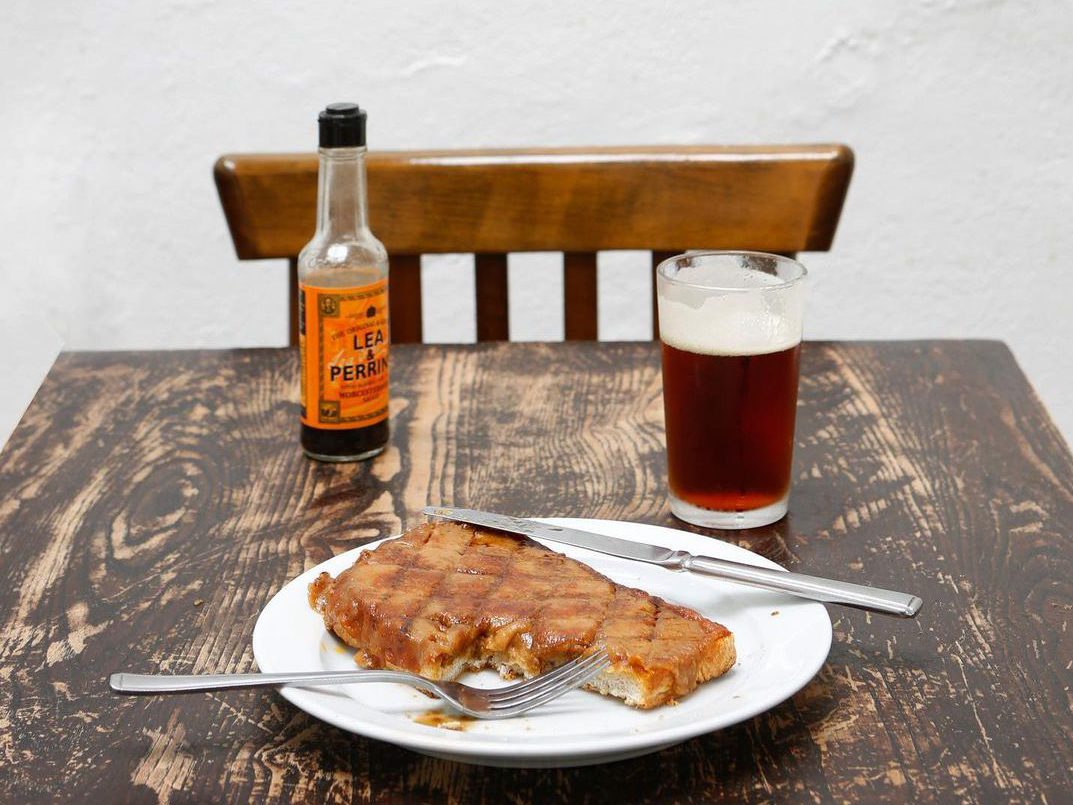 Willy's Pies was born out of the pandemic. Having previously worked at St John, Will Lewis was furloughed and left wondering what he could do next to fill his time. Doing what he does best, Will launched a business focused on creating delicious pies alongside a few other gems of British cuisine. Alongside a wonderful array of pies changing week to week (think roast chicken, bacon and sage, beef mince, oxtail, and ogleshield cheese), Willy's Pies also offer beautiful slices of treacle tart, rhubarb bakewell, and apple pie, all made with heart and authentic British produce.
Currently in hibernation due to the pandemic, Black Axe Mangal (or BAM) is a small but mighty restaurant in Highbury, Islington, defined by Lee Tiernan's brilliantly shocking style and immaculate taste. Having been head chef at St John for several years, Lee picked up his fair share of tricks. BAM is known for its "huge flavours and noise and queues", so our anticipation levels for their reopening are rather high, to say the least. From hot smoked duck breast with sweet Sichuan vinaigrette and pickled quince, foie gras, and deep-fried mince pies, all the way to octopus and pig cheek skewers, there's no attempt at being anything but delicious and daring at Black Axe Mangal. Modern British has never looked so fresh.
Bright and its sister restaurant PEG are both gems of Modern British cuisine. Like Black Axe Mangal, they find inspiration in flavours and cuisines from around the world, honour the use of local produce, and respect the farmers and fishermen behind it. Recent meal kits have included their otherworldly rhubarb and apple crumble, cannelloni of guineafowl with soft melting leeks, garlic, taleggio, parmesan and black winter truffle, and even their exquisite squid sandwiches. With beautiful ingredients sourced and handled with care, Bright and PEG are doing the work contributing to the Modern British cuisine landscape.
Forming a trio with their pastry and bread specialist counterpart Jolene, Primeur and Westerns Laundry are wonderfully simple but elegant restaurants in London who are committed to making delicious dishes from sustainable producers in the U.K, and are very vocal about the need to support farmers. With a choice of vegetarian menus and meat dishes alike, some recent standouts have been their roast pumpkin with ricotta and sage, or the monkfish tails' bouillabaisse and fennel. The Primeur and Westerns Laundry family make brilliant contributions to cooking in the U.K., educating consumers as well as fellow chefs about the journey of food, from its origin, its effect on our bodies and general health, to how we dispose of it.
In each of these food repertoires, one finds an appreciation for taste and texture, and a desire to find a happy medium between the reassuringly comforting elements of traditional British foods and dishes, and the explosions of something unexpected, a clash of the senses that makes complete, impossible sense. St John's legacy has instilled a respect and inherent interest in food's journey, from its conception to its destination on the table. While St John has reached a pilgrimage destination level of worldwide acclaim and is still an incredibly relevant restaurant, it is also a place to be revered for its contribution to the current landscape of British cooking.
For now, it's a real treat to purchase one (or all) of these vendors' meal kits, but we are equally as excited to get back to their restaurants or visit them at a market stand. It's fascinating to see how far the concept of British cuisine has come, and what Modern British cuisine looks and tastes like. It has incorporated its cosmopolitan influences, integrating elements from French, Japanese, and Italian (to name but a few) cuisines in a way that better represents the diversity of modern-day Britain. With bistros, delis, and independent restaurants and cafes blooming across the U.K., the community of chefs who are pushing and developing what British cuisine is continues to grow. It's exciting to see.
You can find Modern British restaurants and vendors near you with Hawkker, easily.
Header courtesy of Food Photographer David Fedulov.