To mark the near-end of Real Bread Week, the beloved London-based Smor Bakery has been kind enough to share one of their favourite bread recipes for you to try at home: delicious, crispy dough rolls with a creamy mushroom, truffle, and taleggio cheese filling.
This decadent recipe makes 24 rolls, which we'll bet won't be sticking around for very long.
Ingredients
For the dough
150g butter
500ml milk
50g fresh yeast, or 17g dried yeast
4g salt
90g caster sugar
8g oregano
800g strong flour
For the filling
1kg mushrooms
75ml truffle oil
5g salt
200g Taleggio
1 bunch of chives
1 bulb of garlic
Thyme and olive oil to taste
For the garnish
1/5 of a bunch of chives
200g of breadcrumbs
1 egg
3 cloves of garlic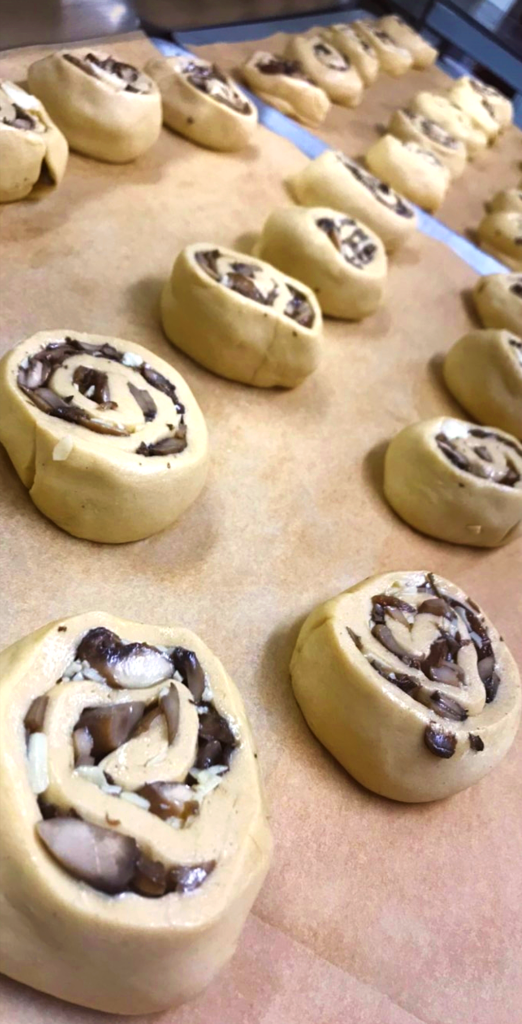 Method
Dough
• Melt the butter in a pan.
• Add the milk and warm up to around body temperature (37.5°C).
• Transfer to mixing bowl and add yeast and sugar.
• Whisk until combined.
• Add flour, oregano & salt and mix on a low speed (or by hand) until the dough is shiny and coming away from the sides of the bowl. This takes 5-10 mins and the mixture will need to be intermittently scraped from the edges with a spatula.
• Remove the dough, place in a large bowl and cover, leave to rise for 1 hr or until it doubles in size.
Filling
• Meanwhile, chop your mushrooms roughly and put on a large oven tray.
• Pre-heat your oven to 175°C.
• Season the mushrooms and add some chopped garlic, thyme & olive oil.
• Roast for 10-15 mins until soft.
• This will release liquid. Drain the liquid and set it aside.
• Tear the Taleggio into small chunks.
• Mix the strained mushrooms with truffle oil, the Tallegio & finely chopped chives.
• Season with salt & black pepper.
Crumb
• Wrap a whole garlic bulb in foil with a little oil & salt.
• Tear up some stale bread into chunks.
• Roast together at 170°C for 20 mins.
• Remove garlic cloves and chop roughly.
• Chop or blitz the bread chunks into crumbs.
• Mix together with finely chopped chives and a little salt.
Then…
• Roll dough out into a 45cm x 65cm rectangle, spread the mushroom mix evenly over the dough.
• Roll the dough towards you into a long sausage shape.
• Cut into 24 even pieces
• Brush with egg wash & cover with breadcrumbs
• Bake for 12-14 mins at 180°C for a fan oven or 200°C for a non-fan. Make sure the edges are a dark brown before taking them out.
Happy Real Bread Week, and click here to check out Smor Bakery.
Header image courtesy of by Nadya Spetnitskaya.