As we discussed in a previous blog article (Google My Business is your new must-have tool) setting up your Google My Business profile is a no-brainer: it heightens your visibility on Google, helps you understand your customers' behaviour online and allows you to engage them better. However, that's not the end of the story.
Once you've created your profile, you'll need to optimise Google My Business in order to get Google to work for you. Luckily, this is simple to do and your efforts will not go unrewarded.
Google loves rich, up-to-date, informative, unique profiles. In this article, we will walk you through how to optimise a Google My Business profile specifically for a food business. It's easy and absolutely worth it.
Your food business is unique. Make it shine
As part of the initial set-up process, you will have fed some pretty basic information into your GMB profile, such as your Business Name,  Address, Physical Location, Business Category, Phone Number and Website. This information is the bare minimum that Google requires, but just a few minutes spent on optimisation will help Google understand more about your business and better help customers along the path of their discovery and purchase .
Note: Before you are able to make any changes to your profile, you may have to wait until your ownership has been verified. Google has a handy video on how to verify your business.
Head over to the Info tab within the Google My Business admin area to get your profile optimised and shining bright online:
Business Name, Address and Phone Number
As we mentioned above, you will have already entered things like your business name, trading address, and phone number as part of the sign-up process. What's important to remember here is that the information you present on GMB must be consistent with the information you have everywhere else – on the internet and in the real world. Make sure your Google profile matches the info on other websites, review sites, and social media channels as well as your signage, stationary, and other branding.
Why is this important? There is a concept in the Search Engine Optimisation world known as NAP matching, which is an acronym for Name, Address and Phone Number. Google (and other search engines) value consistency across all the information they find about your business online. It likes to see the same name and contact details everywhere it looks, so Google can feel confident that when it provides phone numbers and addresses to users, that they are accurate. Google uses your GMB information as an important source of truth, but it will also cross-check this with other places it "crawls" through on the web.
Action: Have a Google search of your business and see where you appear for any listings outside of Google My Business. Make sure your NAP information is consistent across platforms (Don't forget your own website and social media accounts!).
It's also helpful to keep a record of everywhere this info is found, should you need to update your details in the future.
Service Areas. Where are your customers?
A good rule of thumb here is to choose locations that reflect a reasonable travelling distance for customers to visit your physical store, and the areas to which you are able to offer delivery. You might be tempted to use your full allowance of 20 Service Areas to try and rank locally in as many spots as possible.
However, this might not be as effective as you hope. Google compares these services areas with other information online, and can determine for itself whether you deserve to rank in those service areas or not.
If you run an online-only food business that delivers nation-wide, you might not have a specific service area since customers don't visit your store. In this instance, you might select "UK" or "England". It is understandably harder for online-only businesses to rank highly for Local searches, but fear not! Google Local search is not the only way customers can discover your business. Google also compares other relevant characteristics of your business to the intent of the searcher, and services like Hawkker (😉) go a long way towards helping online-only food businesses get discovered.
Opening Hours
This is pretty self-explanatory, but make sure you keep your opening hours updated and add any information with the 'Special Hours' area to flag specific days (like Bank Holidays) when your usual operating times might change.
Profile Short Name
Your Short Name is unique, so make sure that you claim it. Essentially, this short name allows you to create a short, snappy Google My Business URL (for instance, g.page/hawkker) to make it easy for customers to visit your GMB page and leave reviews, ask questions, check out your info, etc. You can also convert this link into a QR code for even easier access for your customers.
Website
This is, once again, fairly self-explanatory: you should link to the primary website for your business. And don't worry, you will be able to add specific links to your menu, reservations, and delivery pages (if they exist) later on.
If you are using Google Analytics (which you should) a more advanced tip would be to add some UTM information to this link, specifically the Campaign Source – in this case, "Google My Business Link". Without going into too much detail on how this works, it will help you identify exactly what traffic came to your website directly from your GMB profile. Further to that, you really should add UTM information to all the links your share, as it will provide a wealth of information on your website traffic (geek up on this if you have time).
Reservation, Place an Order, and Menu Links
Here is where we start to see the true power of Google My Business in how it directs customer straight to your sales channels. If customers are able to book on your website or through other providers, make sure to add these links. And make sure that you link directly to your profile on the service provider's website! So for example, don't just put deliveroo.co.uk; find the full URL that takes them to the specific Deliveroo page for your business.
If you have multiple locations in GMB, make sure you use the correct links for each specific location. As discussed in previous articles, you can use a single GMB profile to manage multiple locations for your business (if you have them). And try to also use UTM links here.
Reserve with Google
You can go a step further with your reservations and allow customers to see and book available slots at your restaurant directly within your GMB listing. This is particularly useful to customers as it shows them table availability at your restaurant without having to navigate to another page, which lessens the number of steps between you and a sale.
To do this, you will need to use one of the services that offer a Google integration – and don't worry, Google is able to integrate with a lot of booking platforms.
Menu Builder. It's worth the effort
This is slightly different to the above, where you simply entered the URL link to your menu. You might be wondering, how much use can inputting your full menu be, since you've already added a link to your menu? It's very useful, and here's why: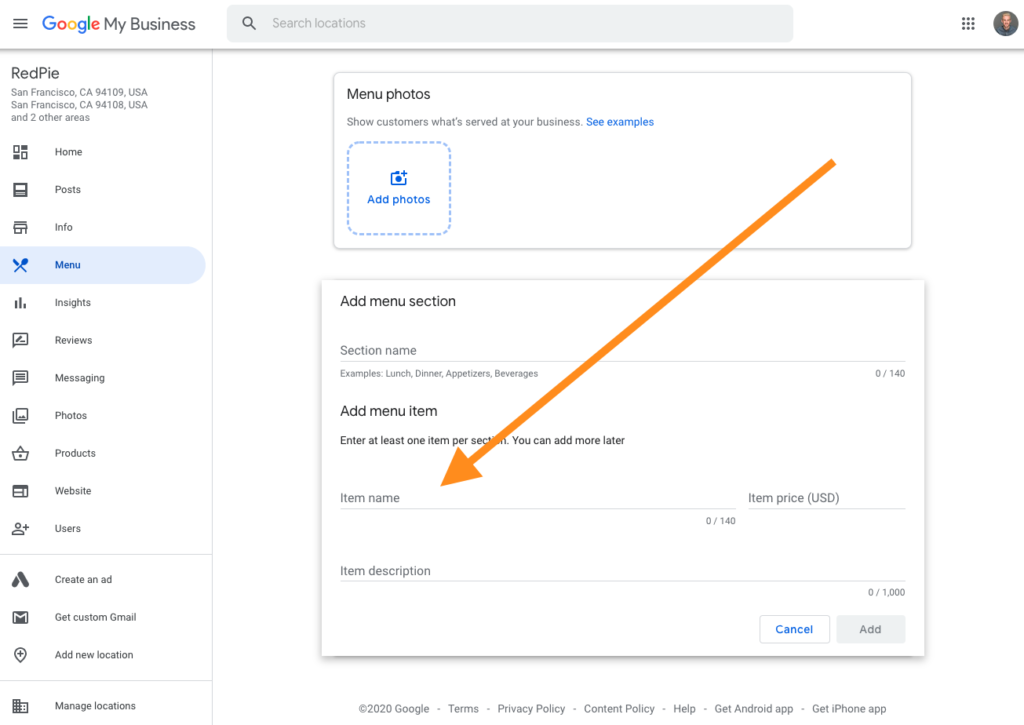 PDF Menus
Many restaurants take their PDF or image format menus (which they print and provide in store) and simply upload these to their websites. This is usually ok for humans, who can just click your Menu Link (as mentioned above) and open, read and scroll through your menu.
However, for Google's website crawler – and therefore your search performance – PDF menus presents some problems:
PDF files usually do not include meta-tags (the labels that Google understands) that allows Google to correctly identify what it's looking at. Therefore, Google has to work harder to interpret your PDF menu for indexing. Since Google doesn't put endless amounts of work towards understanding your site, it can give up once it feels some effort has been made (for search geeks, read up on Google's Crawl Budget).
PDF files can take longer to load – Google will always favour short loading times and fast loading speeds for websites.
Generally, PDF files in internet-land don't change that often and as a result, Google's will prioritise re-crawling (have another look at) through your website's text content (HTML) over your PDF menu. If you are making frequent updates to your PDF menu (e.g. with a cool, trending new dish) this may unfortunately get overlooked by Google.
Customer experience tends to be worse on PDFs. PDFs don't tend to have a consistent viewing experience across devices, they lack navigation shortcuts (e.g. 'jump to main courses'), and can be harder to share with your pals who are joining you for dinner.
Sometimes though, you just can't get away from using PDF menus on your site. In that case, we recommend you have a look at this great article on how to optimise PDFs for search engine optimisation.
Menu Schema. Speaking in Google's lingo
Even if you don't link to a PDF menu and have input your menu as text on your website pages, there is still good reason to use Google's menu builder.
As mentioned before, Google likes to see labels (meta-tags) that make life easier for its crawler. In fact, a whole system of these meta tags has been developed for all sorts of websites, including for food businesses.
Adding your menu into GMB itself allows Google to properly label your items, splitting them by 'Menu Section', 'Menu Item' and 'Price'. This is an easier way to label these items for Google instead of manually adding them to your own website's HTML (which wouldn't hurt to do as well, if you have the technical skills).
In fact, much of the data you are adding to Google My Business is automatically added in a "schema-friendly" way which allows Google to understand it perfectly. It's far easier than adding all these meta-tags to your website and checking them using Google's Structured Data tool is a lengthy process (however, you can try using this tool at some point to check how Google "sees" your page).
Keep it current
As with everything in Google My Business – make sure you keep your menu in GMB fully up to date.
Action: create a checklist of online and offline locations that require updating when your menu changes.
A quick word about Hawkker
Google My Business is an amazing resource. It helps businesses big and small to make themselves visible in search results, and on Google Maps.
That said, the fact that GMB is open to the whole world means that there are millions upon millions of businesses on there, across all different industries. It is Google and their algorithm calculations that solely determine which businesses get presented most prominently to users. Google naturally keeps the specifics of this algorithm very closely guarded, so as to avoid any gaming of their system. Furthermore, Google makes most of its money from advertising (Google Ads) and by allowing businesses to pay for the privilege of being more prominently displayed.
Hawkker has been built as a super-focused platform, which specifically helps food lovers to discover independent food brands that they otherwise might miss on Google. We've built Hawkker to leverage all the power of search engines and to help customers who use Hawkker to discover all food businesses – even the really small ones.
One of the great tools we offer is Menulytix, which uses clever software to interpret a PDF or even a photo of your menu, and turn it into a properly labelled, searchable online menu.
Check out hawkker.com to see how customers discover smaller food vendors and learn more about how we can help your food business.
Attributes
Now, here is where you can really celebrate what makes your food business unique. Google offers two types of Attributes : Objective Attributes and Subjective Attributes.
Objective Attributes
These are factual attributes, such as Outdoor Seating,Offer Credit Card Payments, Have a Happy Hour, Vegetarian Options, LGBTQ-friendly. These attributes can be added and edited by you – the Google My Business profile owner.
Since the emergence of COVID-19, Google has also created specific attributes for food business which are known as Service options to let customers know whether Dine-in, Takeaway , Curbside-pickup, or Delivery options are available.
Subjective Attributes
These cannot be controlled by the business and can only be submitted by Google users who Google believes have been to your food business. Google will ask users certain questions, e.g.:
"Is this business known for being Good for Kids?"
"Good for groups?"
Users will answer "Yes", "No" or "Maybe", or have the option to select "More Choices" should they need to refine their answer. Once Google feels it has enough feedback on this question, it will apply this subjective attribute to your profile for users to see.
As with any crowdsourced information, this is imperfect and you may occasionally receive a subjective attribute you disagree with. If this happens, you can get in touch with Google.
And in any case, do not be tempted to ask customers to add specific subjective attributes in their reviews or in their answers to Google by answering questions to Google – this goes against Google's policy.
Business Description
This is where your creativity and writing skills come in handy (and if that's not your forte, Google also provides guidance and a few handy tips on writing your business description).
You have just 750 characters to tell potential customers all about what makes your business unique, and why they should shop with you over others. You probably have a strong idea about your unique selling proposition already. Consider your brand personality and the tone of voice you want to use here, and align this with the language on your website and other marketing materials. The goal is to create a consistent brand-feel across all platforms, online and offline.
A few things to think about:
Include some keywords related to your business which you think online users would search for.
Try to highlight the uniqueness of your business! Maybe you offer plant-based choices, or are based around a lesser-known cuisine; whatever it is, be sure to emphasise this.
Make sure your description reads naturally.
Do not add any URLs in the description.

Photos & Videos. We all eat with our eyes
If you've ever opened Instagram, watched TV, or glanced at a billboard, it won't surprise you to know that high quality images are vital for almost any business promoting goods and services.
According to Google, business profiles with photos receive 42% more requests for directions on Google Maps and 35% more clicks through to their website than business profiles without photos.
Google advises that food businesses upload a few different types of image:
At least 3 exterior shots, which you should try to shoot from different directions and at different times of day.
At least 3 interior shots that show what it's like to stand inside your premises. Try and present some images which capture the atmosphere (ever-hip Google even use the word "Vibe") when customers are there.
Loads of food & drink snaps. Show off your most popular items! Taking food photos is not always easy and there is a lot written online, but we recommend you have a quick look at this article from the iPhone Photography School.
Photos of your staff at work, showcasing your front of house and chefs doing their thing.
Be sure to label your photos with the correct category when uploading (e.g. Food And Drink).
Do not use stock photos(!). If you've ever used Google Reverse Image search, you will know how powerful a tool this is. Google will find out if your photos are not your own and delete them, and could potentially take further action against your profile.
If you don't have the time or skills to do this yourself, just find someone who was born post-2000 and they will most likely be pretty good at this. Alternatively, you can hire a professional for a few hours at decent rates. And if people on Instagram have taken photos of your business that you want to use, make sure you ask them for permission first before adding them to your GMB profile.
A technical recommendation: before you upload your images, try to rename files from something random like "IMG_134393" to something meaningful, such as "Classic_Beef_Taco". This helps with visibility.
Videos
Much of the same applies to creating and uploading videos, although shooting good video is a bit more tricky. Think about cool videos of your chefs preparing dishes, or record the atmosphere in your restaurant when it's buzzing at service.
If you want to get really fancy, you can consider creating your own 360-tour. For more info on this, have a look at Google's article on Street View for interior tours.
A note on User Generated Photos/Videos
Images that you add will be labelled as "from the owner" by Google. Your Cover photo is your preferred photo to be shown on your listing in Search and Maps. With regards to other photos, you do not have direct control over the order in which images will be presented to users in your gallery. Since photos are also crowdsourced, users' photos might be presented in your gallery before the ones you uploaded yourself.
Again, if you have any issues with media uploaded  by users, reach out to Google.
Photo Analytics
In your GMB analytics area, Google provides you with some interesting insights by comparing images you've uploaded to those added by customers. It also gives you some performance metrics on how many times your photos have been viewed and compares your stats to other businesses Google thinks are similar to yours.
Wrapping up Google My Business optimisation
This may all look like a lot of information, but don't let it scare you. You probably have most (if not all) of this information to hand already, and it will take just a few minutes of your time to get it all set up nicely in Google My Business.
Still, if you have any questions you can reach us by clicking the chat icon (bottom left) and we will do our best to answer any questions you might have about this article or Google My Business.
Never heard of Google My Business?
If GMB is unknowable jargon to you and you haven't set up your Google My Business profile yet, start by checking out why Google My Business is your new must-have tool.
Next Steps
Want free, focused advice on how to better market your food business?
Take our 2 minute marketing audit and we'll help you level-up!