Google the behemoth
Unless you've been hanging out in rural North Korea for the past decade, you already know how powerful a tool Google can be for businesses to get discovered online. You also know how important Search Engine Optimisation (SEO) is to ensuring you appear at the top of Google results lists when people search for things related to your business. Google My Business is your gateway to helping the search engine behemoth, help you.
By now, you know that SEO is crucial to your business. It also won't surprise you to hear that Google is by far the most visited website in the world, commanding over 90% of the market share for searches, with around 3.5 billion Google queries being performed each day. In a survey conducted by Moz (an SEO tool), 84% of respondents said they perform 3 or more Google searches, daily. Almost half of all Google searches are performed to find local businesses, and as many as 4 in 5 people say they turn to Google when searching for things nearby.
One thing may still surprise you, however. Did you know that you can harness that global search power and ensure more people are discovering your food business, with their (totally free!) Google My Business tool?
Pause here, grab yourself a cup of tea, and then settle in to find out what Google My Business can offer, how it is used, and exactly how it can help you.
TL;DR
You'll want to set up Google My Business for your food biz ASAP; it helps you appear high up in searches and ensures your business shows up in both Google Maps and Google's local results. Granting you insights into how your customers discover your business and what they do from there, Google My Business (GMB) allows you to capture feedback, engage with your customers, and provide a whole host of other, useful information. It takes only minutes to set up, can be a game-changer for your online visibility and, in case that wasn't reason enough, it's totally free.

What is Google My Business?
GMB is a free tool, created by Google to allow business owners to manage their business' online appearance within the search engine's results page. It helps Google (and therefore, the world) understand more about business in order to deliver the most useful results to people searching for goods and services.
Navigating the vast sea of online data, customers have come to expect accurate, easily accessible, and clearly presented information to make their visit and purchase decisions. GMB facilitates this by allowing businesses to:
Provide high importance information about your business, such as what you sell, your opening hours, and contact details
Tell customers where you are and when you are open through Google Maps
Share photos of your food and premises
Build trust and credibility by sharing customer reviews
Share posts to update clients on the latest goings-on at your business
Share all of this information through a mobile-optimised interface
Receive detailed data on how your customers found you, and what they did after that.
Is Google My Business free?
Yes. Whether you are a established, multi-national chain or a fledgling taco start-up, it doesn't cost a thing to set up a profile. Further to Google's claims of benevolence in wanting to support small businesses, the wealth of information gathered within GMB also allows Google to serve up more useful search results, essentially increasing the quality and domination of their main product: Google Search.
GMB also gives Google the opportunity to sell you their paid services, including Google Ads, a professional email, and Google Workspace products. To be clear however, these are entirely optional, and in no way required to set up your business on GMB.
Do I need a physical shop for Google My Business?
No you don't, says Google: "Whether you're a home-based business or a service-area business, you can list your business details to appear on Google with or without a physical address."
My business has multiple locations. Can I list them all in one account?
Yes, you can use location groups to make adding locations easier or, if you have lots of locations, you can even upload a bulk list.
What else can Google My Business do?
Setting up a GMB profile does not guarantee that search performance (i.e. how frequently you get discovered on Google) will improve. However, given it is free and takes minimal time to set up, creating a GMB account with accurate, up-to-date information about your business can only be a good thing.
Local 3-Pack
Potentially one of the most attractive results of GMB would be for your business to show up in what is know as the Local 3-pack. You might not know the name, but in all likelihood you've seen this function many times. Essentially, the Local 3-pack is an element within Google's Search Engine Results Page (SERP) where Google presents what it sees as the three local, physical businesses most likely to satisfy searchers' intent. Given that 46% of all Google searches are looking for local information, appearing within the Local 3-pack could be a game-changer for your business' discovery.
As an aside, if you want to geek out on SERPs and ensure you never look at Google results the same way again, we recommend this awesome article on SERPs, courtesy of Moz.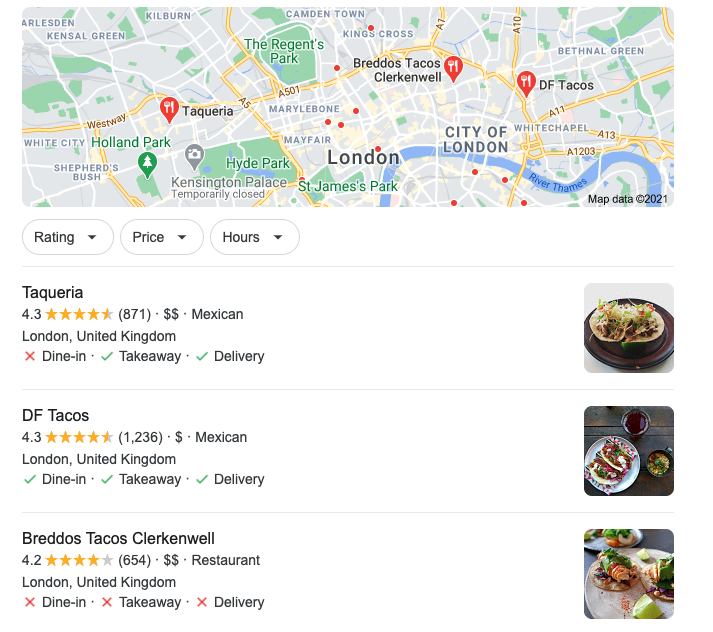 After clicking a listing in the Local 3-Pack, a user is then directed to Google Maps and presented with a whole bunch of further data, provided by the relevant business through their Google My Business profile.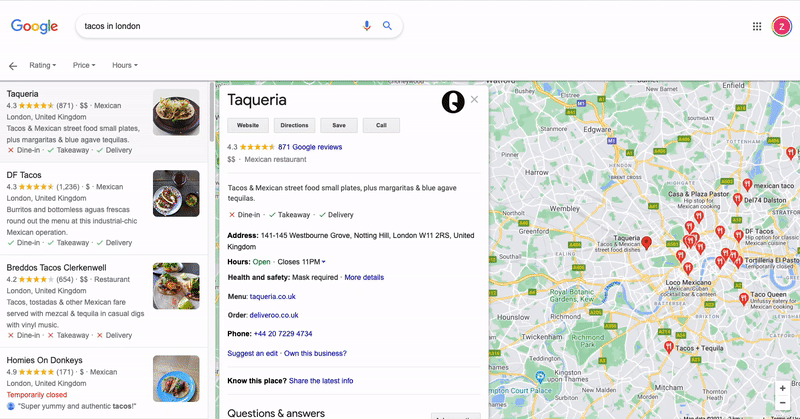 Analytics
Discovery
GMB tells you how customers are discovering your profile and breaks this down into categories.
These three categories can tell you a lot about the sources of traffic reaching your business:
Direct searches suggest that customers are entering your business name straight into Google's search bar. This means they know you exist and specifically want to find out more about your business. These tend to be the customers who are most engaged (they are more likely to purchase from you or visit your store).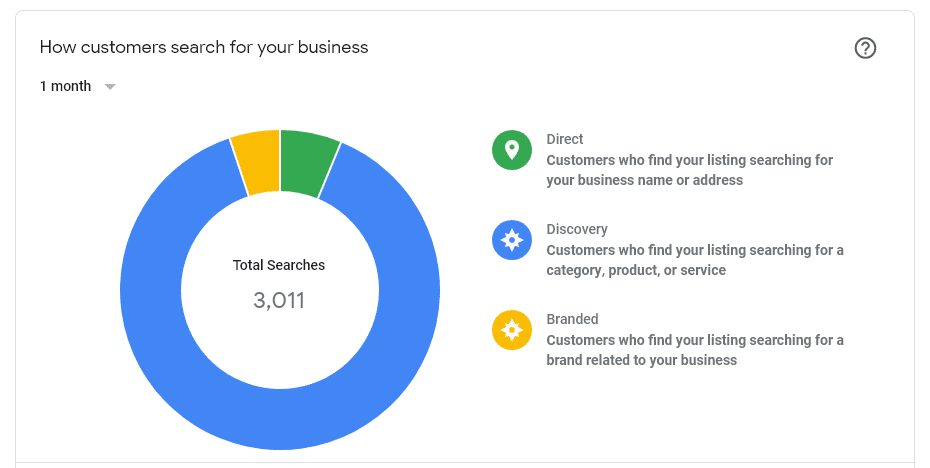 Discovery searches are when customers are interested in a product category or specific item that Google thinks you are likely to sell. For example, if you sell tacos you may get a lot of traffic coming from people looking for "tacos near me". To maximise your chances of being displayed for discovery searches, make sure you list all your products and services in your GMB profile – include your whole menu and make sure you include information about your cuisine and other distinctive features (e.g. making sure "vegan Mexican tacos" appears within your profile).
Branded searches are a bit more complicated, but are most similar to direct searches. If your business happens to sell products from another brand and a user searches for that brand, you might get traffic as a result of that search.
Search Queries
Further to the above, GMB can also tell you what search queries were input into Google that resulted in traffic to your business profile. For instance, you might be surprised to find that people are searching for "Gluten-free tacos in Nottingham" and finding your business, meaning that you rank well for this query.
Behaviour
Once a customer discovers your profile, GMB can tell you a lot about what actions customer then took. For example, if you've added your website, a phone number, and a link to make bookings, Google can tell you how many website clicks, calls, bookings, etc. were performed.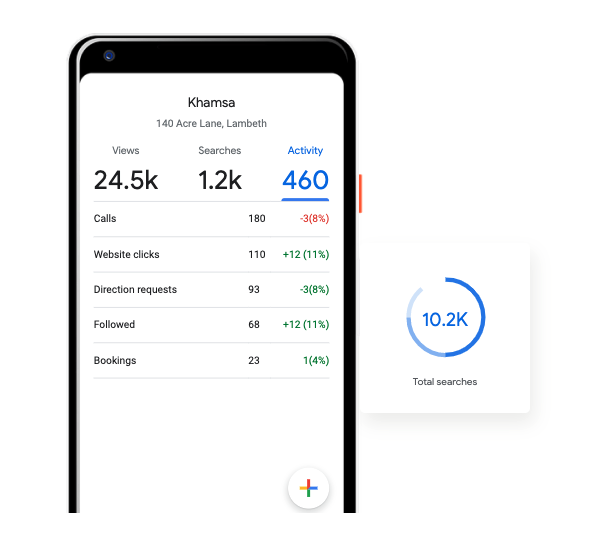 Directions Requests
This is a very cool feature. When users ask Google (using Google Maps) for directions to your business from their current location, Google saves this information. Obviously, it won't divulge their exact address, but it will give you an indication of the general area (postcode or city) where they are located when requesting directions to your business. This sort of information can provide useful insights into how effective your marketing is in certain neighbourhoods, and where you could promote more.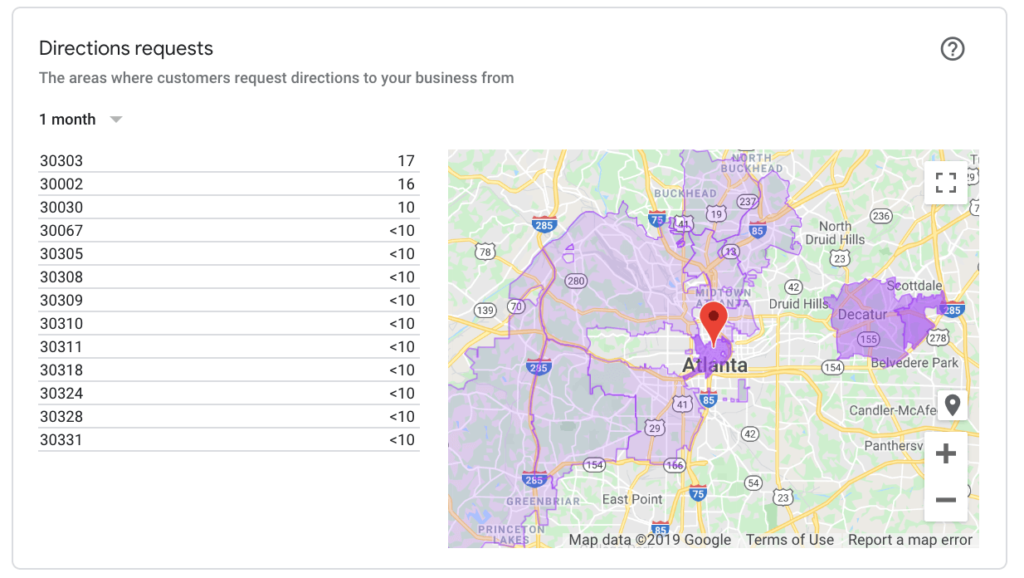 Customer Engagement
In this day and age, customers expect to find reviews and information on every potential purchase they make online. According to TripAdvisor, 87% of people surveyed said that online reviews influence their dining decisions with 52% saying that they use online photos to help them make their choice.
These stats may not be so surprising, but what you might not know is the importance that Google places on reviews as a strong signal for their search ranking. As such, a good stream of reviews can be a huge help to your SEO.
GMB allows users to review your business. Obviously, what you are aiming for is an ongoing stream of real, positive reviews from customers. You can help this along by asking your customers to review their purchase, letting them know how valuable this is for your business.
To provide users with a shortcut to your review page, you can give them a direct link that Google creates for you. Just drop this into order confirmation emails, receipts, or on your packaging. A lot of places will even convert this link into a printable QR code for scanning on camera phones, which makes accessing your review page super simple and hassle-free.
Google also have a wide range of resources to help you create marketing materials for your business; why not check out their Google My Business Marketing Kit page?
Reviews are incredibly useful, even bad ones
A lot has been written on responding to customer feedback, even in the pre-internet Dark Ages. Many of these points are as true now as they were then, and though a full discussion on feedback management could alone fill a blog, here are some quick, useful pointers:
Have amazing customer service. This is rather simply your best chance at getting positive reviews. No marketing campaigns, adverts, pretty Instagram posts, or promotions can distract from bad customer experiences; and remember that customer service extends to the online world.
Do not cherry-pick reviewers! It is against Google's policy for you to try and find out whether a customer had a positive or negative experience before asking them to leave a review.
It goes without saying, but do not write your own reviews or ask others to write fake reviews. If Google find out, they can suspend your business from GMB or even block it from showing up in searches.
Take bad reviews seriously and respond promptly. Be respectful and proactive in solving problems, assume responsibility for things within your control, and explain when issues are out of your hands. After all, a series of negative reviews on the same topic might highlight an issue that you need to resolve (for example, "This taco is waaaay too spicy and it dripped all over me when I ate it" might signal a need to rethink packaging or spice levels). Google also has some helpful tips on handling negative reviews.
There is strong evidence to show that Google cares a lot about the frequency of reviews, and not simply whether they are good or bad. Frequency is a measure of customer interaction and this tells Google that your business has engaged customers.
Lastly, if you suspect that you've received fake reviews or reviews that violate Google policies, Google allows you to flag these and request for them to be removed.
In conclusion
Google My Business is totally free, takes mere minutes to set up, and can seriously level up your visibility on search results, facilitate customer engagement, and provide valuable insights into how people discover and interact with your business online. So if you haven't already signed up, what are you waiting for?
Still have questions? You can reach out to us by clicking the chat icon (bottom left) and we will do our best to answer any questions you might have about this article or Google My Business.
Next Steps
Finally: a word about Hawkker
Google My Business is an amazing resource, it helps businesses big and small to make themselves visible in search and on Google Maps.
That said, the fact that GMB is open to the whole world means that there are many millions of businesses are on there across all the different industries. It is Google and the calculations within their algorithm which solely determines which businesses get are presented most prominently to users. Google naturally keeps the specifics of this algorithm very closely guarded to avoid any gaming of their system. Furthermore, Google makes most of its money from advertising (Google Ads) by allowing businesses to pay for this privilege of being more prominent.
Hawkker has been built as a super-focused platform, which specifically helps food lovers to discover independent food brands that they otherwise might miss on Google. We've built Hawkker to leverage all the power of search engines and to help customers who use Hawkker to discover all food businesses even the really small ones.
We have tools, like Menulytix, which uses clever software to interpret a photo or pdf of your menu and turn it into a properly labelled and searchable online menu.
Check-out hawkker.com to see how customers discover smaller food vendors and learn more about how we can help your small food business.
Want free, focused advice on how to better market your food business?
Take our 2 minute marketing audit and we'll help you level-up!