Have you ever had a fresh lasagne delivered to you by cargo bike? This is exactly how Tom Haydon started his business, "Tom's Pasta". After months of experimentation and many miles cycled around London to deliver lasagna, burrata, and tiramisu to hungry customers, Tom now operates out of a brick-and-mortar restaurant in Hackney Downs Studio, a reconverted printworks space housing a community of creatives' businesses. Today, Tom's Pasta welcomes eaters to sit down in the clean, warm-toned, softly-lit space and look into the open kitchen as Tom whips up one delicious plate after the next.
The menu at Tom's Pasta is simple, but the chef's hunger to experiment with new flavours and dishes means you may not find the same menu from one week to the next – though his signature dish, the most perfect and silky lasagna, is thankfully a mainstay. Usual menu champions also include starters like the generous, creamy portion of burrata and fresh bruschetta, or classic desserts like Tom's tiramisu, his rich, dark chocolate tart, or deliciously tangy lemon panna cotta. What ultimately makes Tom's cooking so addictive is its commitment to quality and simplicity.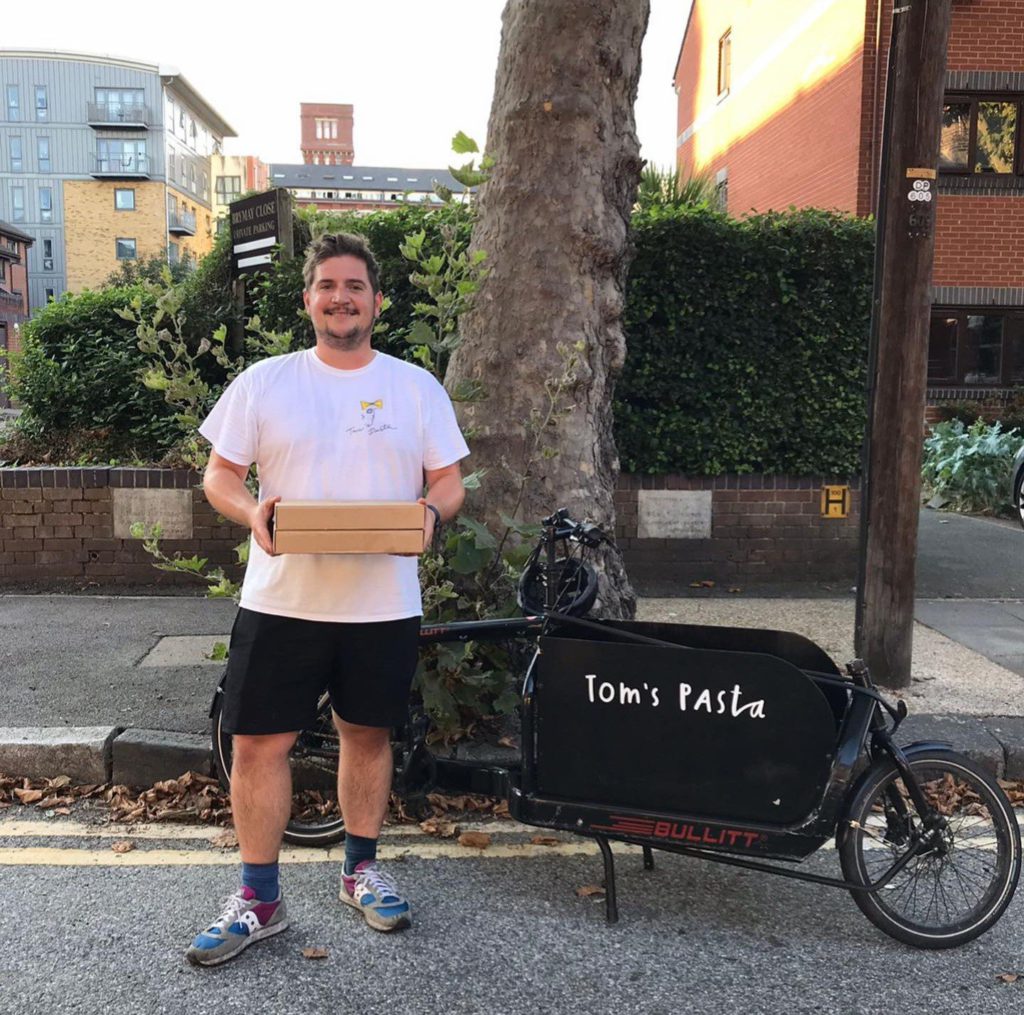 Tom didn't use to cook very much. In fact, the only meal he would spend any time on was spaghetti bolognese and, up until 2019, he was pretty satisfied putting ketchup in it. That is until he realised he needed a hobby, and established that the best hobbies were the ones you could eat. Pasta already being one of his favourite sources of nutrition, Tom decided to learn how to make it from scratch – and, as it turns out, how to make it really well. This was the moment that Tom's Pasta was born, he recalls: "After learning from YouTube videos, I then would spend one day a week – on my day off – working at a restaurant called Luca. I planned a summer of supper clubs and pop-ups, but Covid put a quick stop to that. At that time, jobless and with a blank slate, I thought about doing delivery.
"I thought about how best to deliver pasta, and the labour of making a lasagne came to mind. Everyone loves a good lasagna, and with all the people working from home and having to change their routines and look after their kids all day, all of a sudden, a homemade lasagna delivered to your door struck me as a great idea."
What was it about lasagna specifically that had Tom so enamoured? After a lifetime of eating them ready-made like many of us, Tom discovered the "therapy of making pasta dough," and the enjoyment he felt being able to see the progress he was making day by day encouraged him to keep at it. And of course, the fact that the dish is completely delicious didn't do any harm to his motivation.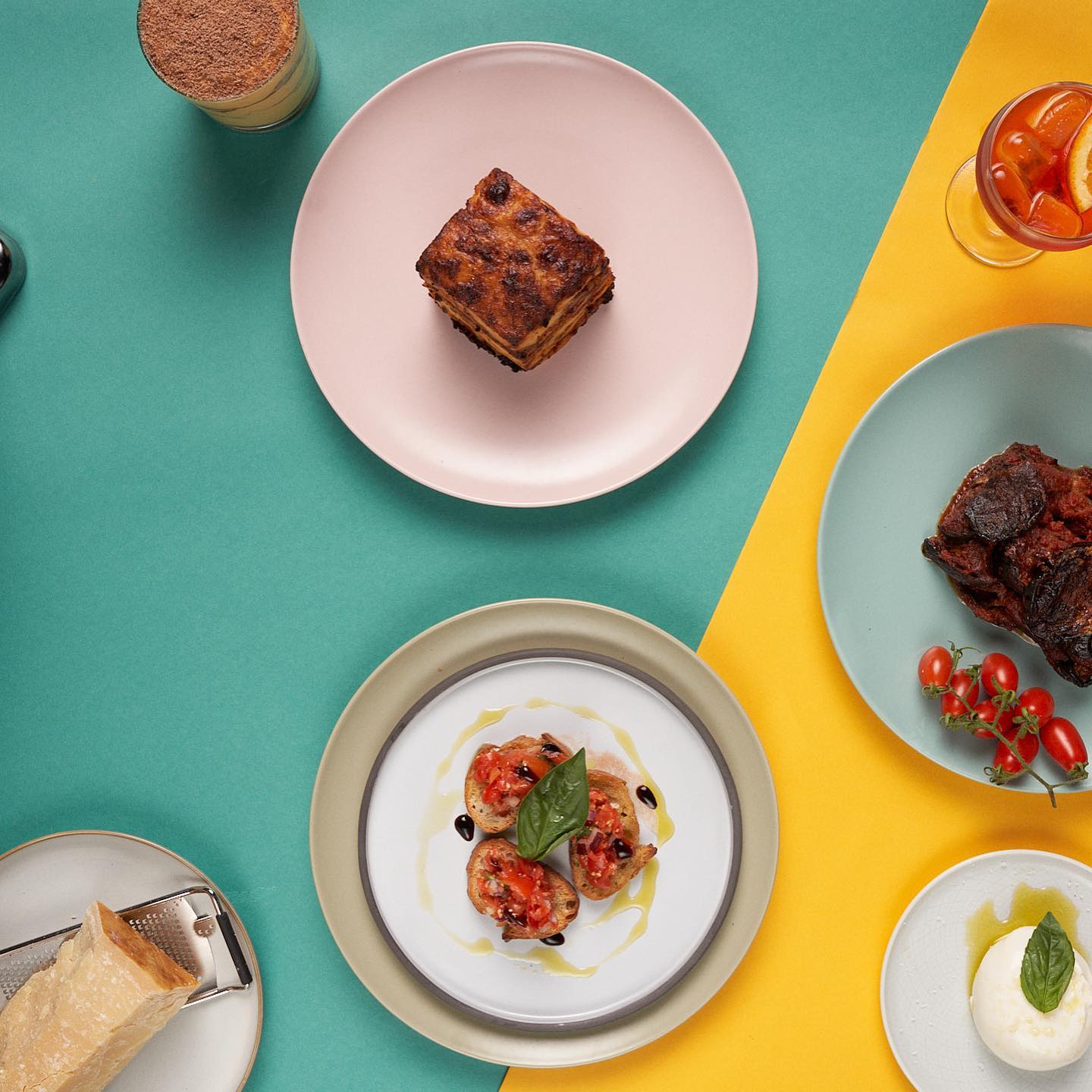 "To me, you can have traditional lasagna, but you could also layer something delicious with fresh pasta and bechamel, and still call it lasagna – so I enjoy experimenting with new things during the seasons. I love the smell of a lasagne cooking in the oven, the four main elements melting together… it's good enough to make your housemates jealous."
Tom quit his job in 2020, a few weeks before the pandemic would shut everything down and grind the world of hospitality to a halt. Seeing it as a chance to create something new and exciting that brought him joy, Tom did his best to frame the situation in a positive light; he decided he should "use the horrible times and try to make a good thing out of it, not just for me but for the people I'd deliver to." Luckily, the new chef works well under pressure or, as he puts it, "with my back against the wall – it was actually a good amount of pressure to be put under." Tom recalls the spring of the first lockdown, "cycling my big cargo bike around the empty east London streets", being able to enjoy the free time, space, and better weather whilst having a good reason to be out of the house.
Though of course, Tom also suffered some trials and setbacks – above all else, the loss of his father. "When you have a 6-month-old business and you suddenly have to leave London for months to be with your family, you do think that, "that might be the end of the little adventure I'd had." I thought about what my Dad would have wanted me to do, though, and he would have wanted me to keep going with this and make him proud. Whenever I feel tired and just want an hour extra in bed, I just think of him telling me to get my a*se back to work."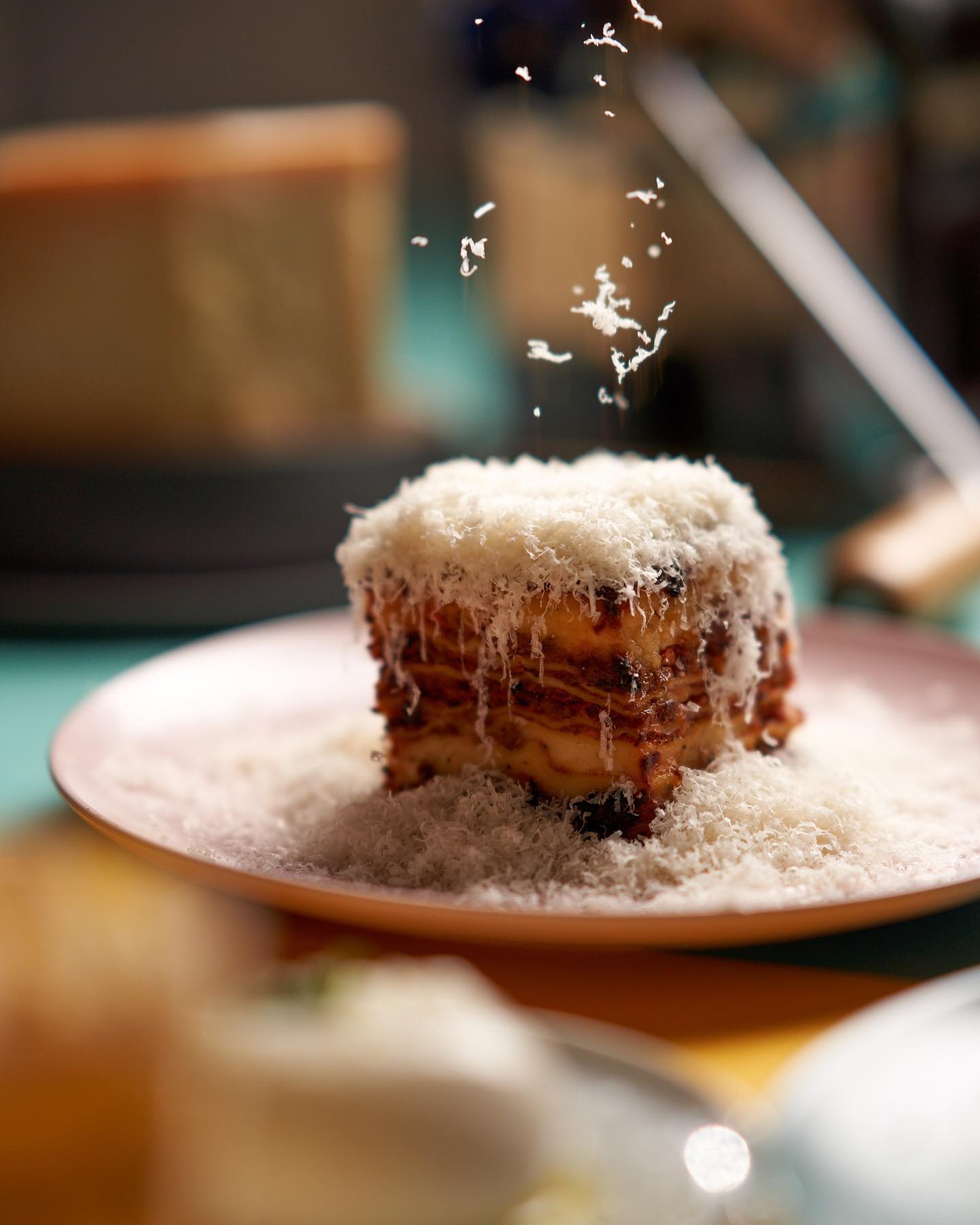 Though Tom ultimately succeeded in turning his passion into full-time employment, running your own business also means that when issues arise, they can be particularly difficult to move past. "A poor Google review, waking up depressed or in a bad mood, and still having to get up and put on the persona that makes Tom's Pasta," is challenging, Tom confesses. "Making mistakes like messing up deliveries, it doesn't matter if you do 99 things perfectly, it's the one mistake that keeps you up at night." It's for this reason that recognising one's successes is paramount – which for Tom, have come thick and fast. "The first people to buy a lasagna, the first time they come back," he explains, "the compliments, the people whose parties I'd cater, and the freezers I'd stock – those have all been very high points, big and small, and they're the ones you have to remember down the line."
As his restaurant comes into its own, Tom has been taking full advantage of having his very own, professional space to experiment in and develop his craft. In the short term, Tom is particularly excited about trying out new recipes, having full control of what food gets made, and the prospect of running the restaurant during the summer season. He loves the freedom of "waking up to a particularly warm day in the summer, and just changing the menu so that I don't have to turn the oven on! Nobody wants hot food when it's 30 degrees at 9pm." He's also recently "bought a deep fat fryer, which is every kid's dream come true. I'm going to be seeing what works and what doesn't. Deep-fried tiramisu, anyone?"
As for the long term, Tom is committed to making the space really work. Once the colder months come back around, he'll be looking to bring back home deliveries for his famed lasagnas, and may even look for a second site to serve as a production hub close to the original Tom's Pasta, to ensure an ever-plentiful supply of food for the restaurant, for deliveries, and any eventual pop-ups. He also plans to introduce a small retail section, "so people can walk by and grab a few hundred grams of fresh pasta for dinner that night, or to be able to grab a few mini lasagnas for their mate who's just had a kid."
Tom's Pasta is undoubtedly Tom's baby, and he's got the hunger, determination and talent to help it grow. "As long as I can keep it fun, exciting and fresh, I'm ready to work my a*se off for the next few years. And who knows where it will end up!"
Check out Tom's Pasta here.
Easily search for pasta and Italia Mediterranean, Israeli or vegan restaurants near you, and create lists of your favourite veggie spots to share with friends – all on Hawkker.