Blossoming at the beginning of the UK's lockdown in 2020, the fruits of production company Second Window's hard work started to take shape. The first episode of their new project, Service Abnormal, went live in May 2020. It was followed by an impressive range of video time-capsules documenting London's independent food industry during the first throws of the pandemic. The project, which exists exclusively on Instagram, captures the zeitgeist while showing awareness of the topic's time-sensitivity by producing short, digestible content that hooks, lines, and sinkers you into binging them all.
And while the topic of Service Abnormal is timely, it also belongs to the always-captivating genre of documentaries about businesses and their founders. Service Abnormal addresses the current concerns and issues that small-scale food businesses face, while uplifting individuals' stories. Samuel Ashton, founder of the production company within which Service Abnormal was created, had a chat with Hawkker about the origins of the project, what stories stuck with him, and the reasoning behind operating from a single social media platform.
Tell us about yourself, and what you were doing prior to starting Second Window?
Samuel Ashton: Yeah! So, my career up to this point has been an eclectic mix of photography, podcasting and video-related things, all centred around the food world. I was in amongst the fashion world to a point, then did some things for agencies, and then made more of a concerted effort to step into the world of food. A lot of food brands and restaurants started approaching their business from a brand-building angle, rather than starting with the actual food and cooking. That fascinated me.
And then, I started Second Window, a creative agency – that was mainly to sure-up my work and put an umbrella brand over a lot of the projects I was doing, which was mainly photography at that point for a lot of restaurants, chefs and publications. I wanted to grow it and be taken a bit more seriously, and I think it's quite hard sometimes when you're trying to get bigger projects, to push your work and grow your output. I think Second Window is a way of me refining things and putting a brand in front of my projects.
Service Abnormal is a project that lives within that Second Window world. Second Window has become a production company almost, very unintentionally. My friends and I have worked together quite a long time on various projects, and Second Window has become a place that houses all of those food-related projects we've worked on together.
What drew you towards documenting the independent food industry?
So, in wanting to make a step into that world, I was already building relationships with people in the food industry through other projects. We have a food podcast called "Set Meals" that has been going for a couple of years, which is on pause because it's unfortunately very dependent on going to restaurants. Through that, we started to build connections with certain people, and there has been some crossover with who we've made episodes of Service Abnormal with, such as Ed at Four Legs and Luke at Supa Ya Ramen. And it interests me that a city like London has so many upstarts and little projects that turn into things that are way beyond what they set out to become. There are so many people who have managed to build such a big brand, a sustainable income and company from one menu item, or just being to generate certain buzzes, which completely fascinates me.
The other thing is that, as I've realised through doing Service Abnormal, everybody's completely different. It's almost bizarre how different people are to each other, and yet they are all wedged into the same bracket of people working in hospitality. And in the nicest way possible, so many people in hospitality are in completely different worlds! As in, some people will be a shit show from an organisational standpoint, and other people will have a lot of trouble when it comes to branding – or vice versa. And Service Abnormal is fundamentally just talking to people and having a mutual interest in something, whether that be hanging out with people and having a beer, creating an environment where people can share what they love, or if it's having a conversation about branding, etc.
So yeah, having a conversation with somebody is the reason Service Abnormal exists – what it boils down to is this inherent eagerness to be nosy, quite frankly [laughs]. I quite like having the inside track on stuff like that, and knowing why people have released certain menu items, or called their restaurant a certain thing, or whatever it may be – I just like to know that stuff. And I think a lot of people feel like that as well! So, Service Abnormal gave us a route into spaces we wouldn't otherwise have a chance to get into.
Is that how the Service Abnormal team came together?
It's funny for me to call it a team because we're all just pals who work in the same space. But it consists of myself, Tom Welsh who's the DOP, so he'll shoot everything, organise all the kit; Taylor is the editor, so he cuts everything you see; and Gilles is the photographer, so all the stills that go out and support the episodes are by him. Not from the very start, but since season 2 onwards, that's Gilles. So we're all friends first and foremost, and we have worked together on various things for the last five or six years.
Service Abnormal came about when the world was ending the first-time around, last year [laughs]. It was actually Taylor's idea, because there's a reference I always remember. There's a picture of Larry David in the New York Times –
The one where he's staring out of the window?
Yes! Right at the start of lockdown, and him having the interview on his phone through the window was one of the first references for the project.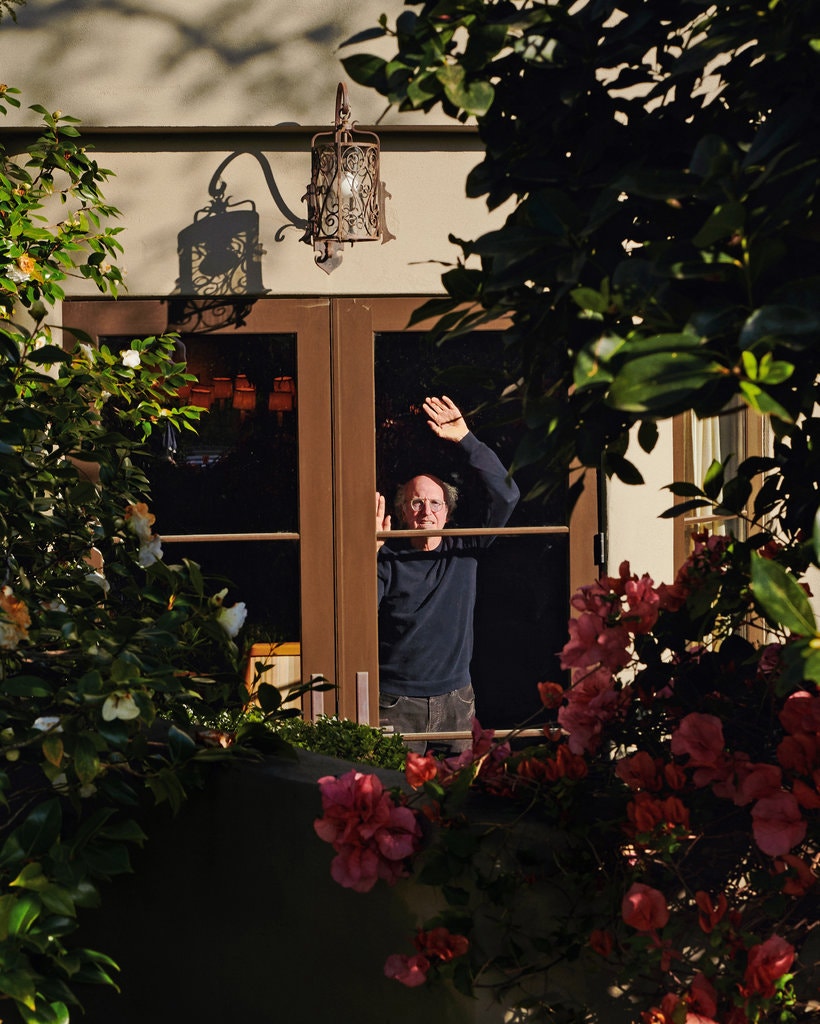 That makes so much sense.
So we started some conversations over texts, talking about how we'd go about doing this, what it would be exactly, if they would be long, 30-minute episodes or short form, and what was its purpose? Because this was at the same time that I was going from being a sole trader/freelancer to doing Second Window properly, and I was making a focused effort to grow my contact list, and do work in specific areas. So that was my goal with it, to use our individual resources to create something collective we could all be proud of, and something to support each of us professionally. I was able to build on contacts, Tom had something to put on his reel, Taylor would have amazing edits to put out regularly and build his work, etc. So it wasn't so much about finding the team, per se, but finding what we could all get out of this project from the off. It's so easy to get lost in the talk, like "this could be great" and "that would be amazing if we did that", and you either get too far down the road without having a pointed edge or it goes the other way, where you don't really get started at all because no one really knows what they're doing.
But we started talking about the idea in April, and after shooting lots of names and brands out there (which takes so long), we considered "take-aways" for the name of the project, or "collect-deliver" was another one, but the first episode was Top Cuvée, which is a mostly natural wine bar and bistro. That was literally a case of Tom turning up with his rucksack with all his gear in it, and this was at the beginning of this whole thing, so we were unsure of how we were actually going to execute the interviews. The masks were new, the whole PPE thing was new, sanitising was new – nobody knew if we should even be leaving the house. There was definitely this question of, is it really naughty to be doing this right now, and we battled with that quite a lot.
But we ended up bombing around town on our bikes with our backpacks full of kit. We went down to Top Cuvée and much like for every other episode in season 1, we arranged a time, would go over, shoot for about an hour, sometimes just twenty minutes. As for recording the interview, all the phone dialling sound effects in the first season, that's a really funny story. We'd get my phone, and we'd rig it with a recorder, because you can't record on Apple iPhones because of the privacy laws, so we really had to ratchet it up. And I would get quite awkward and shy interviewing people through a window, so I stood around the corner, and have a conversation with the person who's seemingly talking to nobody through the window, and I'd introduce myself after the interview [laughs]. But it was really to keep that level of authenticity around talking to someone for the first time. So that was all very bizarre and funny. We put fourteen episodes out in just over a month, which is kind of mad looking back on it.
That is incredible. How long did one episode take to put together?
I reckon on average we could probably get one episode done in a couple of days. Of course, it varied, but some narratives were easier to tell than others. I think my favourite one in terms of narrative is Super Ya Ramen with Luke Findlay, because he's become a friend. He's such a lovely guy, and he was supposed to open the day before lockdown happened, which absolutely knocked him.
It's stories like that that we're passionate about getting out there. And our thought was that since these people aren't getting any passing trade and generally going through a rough time, we can at least attract some eyes and ears for their business. It makes sense for us to give something back, in a sense.
And when you think back to the first season, what was the energy among the chefs like? I imagine a mixture of nervousness and, not to overuse the word, but uncertainty?
Yes, for sure. Thinking back, Popham's actually springs to mind because they had a team of people there working in full PPE, but they were working mostly as normal. But a sense of real positivity was overriding most people, because those like Caitlin at Casey's was thankful to even have a place that people could come to. There was a lot of uncertainty of course, but nobody was really too doom and gloom. I didn't get the feeling that anyone was truly terrified, but rather that it was the kind of fear that leads to action.
And the thing is, the hospitality industry was already knackered, and it had been knackered for a long time. Food isn't as expensive as it should be, and people don't make as much money as they should, so it's not like they've gone from this ideal scenario pre-pandemic, and it suddenly all changed. A lot of people were already putting a lot of hard work in for not a lot in return, really, so things didn't change that dramatically in that sense.
What are some other episodes that have really stuck with you?
Ed from Four Legs is one I look back on fondly; we filmed him doing a car drop-off, because he was the one doing the deliveries himself at the time, so we rigged his car with a camera and stuff like that. It was actually right after the protests around Black Lives Matter were happening, and he talked about realising his love for his fellow humans, and he checks himself in a way that's very indicative of how thing after thing knocks you down. But also, more recently in the BAO episode we put out, some of the stuff Erchen [Chang] talked about, about putting the brand through multiple lenses and how she navigates that creative process… That was a super stimulating conversation in terms of brand-building. BAO was one of the ones we'd had on the list of people we wanted to work with for a while, because we knew it would be a big vibe. Because they've got a few sites and they're pretty much as big as you can get as a single city chain. And they do things so right. So that was a bit of a "coup" for us.
How have you found the response to your videos?
The response has been good, broadly speaking. Feedback from all the subjects has been good, everyone's always been really happy. Like I said before, people are thankful for the exposure, but also for having a sort of memento of the times.
As we've managed to get restaurants and chefs with bigger followings and social presence – not that it's about that at all – but we did Flor, Homeslice, and BAO who have a massive following, which led to more eyes from outside of the food industry which has been great, as well as influencers with large followings who have talked about the project. We're super grateful. We dropped our season 3 trailer, and it got shared by a good few people, including some influencers, and our following grew massively.
It is truly an amazing trailer, so I'm not surprised!
[laughs] It is definitely Taylor's best work. It's so good. We'd shot mostly everything for season 3 by that point of course, and we wanted to get the trailer out at that exact moment to keep the momentum of the project going, which is a very delicate and important thing. And there's only so long you can keep putting out "lockdown-centric" content, because it is exhausting, for everyone. We were in the studio, and we watched the trailer again and again and again. It was wild. We must've watched it about seven times, back-to-back, like "Put it on again! Put it on again!" [laughs]. It was one of the purest moments of our working relationship. And it was at that point that a lot of people were telling us to try and get Netflix involved [laughs].
Well, on that, as you guys are exclusively on Instagram, I'm really interested to know what drew you to specifically operating on that platform?
Ah yes, well, unfortunately it's not because Instagram wrote us a massive check. But it was definitely a conscious effort, because all the restaurants are on Instagram and if we were ever going to grow it, it wasn't going to be by sharing YouTube links in our bio. It was about making it as easy as possible for people to find our content. And as for IGTV, I don't think it's really taken off in the way Instagram wanted it to anyway, but at that point it was still new and being talked about, and we wanted to play with it and see what we could make of it. Being built in the platform, there was also an ease of sharing the content which we knew restaurant owners would appreciate and be able to do easily.
YouTube is such a difficult beast to break, and with the irregularity of our content, it would have been very difficult to grow a solid viewership. We're not doing a weekly show, so we'd be sat on a thousand subscribers with a fraction of the interactions we currently have.
And with Service Abnormal being time-responsive, do you have plans to get onto a premium platform? What's next?
Yes – we pretty much wrapped up Season 3, and we've been talking a lot about what we'll do next. I don't know… our last episode is going to be Dishoom, which was, again, a big deal for us because they're so indicative of modern chain restaurants in the UK at the moment, as well as attainable, modern dining – they're so good. I had a friend who was working there and managed to put us in contact with them, and that was the big finish for season 3. So I don't really know, honestly.
I don't want to keep telling the same story over and over again, but there has definitely been conversations in the group about how we can keep the format, how we can change it up, in order to give it a new lease of life. We're currently working on getting the last twi episodes out, and then we'll go from there. I would love to get it on some sort of premium platform, but I know for a fact the COVID aspect would be a tough sell, so I'm not sure how and if that'll happen. I wish I knew!
We're really excited to see what you guys do next!
Keep up to date with Service Abnormal's work, and find independent food businesses near you via Hawkker.