In our opinion, there's no better way to discover a city than through its food scene – and throughout the month of March, Norwich is going the extra mile and celebrating its fantastic literary and culinary heritage with the Storybook City Food Trail!
This month-long event has been developed by Norwich Business Improvement District (BID) as a means to celebrate Norwich's heritage as a City of Stories, as well as bringing in some extra business during the quieter period preceding the Easter holidays. Not only is this a perfect opportunity to try some new dishes from your favourite Norwich haunts – or, if you're just passing through the city, to discover its thriving food scene – but eaters are encouraged to visit as many locations as they can through a "Library Pass" system: diners collect stamps from each venue, and these translate to entries into a prize draw for an Alice in Wonderland-themed Afternoon Tea in the historic Georgian Assembly House. With 44 independent restaurants, cafes, bars, and market stalls taking part, you certainly won't want for options.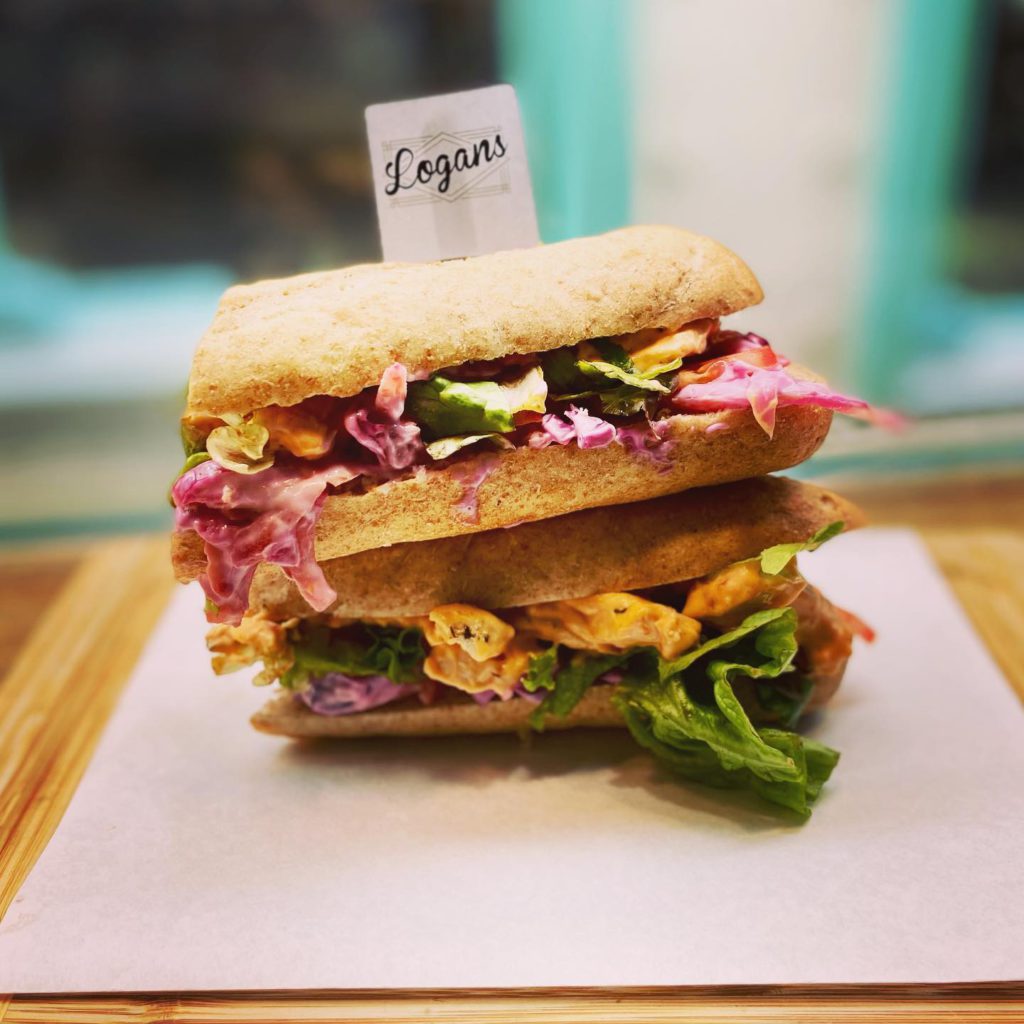 Taking inspiration from Norwich's rich literary tradition and a collection of much-loved storybooks, participating venues are proving very imaginative in creating themed dishes and drinks influenced by literature. Fabulously punny examples include a Chronicles of Sarnia mega sandwich from the folks at The Bodega, on Norwich Market (Maple syrup-cured bacon, salami, mortadella, slow-roasted vine tomatoes, rocket and smoked aioli in a toasted ciabatta), or check out the Grosvenor Fish Bar in Norwich Lanes for some Wuthering Bites. Head to Eric's Pizza at Yalm Food Hall, Royal Arcade, to try their James & the Giant Peach Pizza with peach, peach creme anglaise, blood orange curd and basil, or seek out some The Gruffolo-inspired Rocky Road from the masters of all things sweet at And Eat It.
Elsewhere in Norwich Lanes, Cristophe's Crepes has an unmissable and decadent Pooh Bear crumbled honeycomb, sea salted caramel & Belgian milk chocolate crepe. Over at the Red Lion Pub at Bishopsgate, meanwhile, visitors can try a Narnia-inspired Turkish delight martini involving pink gin, lemon juice, sugar syrup, rose water, grenadine and a garnish of (of course) Turkish delight. Also in the drinks department, a colour-changing George's Marvellous Medicine cocktail is on offer from The Last Wine Bar and Tipsy Jar has a Tiger Who Came to Tea cocktail to entertain visitors.
Co-owner of Figbar and SALT (Figbar's savoury sister) Stephanie Garbutt commented: "We are offering a Bruce Bogtrotter Chocolate Cake. It is a delicious and moist chocolate sponge with a rich and creamy chocolate buttercream straight off the pages of Roald Dahl's 'Matilda'. Unlike poor Bruce, we are offering the choice to try just a slice without eating the entire thing (although it is available as a whole cake with a pre-order). SALT has Heidi's Picnic – a toasted sourdough baguette filled with raclette cheese, charcuterie and pickles – inspired by Heidi's picnic's on the Alps as written by Johannah Spyri in Heidi'.
Down at the historic Maids Head in Tombland, there is a Willy Wonka Afternoon Tea menu, as well as a special dish reflecting the Maids Head's involvement in the hugely popular CJ Sansom Tombland novel featuring Tudor lawyer Matthew Shardlake. Georgina Postlethwaite, Marketing Manager, says, "We were keen to get involved, having collaborated on previous trails organised by Norwich BID. It's a great opportunity for us to transport customers back to the Maids Head Tudor era. We are serving up a C J Sansom Shardlake-inspired dish of Game Pie with partridge, pheasant and rabbit served with potatoes, heritage carrots and gravy, washed down with a Maids Head ale or a glass of mead".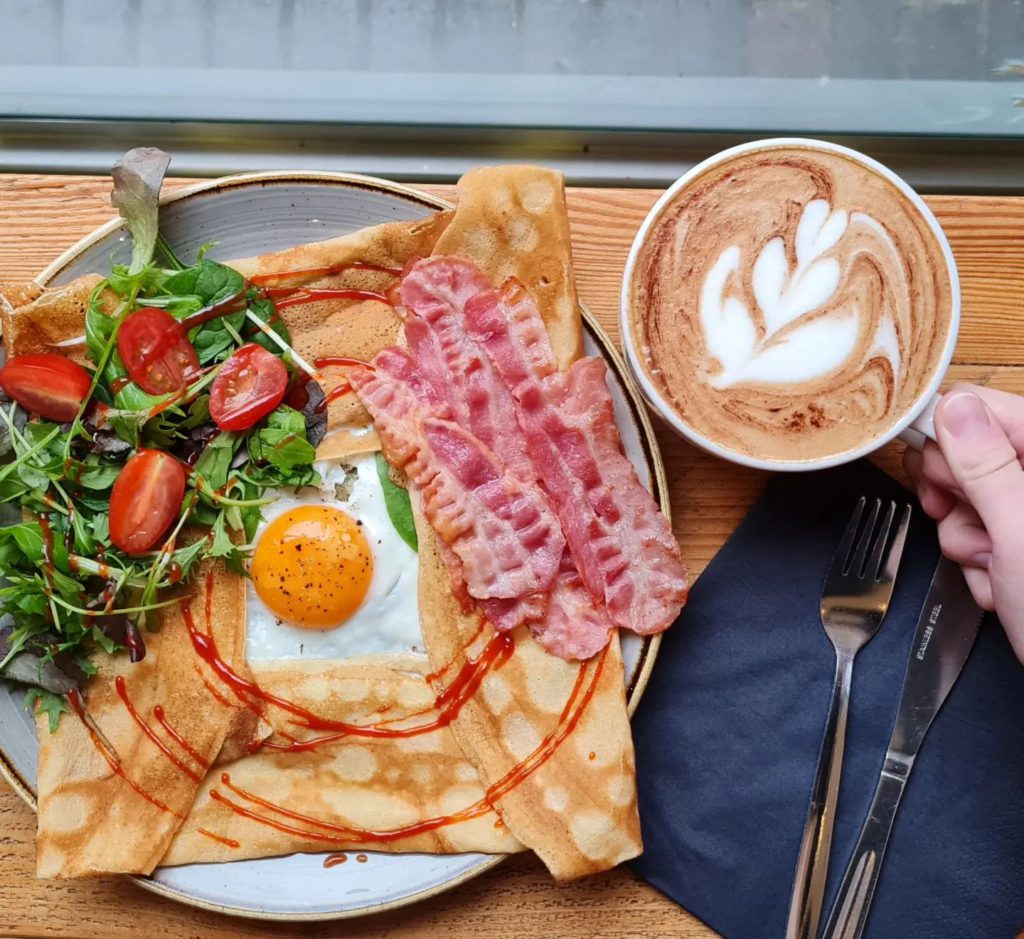 Coffee and gelato specialists Harris & James are first-time participants in a BID food trail. Daniel Smith, Retail Director says, "We have made a delicious 'James and the Giant Peach' Melba flavour gelato decorated with fruity chewy jelly worms. The story of James and the Giant Peach is a classic children's story that many adults have fond memories of reading, so our target customer is both adults and children! We are hoping to attract new customers eager to try this new flavour, plus welcome our regulars."
Inventive food trails have always proved a popular draw in Norwich, which has a strong reputation for its thriving food scene. Chris from Christophe's Crepes says, "These trails are always great for getting people around new places. Customers enjoy the experience of getting stamps, and we see them sitting with the map planning their next stop."
The Maids Head has taken part in many such trails in recent years and it has brought in lots of new business, Georgiana agrees. "We love to take part in these events because it brings all the fantastic independent businesses in our fantastic City together, creates buzz and creates awareness. The annual City of Ale trail is highly successful for us, we support several local breweries and this draws in a new crowd of ale lovers as they visit to collect their stamps. Other trails have included Love Light, Door Wreath, Dino Trail when Dippy was at the Cathedral and we are currently involved with the Window Wanderland Trail, which is an Elizabethan-themed window trail. All these initiatives demonstrate support for the local community."
Hungry for more? Be sure to check out our list of the best independent restaurants in Norwich.