A must-try gem in London's Camden, Lost Boys Pizza is unlike anywhere you've gone for a slice – in fact, it's the world's first and only vampire pizzeria. Plastered with comics, skulls, and vampire memorabilia, with a killer list of cocktails and phenomenally light-crusted, black charcoal pizzas, Lost Boys Pizza is as warm and welcoming as a vamp is icy.
Ahead of everyone's favourite time of year, Hawkker spoke with Lost Boys Pizza co-founder Pete Clucas about his background, love of horror, and building a hub for Camden's weird and wonderful community.
"I was a spooky kid, which is where the horror movie thing comes into it," he explains. "I grew up in the back of a video store in Liverpool – my brother, who is 12 years older than me, he ran the video star. He also ran a pirate video operation out of it, so I was just gassed for video nasties, you know? I was watching The Exorcist, which was banned in the UK in 1978, I was watching that in 1986 when I was six years old. I thought it was really cute! That's where my roots in horror and comic culture came from."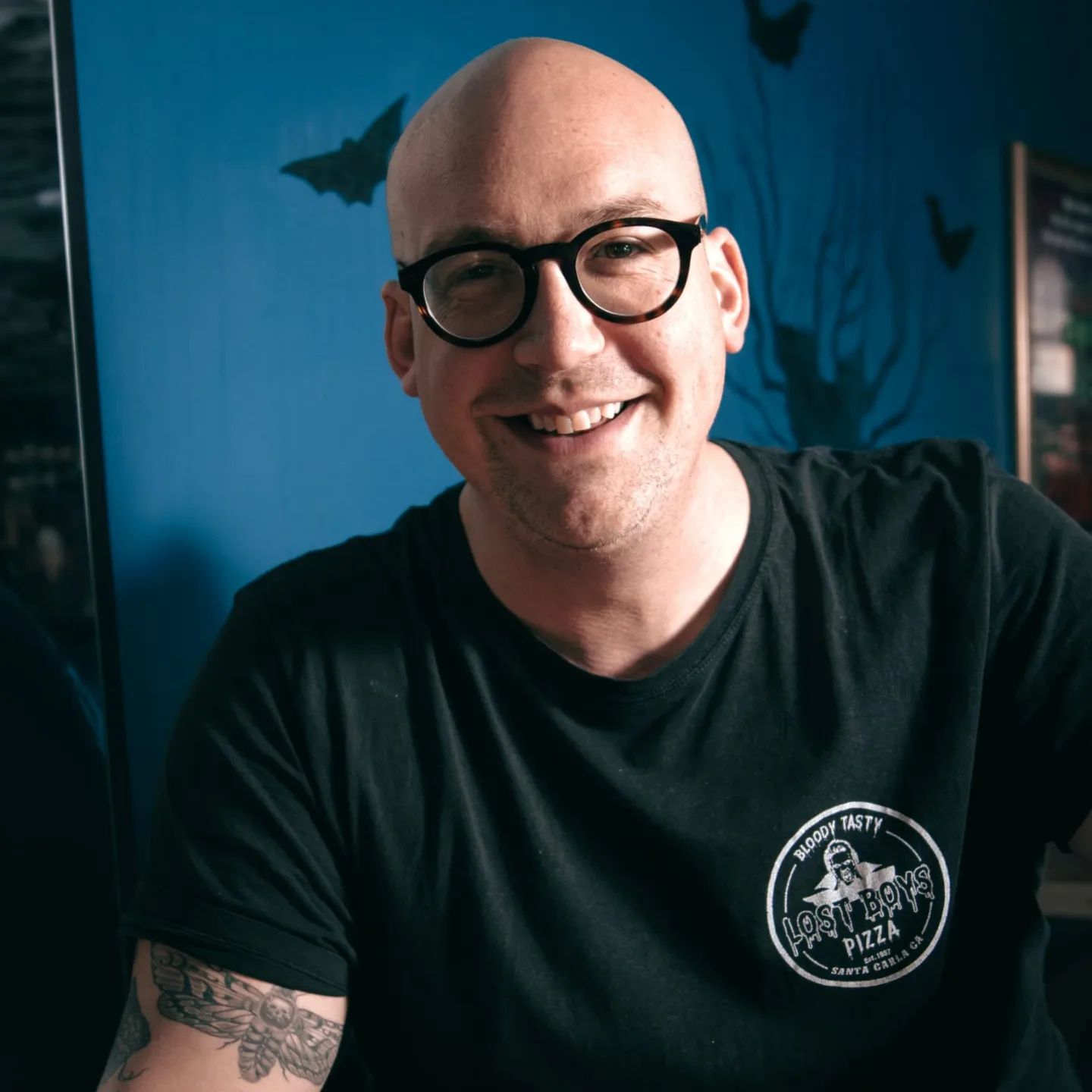 Why name his pizza place after Joel Schumacher's horror-comedy? He laughs. "Alright, so, my name is Pete. Because my brother is a lot older than me, when my mum had me, she very much wanted me to stay a baby – so I was Peter Pan. I'd always loved Peter Pan and when I was about seven years old, I found this copy of The Lost Boys. My brother was a really good pirate, so he'd go through the effort of copying the artwork and wrapping it around the VHS. And I picked up The Lost Boys and thought, cool, it's like Peter Pan but all dark and gothic!
"And then on the back of the box – Kiefer Sutherland's motorbike in the film has a taillight that's in the shape of an inverted crucifix – there was that image. I loved The Exorcist – despite the fact that every piece of Exorcist memorabilia that I own is definitely haunted – and the inverted crucifix just reminded me of that. So basically, Lost Boys was Peter Pan, on a motorbike, with The Exorcist. I was like, let's fucking go!"
Pete's journey into hospitality is an interesting one, to say the least. As he tells it, "I moved to London when I was 17, in 1997, to become a prop maker and special effects artist, so I was studying and working in theatre and film – unpaid. So, I got my first bar job at The Black Cap in Camden, which is a dearly missed, iconic queer venue. I worked there my first summer. And then when I was 18, I moved over to work at Radio Cafe on Finchley Road. You know, I fell in love with hospitality pretty quickly."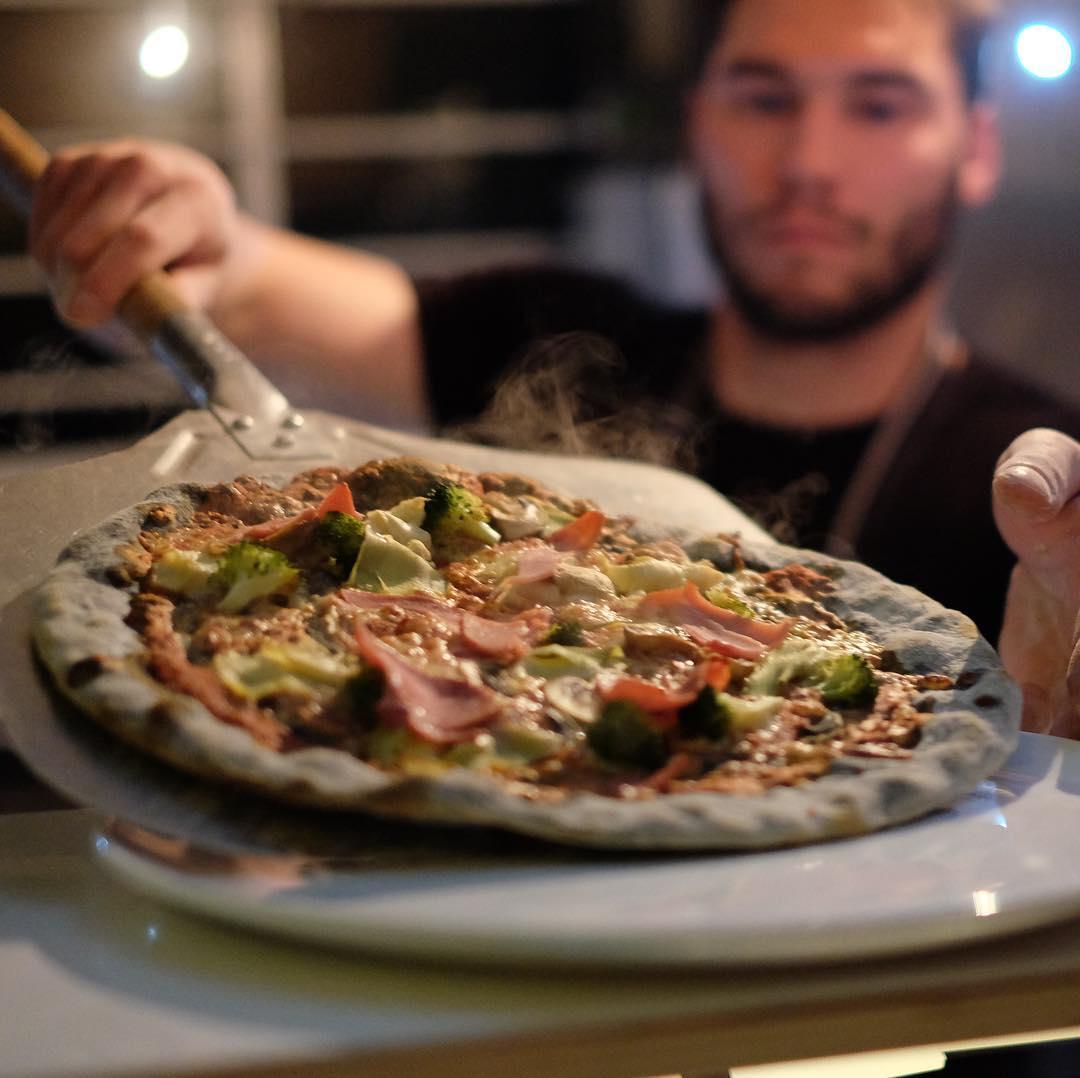 Before he dreamt of becoming an FX whizz, Pete was a magician. "I worked at a magic shop from when I was 12 years old, and I would make my own magic tricks and sell them to other magicians. I ended up doing quite big ones, too, like the French guillotine, sawing in half illusions, cabinets, that sort of thing. But basically because of that, I had a lot of experience standing behind a table and talking with people. So, when it came to being behind a bar, I was quite a natural. I learned to juggle and picked up flair bartending quite quickly. I fell in love with flair bartending – I travelled and did competitions."
The FX and prop-making dream was, alas, not meant to be. "With the rise of CGI – bang on time with that –," Pete laughs, "the special effects work that I wanted to do just stopped existing, certainly for an 18-year-old with no experience! I certainly wasn't good enough to beat the CGI revolution.
"But I was really enjoying hospitality and in love with my lifestyle as a bartender and a server. By that time, I was working at TGI Fridays, which at the time – this was 1999, 2000 – was the best training you could get in the hospitality business. It's odd to say now, but it really was the gold standard. By then, I'd stopped chasing the horror movie dream and was completely in love with finding new bars, new restaurants, exploring new trends, hanging out and meeting people within the community.
"Then fast forward through my 20s as a bartender. [Laughs] Let's just say it was good and I had fun! I'd moved back to Liverpool by that point and was running nightclubs and cocktail bars there. By my late 20s, I started taking things a bit more seriously, so I moved back to London and got my first job in Operations as an Ops manager for Giraffe.
"When I started with Giraffe, we had 39 restaurants; when I finished, we had 52. We were opening restaurants at an insane rate, like 11 in 24 months. I was very lucky because I got to work underneath Russel Joffe, who I think remains one of the best restauranteurs that the UK ever produced. But it was a corporate structure and when we sold to Tesco, the last thing I wanted was Tesco's name on my paycheck!"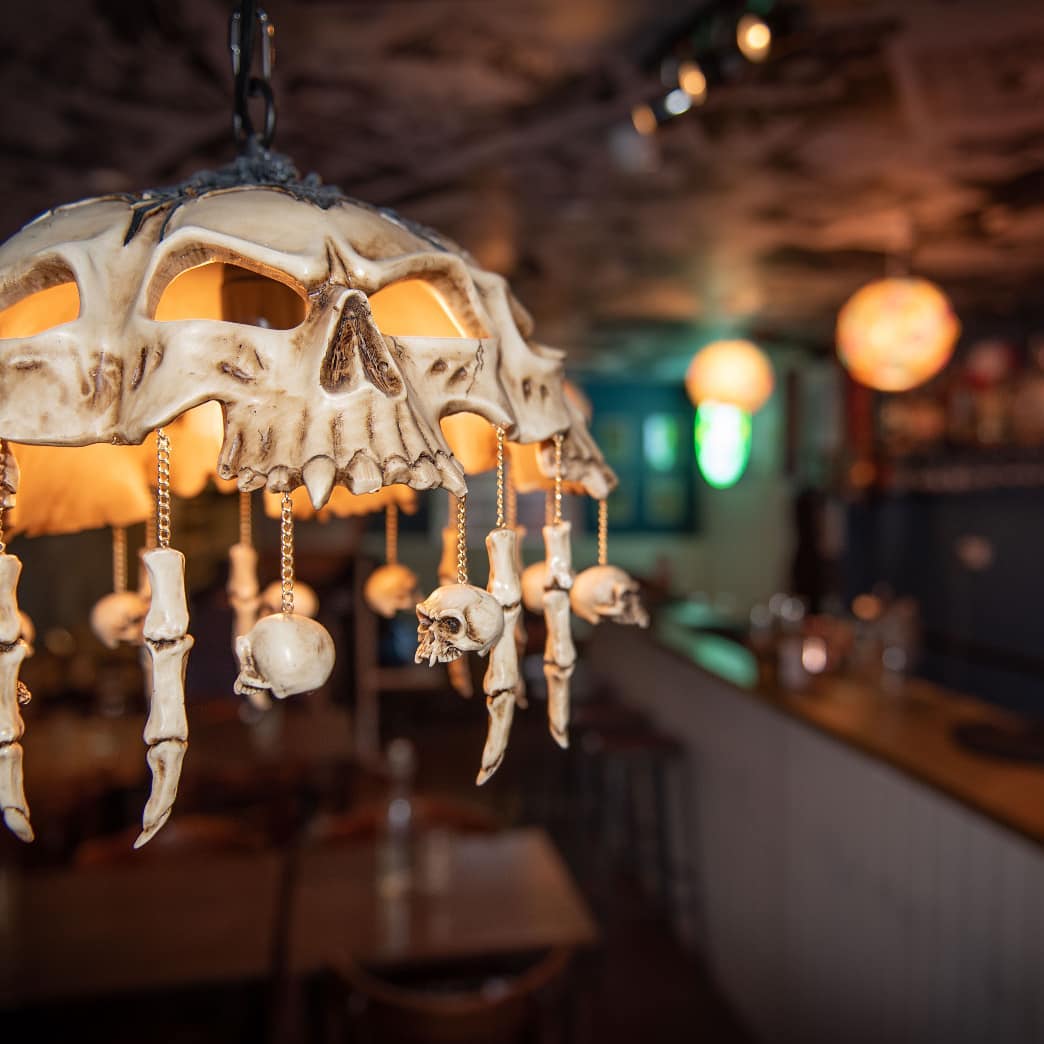 After Giraffe, "I had a little bit of money saved up, so I invested in an independent Asian Fusion restaurant that I really believed in and came on board as a managing partner with them. The timing was good, because Giraffe was a really hard existence; it was not the creative edge of mixology or cuisine that I was in love with, even if it did legitimise me. If I had told people I wanted to open a vampire pizzeria before that experience, people would have thought I was crazy – I mean, many still do. But those three or four years of experience at a high corporate level really legitimised me as an operator."
Now armed top-tier industry experience, Pete was ready to venture out on his own. "After a while, I just felt like doing my own thing. I've got a house full of comic books and horror memorabilia. I am the guy who still has 5000 VHS cassettes, you know. My best mate was in a similar position at the time, Alex [Fisher]. He wanted to take a break from the corporate world – he'd just left Vapiano, where he'd been for six years, so he had the knowledge around pizza and pizzeria operations. The fact that we're best mates and have been best mates for 20 years creates magic in the room."
"I wanted a pizza place that was a little more representative of me. I wanted to name it Lost Boys Pizza, and he'd never seen The Lost Boys! So, he went away to watch it, called me up and was like, "Yo, we're gonna do this." And we opened Lost Boys Pizza! We started with a pop-up in Tufnell Park and six months later, we had queues out the door. We were full every night of the week."
Within a mere year and a half of opening their first pop-up, Pete and Alex got the keys to what is now Lost Boys Pizza in Camden. "We've gone from strength to strength," Pete explains. "We started with a 60-cover restaurant with a garden and, you know, we absolutely smashed it there; it's now a 120-cover restaurant because there's no point in having a garden in London, so we built it out. We've gone from strength to strength. And though Alex is no longer with the business, we're still best mates!"
"We were lucky to be back in Camden where my hospitality career started back in 1997," Pete muses. At Lost Boys Pizza, "we're still flying the flag for everything that The Black Cap stood for, which is keeping Camden weird, being a safe space that's inclusive and queer friendly. We're still showing bizarre movies a couple of nights a week. We're just very happy and blessed. That's Lost Boys.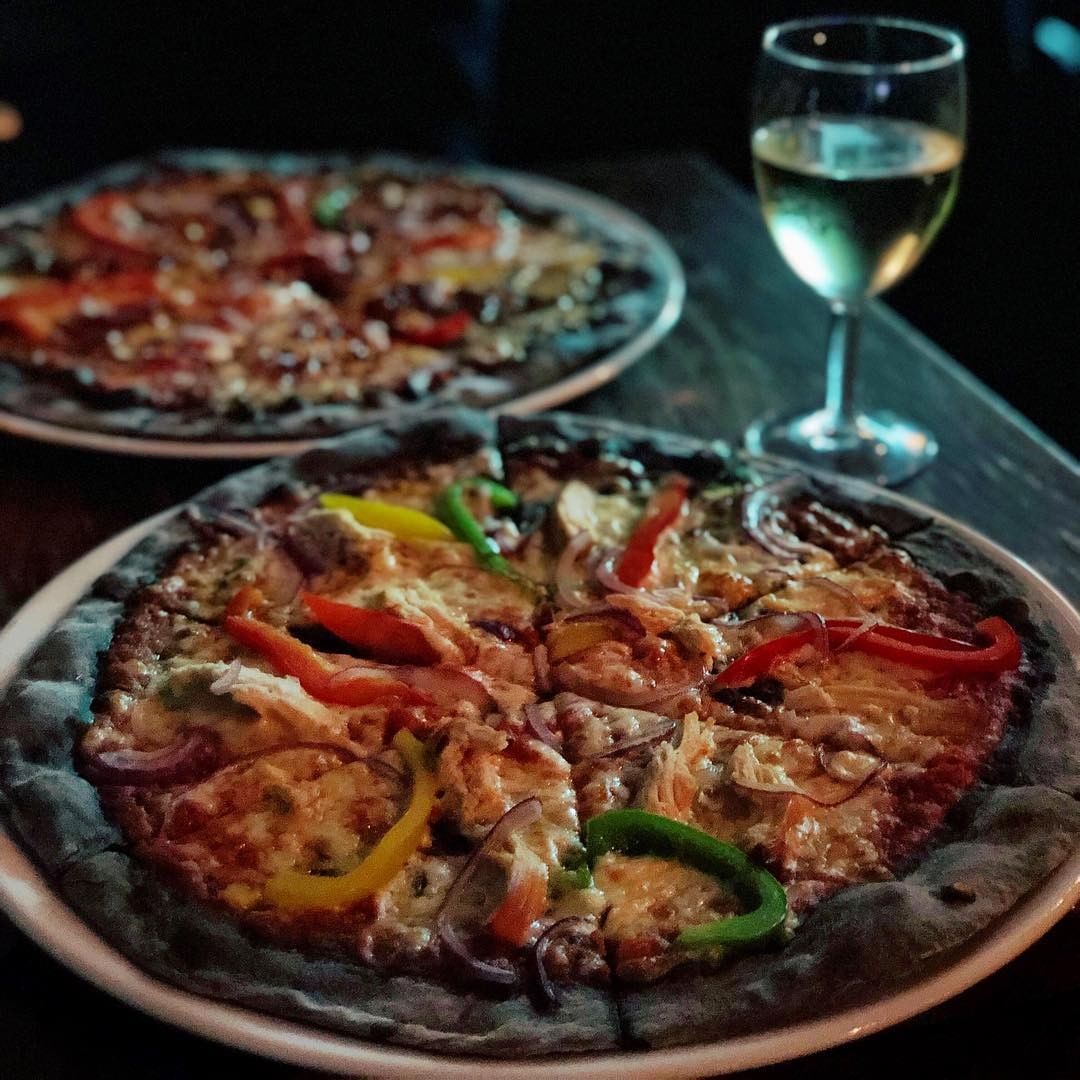 "I'm a horror nerd, I'm covered in tattoos, and I'm a six-foot-two skinhead. And anyone who is divergent in any way is wholly underserved in the hospitality sector. Generally speaking, if you turn up – no shade – to Nando's or whatever, the likelihood of you being put in a corner is higher if you've got a mohawk and a bone through your nose. Whereas if you come to Lost Boys, the first thing we tell everyone is that, anyone who walks through that door, you treat them as if your best friend just turned up at your birthday party as a surprise. We only hire people who can do that genuinely. I think that's something that's missing a lot of the time, this genuine warmth and hospitality. It doesn't exist the way it used to, which is a real shame."
Learn more about the people behind your favourite restaurants and cafes via Hawkker's Spotlight Series.
And check out Lost Boys Pizza here.