Having worked in the food industry for over a decade before starting a venture of their own in 2012, Sarit Packer and Itamar Srulovich are the duo behind London's wonderful Honey & Co., a brand committed to creating and serving authentic Middle-Eastern dishes. Since Honey & Co.'s conception, Sarit and Itamar have expanded their universe by opening a second restaurant, Honey & Smoke, which specialises in food made over a grill such as "lamb kofta and chops, whole fish and slow-cooked octopus, charred cauliflower and aubergine", and a deli, Honey & Spice, which provides hard-to-find spice blends, pastries, tagines, and much, much more. Sarit and Itamar took some time to chat to Hawkker about the couple's experience, lessons they learned and applied to their food business, the process of creating their cookbooks, as well as their addictively compelling podcast, "The Food Talks".
Hawkker: Could you start by telling us how you both got into cooking?
We have both been cooking since a really young age. It is a very common thing in Israel to get involved in cooking from a very early age, and most families cook and eat together. Especially when we were kids and takeaways weren't popular.
Sarit: I had progressed to baking for birthdays and special events by the time I was 18 and decided then that I would make this my career, so went to chef school and have been working ever since.
Itamar: I kind of fell into my first kitchen job, fell in love with most of it and stayed for much longer than I originally planned.
How did Honey & Co. begin? And what was the process like in creating, sustaining and growing your two other sites, Honey & Smoke, and Honey & Spice?
We had been working chefs for about 10 years before we plucked up the courage to open our first place. We had been managing teams and kitchens for a long time, but were a bit worried about opening in a big and expensive city like London. But after the financial crash, rents on commercial properties had dropped and we felt we could afford to take the risk. There was also growing interest in mid-range, really delicious, authentic food so we took the plunge!
The starting point was very humble, just the two of us in the kitchen, working hard, one waitress and then after a few weeks we added a KP (kitchen porter), then another waitress, then is snowballed until we were too many people working in a restaurant that was really too small to contain us all, so we started looking at how we could expand. We really wanted to stay in the same area so we could walk between the different locations and be in regular contact with all our staff and our clients.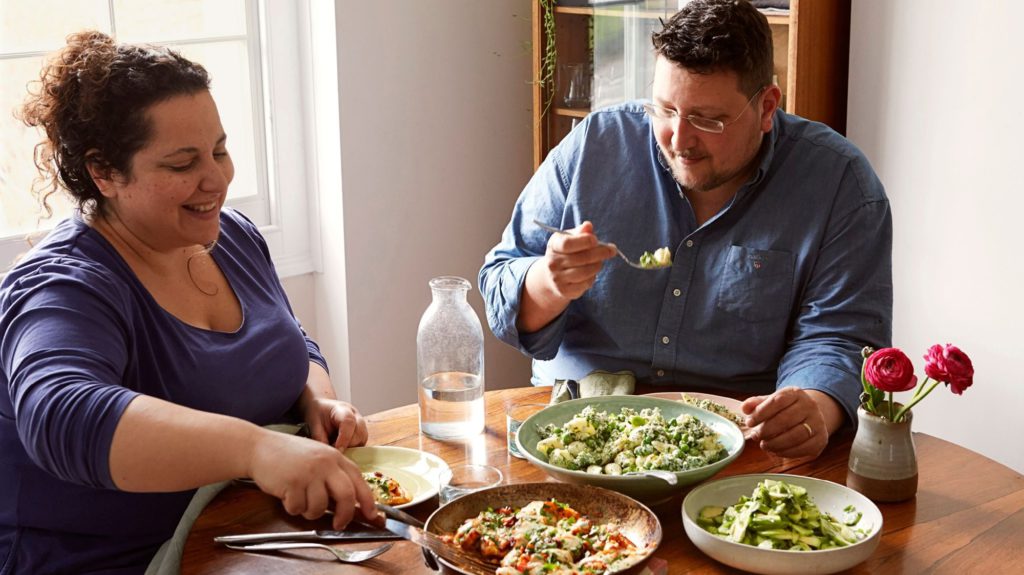 We did see this great tile shop that we thought we could convert into a grill house, but it was taking a lot of time and it was very unclear whether we could get the correct licence etc., so when a shop across the road from Honey & Co. suddenly became available, it was clear to us that we had to take it.
The idea of opening a deli was a natural step from there, and that became Honey & Spice. We source all our produce very carefully and we knew there would be demand for it.
What are your core values and mission across the three businesses? And what are the key things that differentiate them from one another, in your eyes?
Our core values are something we have only just started thinking of since lockdown, really. Before we were simply doing what we do, cooking, entertaining and running restaurants, but as lockdown hit, we had to think about how we translate what is important to us, even to customers that can't physically join us. So what we have come up with is quality, joy, and attention to detail. And these translate to everything we do. We must believe in every product and project and do it with joy, it must be done meticulously and be of the highest quality – we consider every aspect of the experience.
The locations are different from one another in offering, but not in value:
Honey & Smoke is a big bustling grill restaurant, with a lively atmosphere (when it is allowed to be open) and delicious food; Honey & Spice is a food store and a deli, it is about quality food offerings in a friendly, colourful market environment; and Honey & Co. is a cosy, homely, warm, and comforting little restaurant with very personal service and food.
What did you learn from working in the restaurant industry that prepared you to open your own food business?
Everything we did in our previous jobs has led us to our understanding of the industry and ways of managing our business now. You can learn from everyone, sometimes it is what not to do and sometimes it is so good it is worth copying.
So we learnt how to run large off site catering events, we learnt how to hire and manage staff and customers, we learnt to deal with suppliers and maintenance people. So many things, it's hard to think of them all.
Was there anything that you weren't ready for or that took you by surprise when you launched your business?
Everything to do with customers, bookings, reports and tills was all completely new territory for us. We are both chefs and have been behind the curtain for so many years that to suddenly be the direct point of contact for a customer was a new experience. We had both never worked a till system or reported an end of day sales. We had never taken a restaurant booking. So much to learn!
What are your favourite and least favourite parts of working as chefs?
Our favourite part is the rush of a busy service that goes well: the restaurant filling with customers, orders flowing into the kitchen, food flying out of the kitchen and lots of happy, happy people – it is hands down the best. The worst – things always break or flood or go wrong, and that is so frustrating. You have the best intentions for the day, but you come in, the bathroom has flooded, the oven had broken down and one of your chefs is off sick, and you just want to scream.
How did the idea to start your podcast, "The Food Talks", come to mind? Why was it important for you to make it a reality?
We are obsessed with podcasts, we listen to so many of them. We love them and really wanted to get involved ourselves but didn't really know how.
We then started this little project at home to cook at least 3 recipes from each cookbook we own, then we had a light bulb idea that we could ask the authors to talk us through their books, and we could cook their food at the restaurant.
It started off as simple fun evenings in our deli, but the demand for tickets grew and we couldn't fit everyone in anymore, so we started to record them.
For your food store "Honey & Spice", what is your selection process like when deciding which products to carry? How do you generally come across these products?
We do a lot of research into items we are interested in stocking: we usually travel a lot around the middle east and find things we love, then we try and stock them. We got a whole pallet of recycled glass from Morocco and we brought a whole load of maamool cookie moulds from Jordan, a batch of falafel scoops from Israel, etc. Then in terms of olive oil and food, we taste and source items we know we use regularly in the restaurants and at home. We look for specialty honeys and unique makers. Sadly once we see one of the products we sourced become available in high street shops, we stop selling it and look for something new.
What motivated you to sit down and create your past cookbooks, Honey & Co: At Home, Honey & Co: The Baking Book, Honey & Co: Food from the Middle East? And what was the most important thing you were wanting to get across with each cookbook?
The first was really a record diary of opening Honey & Co.. We had started hiring chefs who weren't specifically from the Middle East and we needed to teach them our way of cooking, so we had to write all the recipes down. And we told the stories of that crazy beginning of a new restaurant. It is all the basics of Middle Eastern cuisine and is ordered as a meal would be, starting with mezze, then onto salads, mains and desserts.
The second book, The Baking Book was really simply a second part to the first, recording everything we bake in the restaurant, and it follows a day in our bakery from early morning to night.
At Home came about because of the business growing and us spending more and more time at work, we started to cherish our meals at home, our little rituals and favourite foods, and we wanted to make something more personal.
We love the work around the books, we create and shoot all the content ourselves with our lovely photographer, Patricia Niven, and Itamar writes all the beautiful stories behind the recipes. It's like keeping a record of our life.
How did you compile your menus pre-COVID?
It is always food we want to eat. About 60-70% being very traditional to the season, and then the rest can be a little more inventive or special. We now mostly run Honey & Co. and Honey & Smoke on a repeating seasonal menu that changes four times a year with the seasons, and occasionally we add something out of the ordinary if we get a product we are excited about.
Now, the tricky part. How has your experience of COVID been? Lockdown 1, 2 and now 3?
Covid has been difficult and a real struggle to get our heads around, but we are trying to make the best out of a very sour situation.
In the first lockdown we went into a state of shock for two weeks and then decided we had to do something, so we started going back to work to cook for the NHS and sort out our kitchens. We then added the takeaway offering and actually since then have been increasing on that. It is nowhere as busy as our regular life, but it has its own challenges. It is sad to have to furlough so many people and to see our restaurants closed. But it is giving us a chance to practice other skills: we are learning pottery and many other fun things, and we finished our new book in the first lockdown.
Do you have any advice for other independent food vendors who may be struggling?
You must adapt all the time. We change our offerings, we change our delivery methods, we change our packaging, our online, everything. Adapting is the name of the game. Reworking everything until it really works for you.
How important has social media been for you guys, and how has its purpose changed over the last year?
I think it is always a big part of what we do. It's a direct means of communication and hence really important. It has increased significantly over lockdown as it really has been our route into peoples' homes. We are trying to reduce our phone dependency time though, just for our own sanity.
How has your relationship with/experience of online delivery platforms been during this time?
We use a delivery service for getting our own food to customers and that has been surprisingly hard and expensive to set up. There still needs to be a much better system for food delivery than what currently exists. Perhaps drones are the future.
But you've managed to create a whole new cookbook, Chasing Smoke: Cooking Over Fire Around The Levant, out in May 2021! Can you tell us what to expect from it, and what inspired it?
We are so, so excited and proud of this book. We pretty much spent the whole year before lockdown on several trips to the Middle East, recording our journey and food discoveries. We could have gone on for many more trips, so in a way lockdown helped us stop and focus on compiling everything into a book. The book is all about the locations we visited and the great food. It will hopefully inspire people and make them excited about traveling again when it is safe. It is all about cooking over fire, but we give home kitchen instructions too and the photography is simply beautiful. We can't wait for May so we can share it with people.
You can find more Middle Eastern restaurants near you via Hawkker.