Situated in Henley-on-Thames at the foothills of the Chilterns, Fairmile Vineyard is an easy 90-minute ride from Paddington Station, making it the perfect day-trip for Londoners looking to escape the city bustle.
It's also the perfect place to grow fantastic grapes and create delicious wines, if Fairmile Vineyard's accolades are anything to go by. In celebration of English Wine Week, Hawkker had the pleasure of sitting down with Jan Mirkowski, who co-owns Fairmile with his partner Anthea, to talk about their establishing their family business, the English wine trade's growing recognition, and the pleasures of drinking a glass of sparkling wine in one of England's most beautiful locations.
"The arrival of children led Anthea and I to rethink our work-life balance, which at the time involved long hours at the office and occasional overnight stays. Since I had been making wine as a hobby for 30 years, we decided to set up a business working from home, turning my hobby into a career – long before COVID made "WFH" fashionable!"
"Perhaps it was the mix of Polish and Irish blood which gave me an interest in alcohol! My career began in manufacturing and telecommunications before turning to viticulture. Anthea has a history of running her own businesses so her expertise in business and finance is invaluable in the running of the vineyard." Together, the couple made the perfect team to kickstart their dream.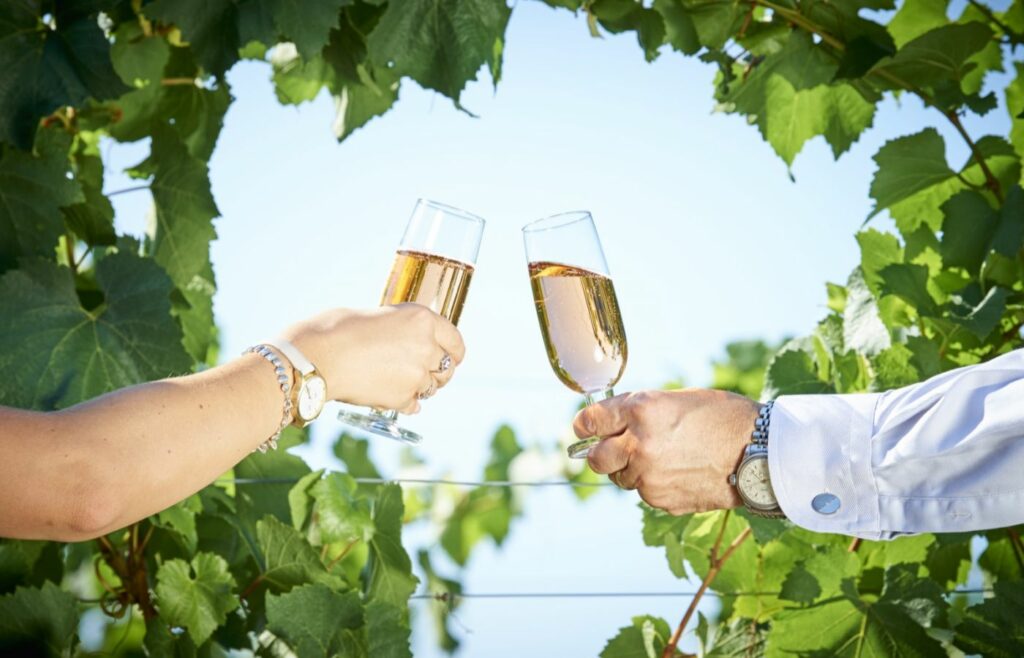 After deciding to turn winemaking into a full-time occupation, the next step became finding a vineyard. At the time, "we were living in the wonderful riverside town of Marlow, Buckinghamshire, and our first requirement was to find a steep south-facing chalky slope of approximately ten acres, with a house suitable for a young, growing family.
"At the end of 2011, an exceptional slope came onto the market (with a lovely house included) within the town boundary along the A4130 Fairmile in Henley: a very rare find! Soil analysis showed it sitting on the same free-draining, chalky flinty marl that stretches across southern England, underneath the Channel and into Northern France. Met Office data also indicates the same climate enjoyed by the Champagne region during the 1970s. At last, it has become possible to ripen the same three grape varieties that go into the world's best sparkling wines," right in the English country!
"We had to decide what wines we wanted to make before planting," Jan explains. And with the conditions in Henley being so similar to the French Champagne region, the only logical decision was to embrace sparkling wines. "We started by offering a non-vintage sparkling Rosé and our Classic Cuvée (a sparkling white), so that customers know that we have good wine they can rely on. We are so proud of the gorgeous salmon pink colour of the Rosé that we present it in a clear glass bottle. It has a light body with hints of strawberry, fresh acidity, velvet mousse texture, and tiny bubbles. The Classic Cuvée is very dry, with hints of green apple, lively acidity, creamy mousse texture, medium body, and good persistence. The acidity enables it to pair well with certain foods."
"We don't sell grapes to anyone, nor buy in grapes from anywhere else, to ensure the quality of Fairmile wine." It's a decision that has paid off for the couple. "Our maiden Classic Cuvée was rated England's only 'Outstanding' sparkling white wine by Decanter magazine in 2020 with 95-97pts/100," shares Jan, "beating 52 other, long-established and much better-known brands."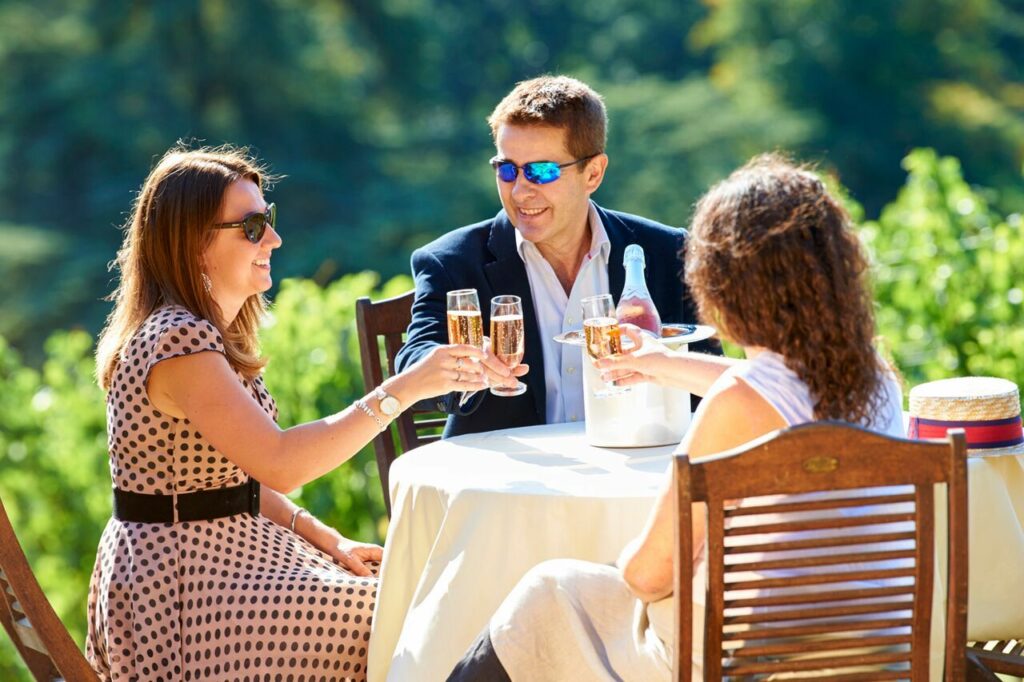 As for Fairmile Vineyard's other offerings, "the wines we make are governed by the grapes that are harvested, therefore in addition to our non-vintage wines we have both Blanc de Blancs and Blanc de Noir maturing on the lees." And as a special treat, "Fairmile Vineyard will release a Founder's Reserve in 2023 to celebrate the tenth anniversary of planting." So, keep a lookout next year!
Establishing the vineyard also took a lot of work, as Jan tells us. "The land had not been in productive use for many decades, if ever. Although we welcome (most types of) visitors to the vineyard, our first job was to have the land deer- and rabbit-fenced. We spread 180 tonnes of council compost from kitchen waste bins and planted a crop of winter mustard to fix nitrogen into the soil naturally from the atmosphere. The big day arrived in 2013 when a GPS satellite-guided machine planted all 12,000 vines in little more than 12 hours." Thankfully, the vineyard was soon operational and "our wines began to pick up awards almost immediately upon release."
Beyond their excellent offerings, Fairmile Vineyard also has its gorgeous surrounding landscapes working in its favour. "The vineyard lies within the Chilterns Area of Outstanding Natural Beauty, and once the wines became available, we started to receive parties of visitors who fell in love with the stunning views from the top," tells Jan. "Numbers rose significantly during lockdown, when visitors left their towns for the fresh air and space of the countryside – all socially distanced, of course. Unusually for a vineyard, we also lie within walking distance of a town centre and train station, so we attract quite a few visitors from London and further afield. Parties sometimes combine a vineyard tasting with a picnic or a meal at one of Henley's many fine restaurants." When visitors plan to picnic, "we always recommend local suppliers and restaurants, or other Henley activities for them to enjoy," Jan states.
Fairmile Vineyard's proximity to the town centre also contributes positively to Jan and Anthea's sustainability mission. "As we lie within a town boundary, many of our visitors keep down their carbon footprint by arriving on foot, bicycle, or train," he explains. Jan goes on to describe the numerous ways in which they have encouraged the land's biodiversity: "Unlike most vineyards, we retained the existing mature trees on the land, which provide a long-established feel – to the detriment of those vines eclipsed by the shade!" though it's certainly worth it for the stunning views.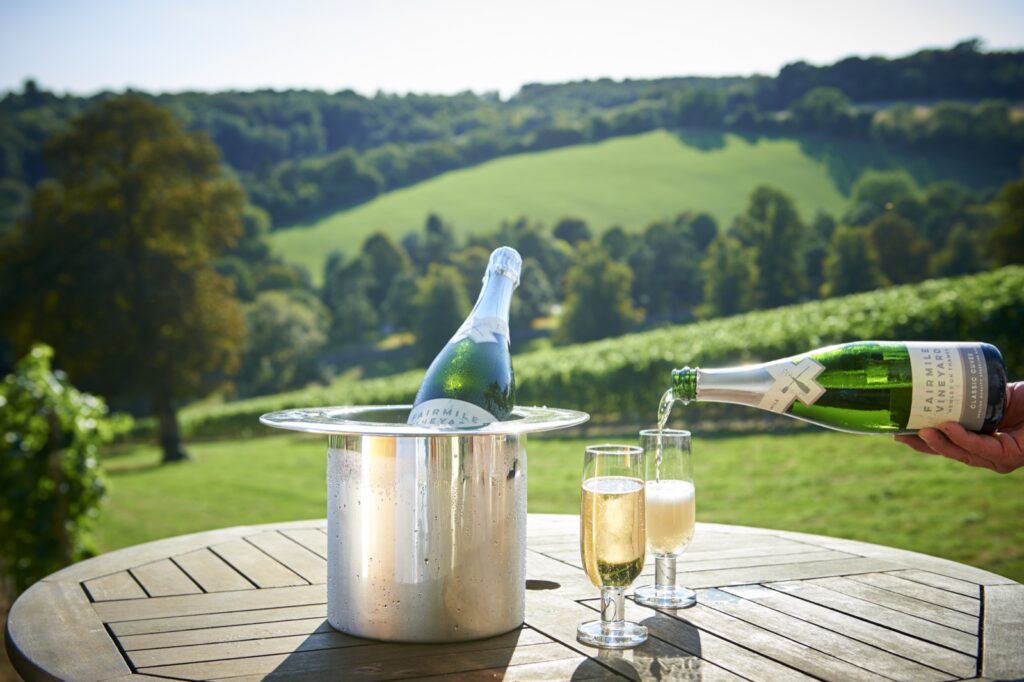 "Whilst some vineyards remove grass from the rows, allowing the exposed stones/flints to reflect accumulated heat back onto the vines, we leave as many natural grasses and wildflowers as possible to create wildlife corridors and encourage biodiversity. It is, however, important to keep the area immediately beneath the vines free from weeds and grass that could otherwise harbour diseases or compete for nutrients," Jan continues. "We therefore use a novel type of mower (with cutters on hydraulic arms) which mows right up to the edges of, and even in between, individual vines. This reduces the need for weeding (which can disturb soil and expose beneficial organisms to unwanted UV light). Careful canopy management, together with the gentle, drying breeze that travels down the Stonor Valley, keeps fungal attacks at bay, greatly reducing the need for fungicide sprays."
On top of all that, Fairmile Vineyard have also begun repurposing their empty glass bottles. "Rather than keep sending empty bottles for recycling, we teamed up with a local company in 2022 to upcycle old bottles into scented candles – a white and a rosé, obviously!"
Though Fairmile Vineyard may still be relatively new, Jan explains that the growing English wine trade is undoubtedly moving in an upwards trajectory. "As a small industry, we know our counterparts in this region, whom we are happy to help and collaborate with." For example, on the weekend of 25th and 26th June, "the Thames & Chilterns Vineyards Association has organised the English Wine & Food Festival at Cobbs Farm Hungerford. Visitors will be able to sample a range of English wines and eat fabulous regional produce."
Reflecting on the growing industry and on why English wines appear to have made such a splash in recent years, Jan muses: "Oddly, I think the 'Big Bang' deregulation of financial markets during the late 1980s may have helped! By the 1990s, some successful entrepreneurs were able to retire from the City of London and live the dream of setting up their own vineyards and wineries. Good investment in vines matched to the terrain, state of the art wineries, employment of top winemakers, and solid consultancy advice moved English wine from being a cottage industry to world-class status. Helped by climate change, of course… I can only quote one lovely lady visitor who asked, 'With English sparkling wines being so good these days, do we need to import Champagne anymore?'"
In the long run, "I would like to think that there will still be a vineyard on the slopes of the Fairmile for future generations to appreciate," Jan confesses. "Not only to enjoy the produce of the land, but the whole visitor experience of getting up close to the vines and meeting the growers. Our daughters help out from time to time, and it would be great to think that the business will remain in family hands."
Be sure to check out Fairmile Vineyard on their website, where you can also purchase their award-winning sparkling wines.