Terlingham Vineyard is a family-run, boutique, natural vineyard making unique and award-winning wines – and now a gin, too! Nestled in the heart of Hawkinge and right by Folkestone, the English vineyard – which also boasts spectacular views of the Kent countryside and across the sea – has been going from strength to strength in recent years and gathered countless awards with aplomb.
So, who better to talk to for English Wine Week than the lovely people behind one of the UK's best wine producers? Hawkker had the pleasure of sitting down with Jackie to chat about operating Terlingham Vineyard (which she does alongside her parents, Graham and Lorna, and sisters Ashleigh and Caroline), promoting natural farming techniques, the transforming English wine trade, and much, much more.
"We're originally South African, from Johannesburg, and we moved over to the UK in 2007," Jackie explains. "We all came together. We spent a few years doing the London thing, and then my parents were looking for their forever home, which is when they found Folkestone. I don't know if you've ever been down here, but it's so beautiful. They found their house, and it was being sold with the vineyard; so, they thought, let's give it a try!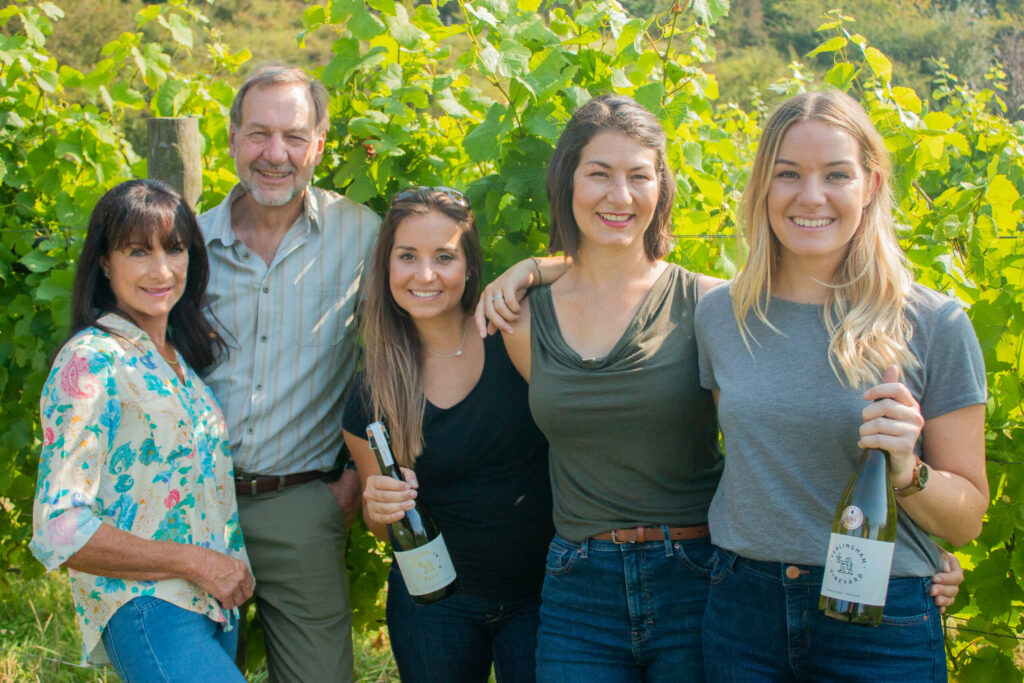 "It had just been planted about three years prior, so it was just starting to get going. That was 11 years ago, and my sisters and I were still in London in our corporate jobs. For a while, the vineyard was more of a very small, lifestyle thing, where we'd make enough to drink ourselves and share with friends. But then it started growing and we started getting some interest, which is when my middle sister Caroline and I realised that this was an amazing opportunity to build something real.
"And so, four years ago, we quit the London jobs, came down, and went full-time at the vineyard! Our youngest sister is also down in Folkestone now. She's still got a real job in the real world [laughs], but she does a lot of our social media."
From start to finish, Terlingham Vineyard is "a total family thing," as Jackie puts it. "We do everything ourselves and by hand, all the farming, everything… the picking of the grapes, corking the bottles, sticking the labels as straight as we can… Sometimes we'll get the husbands involved for some of the heavy lifting [laughs]. It's been a lot of fun and we've learned a lot; we're still learning all the time. It's just a lovely lifestyle to have, and there's something lovely about being in contact with the thing that you're making."
And as though jumping headfirst into English winemaking wasn't audacious enough, Jackie's family was also quick to forego standard farming practices in favour of wholly natural techniques – a move considered extremely risky by contemporaries. "When we first took over the vineyard, it was being farmed in a very standard commercial way and because we were new to the whole thing, I think we came to it with a fresh set of eyes," reflects Jackie.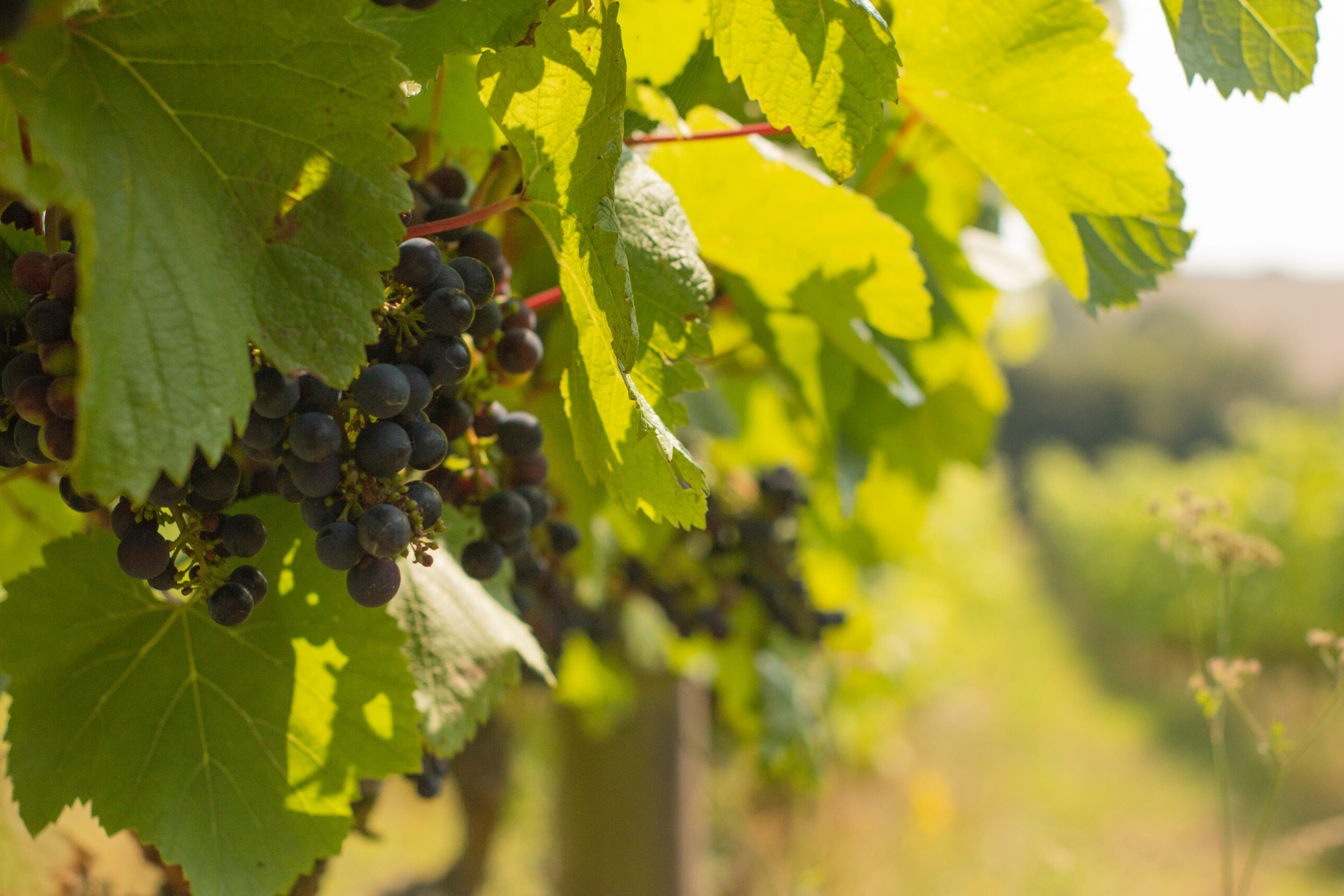 "They hand you the spray schedule, which is every two weeks through the growing season, and it's really intense. My dad got his spraying license, and he'd be the one on the tractor with his little hazmat suit, just spraying up and down. But the more we learned about it, the less comfortable we became. Then I fell pregnant, and I'd want to go down to the vineyard for the weekend, but my mum would be like, 'No, no, we're spraying! You can't come!'
"That gave us pause, and it just didn't feel right. That was about eight years ago, and that's when we came across organic farming and biodynamic farming. What we do now is almost like a more extreme version of organic farming: we avoid the use of any artificial chemical pesticides, herbicides, fertilisers, and even ripening agents. It's about doing things by hand and letting Mother Nature do what she does best! It's manual, it's very intense, but it's so worth it.
As a result of this drastic change in approach, she explains, "the biodiversity in the vineyard has just exploded. We didn't know what we were missing before. It's also solved a lot of interesting little things for us. For example, aphids were a big problem before, but now that we stopped using sprays and have a healthy ladybird population, they just eat the aphids. Aphids are never a problem for us anymore."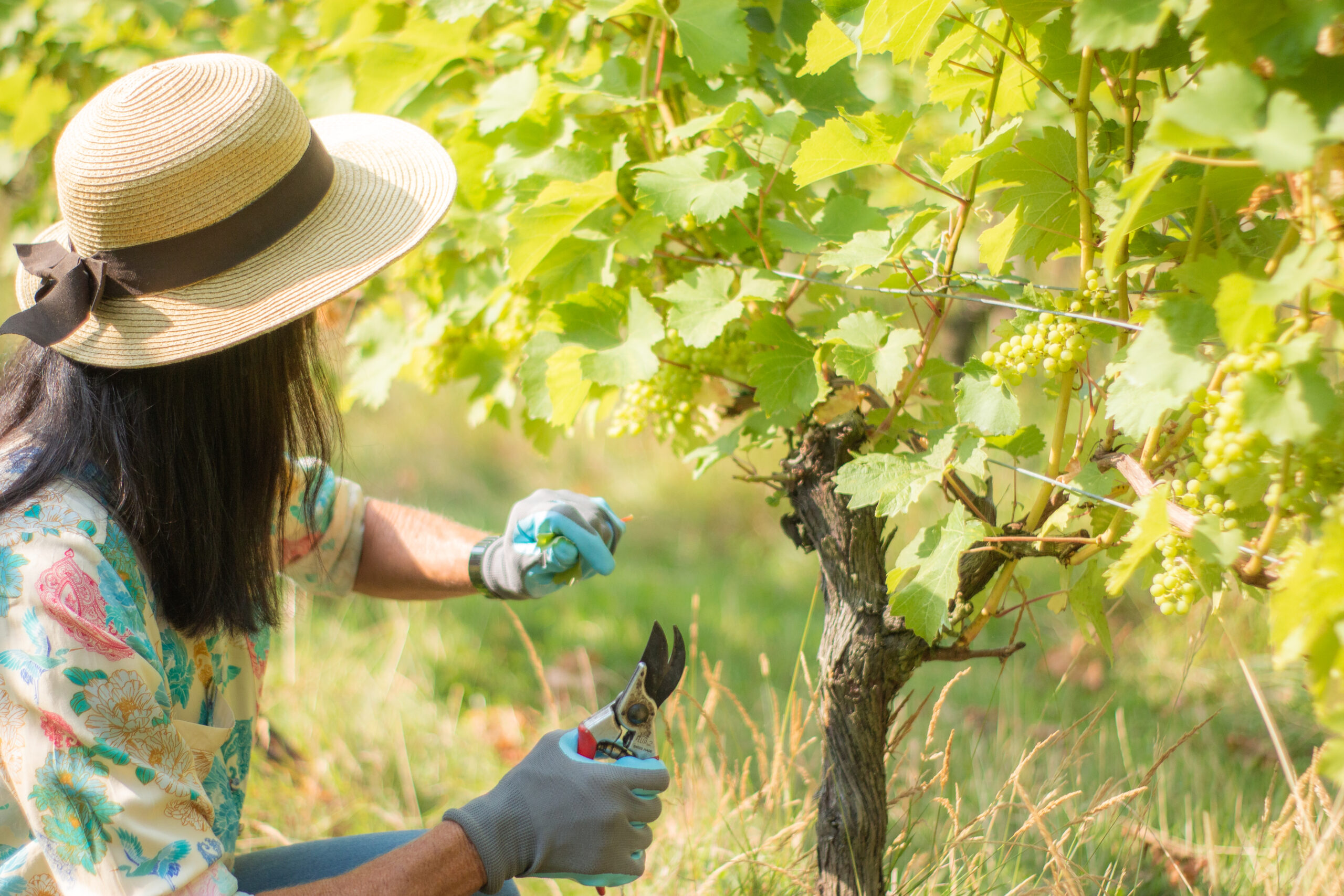 In another sweet example, Jackie tells us about what her family affectionately refers to as "the badger's share" of the Terlingham crop. "We grow six different kinds of grapes, which each ripen at a slightly different time, so we'll pick those over a few days. And one of the little neighbourhood critters that we have a problem with are badgers – we've got a big and healthy badger population near us, and they love ripe grapes. In the early days, we'd see a lot of our grapes getting eaten. What we do now is, we have a Germanic varietal called Rondo, and that's the type of grape that ripens first. So, we'll harvest those and leave about 5% of those grapes on the vine; they get extra, extra sweet and juicy, and that attracts the badgers to those vines so that they leave the rest of the vineyard alone," she laughs. "It's a good compromise."
Beyond that, the family's shift to natural practices also had a positive effect on the quality and taste of the wines they were producing. "It's all worth it to see the quality of the grapes and the fantastic quality wine. We're still winning awards, so even objectively we can see that it works. And the industry as a whole is now becoming more focused on sustainability, too. I think it's behind some of the other industries, but it's catching up, which is nice to see."
Terlingham Vineyard has also made strides toward sustainability beyond its agricultural practices. "We've turned to paper labels in the last couple of years, and we no longer have the silver or gold foil over the top of the sparkling wines – those are just cosmetic, and they usually go to landfills," Jackie explains. "That's made a big difference to our carbon footprint, which is great. As for our still wines, we've switched to screwcaps, because the information available at the moment suggests that on balance, those have a smaller carbon footprint than cork tops. There's a lot of debate, though; all the research is either sponsored by screwcap manufacturers or cork manufacturers!"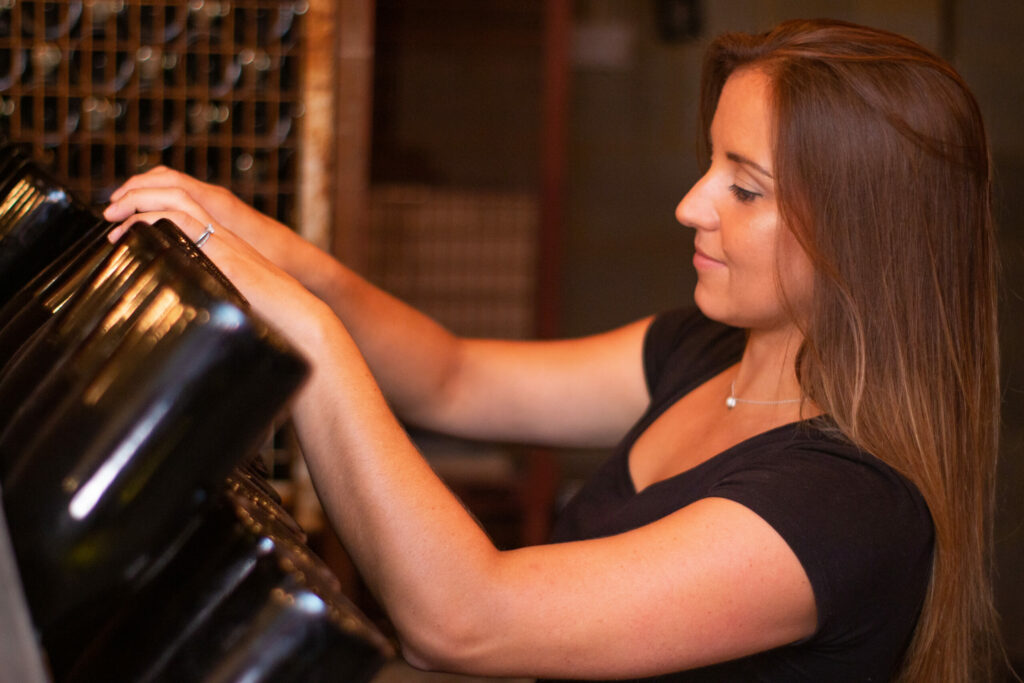 On top of their sustainability efforts, Terlingham is also forging strong community relationships and "looking to work with other small vineyards in a cooperative approach. There are a few guys locally who are moving into natural, organic farming, and we're helping them figure that out. There's one in particular, Elham Valley Vineyard, who we've helped move to natural farming over the last couple of years." Elham Valley is operated by The Fifth Trust, a Kent-based charity supporting adults with learning disabilities and offering them a broad range of creative, horticultural, and academic activities. The two vineyards have worked closely together to share knowledge and resources, and to transition Elham Valley towards safer, chemical-free growing.
As well as championing sustainability and more environmentally-friendly practices locally, Terlingham also works to champion women in the wine business. Women might outnumber men 4:1 in the case of Terlingham Vineyard, but the same cannot be said for the industry at large. When it comes to Masters of Wine, Master Sommeliers, and senior positions in wine companies, these are all still being held predominantly by men – this despite the fact that the majority of people who drink wine in the UK are women.
"Agriculture has historically been very male-dominated and the drinks industry has also, historically, been male-dominated," Jackie muses. "Yet over the last few years, the wine industry has shifted to include a lot of amazing female voices, both on the making and the growing side. It's something we're really proud of, to be able to say that we run a small business, and we would encourage any women looking to start a small business in these industries to go for it! There's never been a better or more exciting time to be in that world."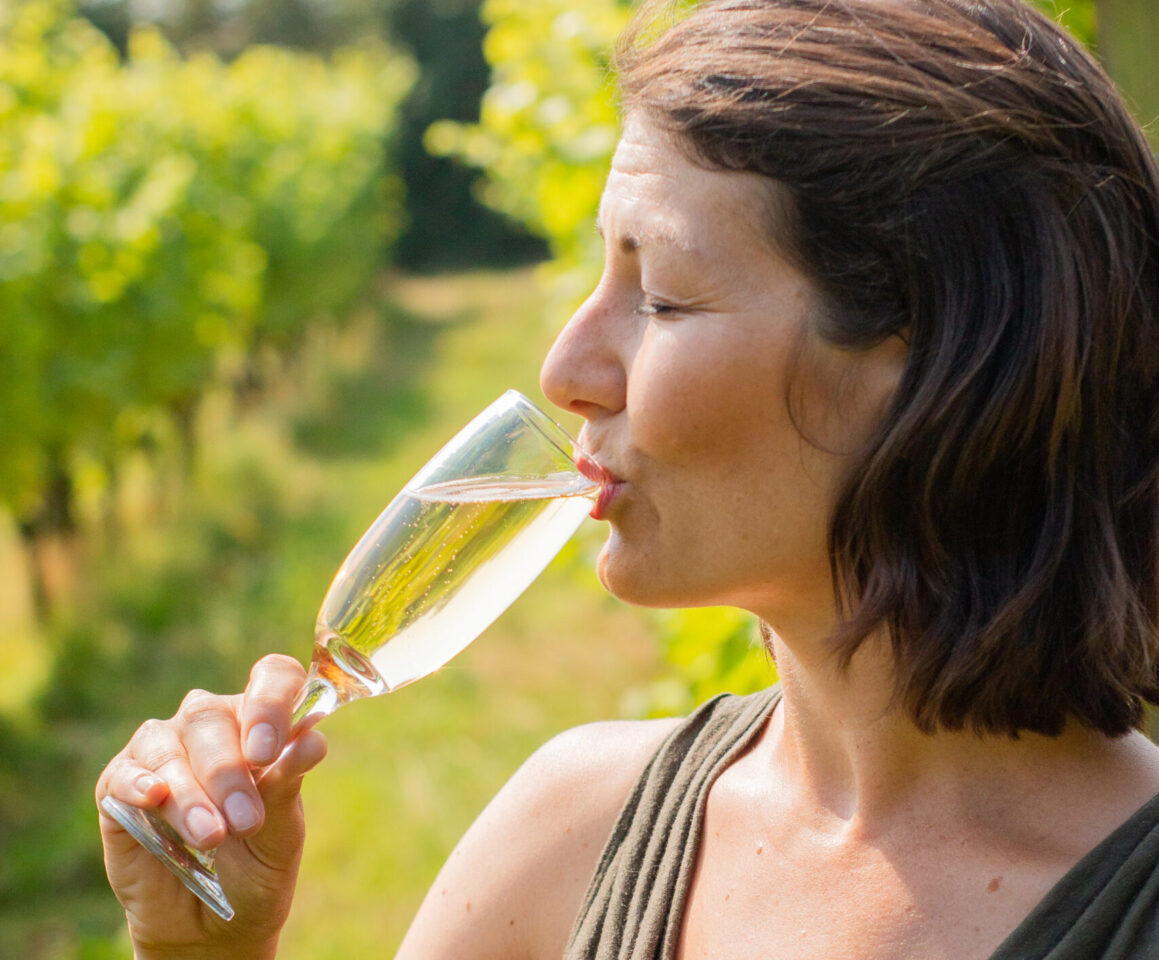 That's in no small part due to the fact that the UK wine scene is still a relatively new kid on the block. "We've been working in a unique time for the wine industry," explains Jackie, "where we have gotten to be part of the creation of a whole new wine region. You know, the last time this happened was with New World Wines in areas like California. I don't know what started it exactly, though I think the climate change element that's made English weather less marginal than it used to be. But I also think there's been increased recognition surrounding English foods and drinks – and why shouldn't wine be one of them?"
The growing status of the English wine world can also be attributed to the pandemic. As Jackie puts it, "the last two years of the pandemic have brought attention to the value of eating and drinking locally. Many people have come to realise just how good the quality of English wines is, in a way they weren't aware of before.
"And because the industry is new, which also means a lot of the vineyards are new – that in turn means that you get to pick what to plant and select the best rootstock now. You're not inheriting a 600-year-old vineyard. You get to choose from the ground up which grapes to grow, what the best altitude is, the correct orientation for the vines, everything." The result, Jackie argues, is better quality grapes – and wine – all around.
And, in an extra English touch, "we recently released a gin," Jackie reveals. "It was born a little bit out of lockdown – our primary business involves wine tasting and vineyard tours on-site, which of course was not possible. We realised we needed to build our wine supply and have an online business as well, so the gin is part of being able to offer a broader range of things. We've partnered with this great, super small distiller who's organic and all about ethical produce.
"It's a traditional dry gin, except that we use some of our wine as one of the ingredients!" Starting with locally found botanicals like rhubarb and nettle – which are collected by hand in Folkestone, "we then use our award-winning Bacchus wine, distil it into an eau de vie, and then add it into the gin. It gives it this sweetness, a kind of elderflower-y, citrusy sweetness. It's already won some awards, and we're really excited about it.
"And they're so special, too. Our main run is only 1300 bottles, and we use this 100% recycled glass bottle. It's beautiful, slightly turquoise in colour, and with little bubbles in the glass from where it's been melted and reformed. Each bottle is unique," she adds. No wonder it was selected by Harper's Bazaar as one of their top luxury gins, which experts describe as "British summertime in a bottle".
And on the subject of summertime, we were sure to ask Jackie for her sunny day wine recommendations. "For a summer drink, our rosé is wonderful. Our sparkling pink has also just won a Silver Award at the Independent English Wine Awards, which we're delighted about! It's one of these big national awards, where everybody enters – so we were so pumped!"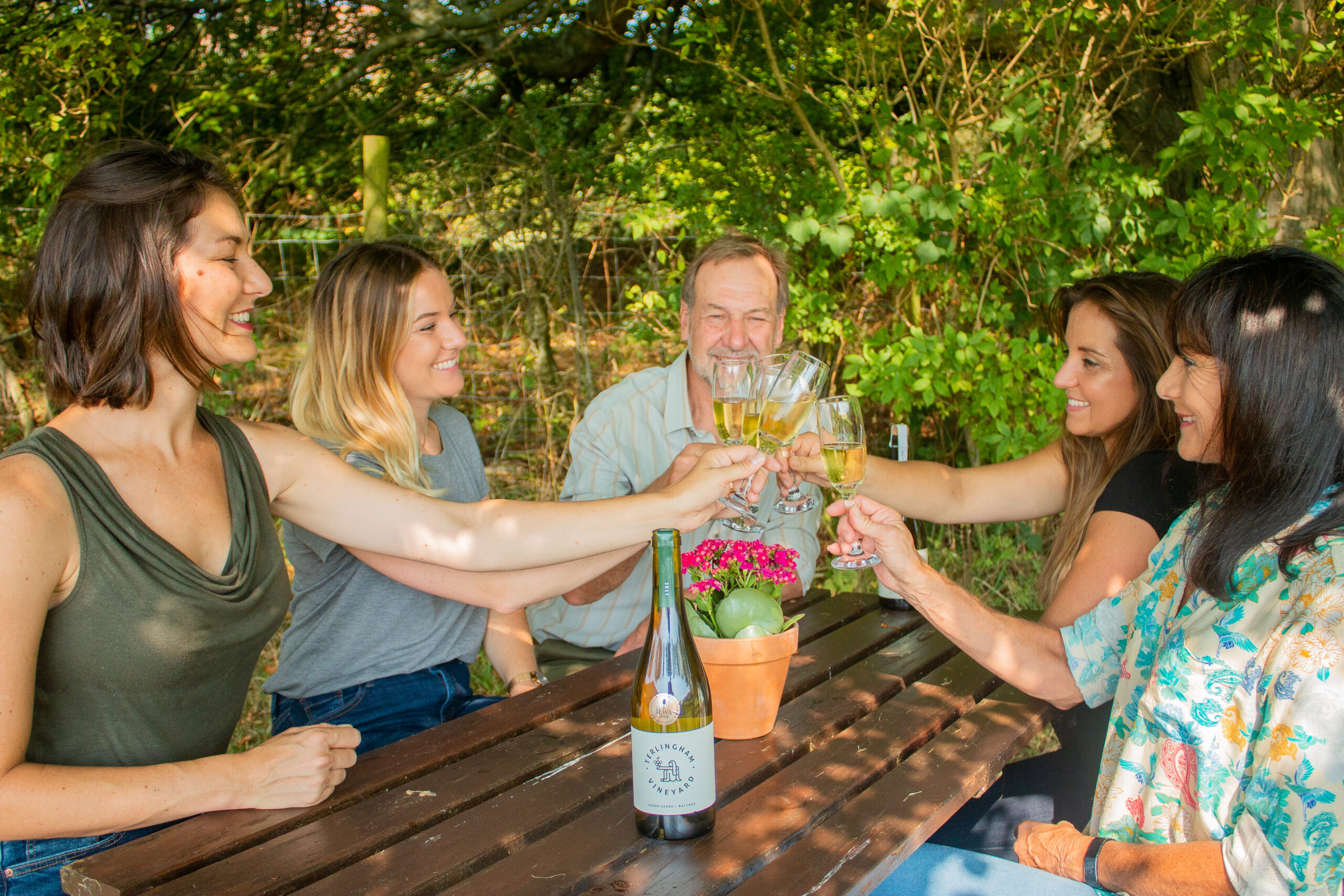 Finally, for anyone looking to spend a fun day out with friends or family this summer, look no further than Terlingham Vineyard tours. Sun and sea, wines and vines, and even vineyard dogs – Terlingham has it all. "Each tour lasts about two hours," explains Jackie. "We start with a walk down into the vineyard, and we give a bit of an overview of how we grow the grapes… then we head down to some beautiful benches set out right by the vines, which is where we'll do our wine tasting. We finish with a cheese board, and then we have tea, coffee, and cake at the end. It's lovely and very relaxed, and my sister and I host them ourselves."
Be sure to check out Terlingham Vineyard on their website, which also hosts their online shop!