When I tell restaurant owner and chef Kemal Kerim that I've eaten at his restaurant before, he is quick to tell me that the menu has had a total rehaul since it opened in June 2022. Although Kroran Uyghur always featured Uyghur classics like 'big plate chicken' and laghman noodles, it also catered to the more exoteric ideas of 'Chinese' food, like mapo tofu. Kemal has since decided to boldly strip things back to a menu that is now entirely and unapologetically Uyghur, and it is all the better for it. Where some dishes might have lacked flavour specificity, what stands in its place is a simple yet beautifully refined representation of his hometown's cuisine of Xinjiang, a region of northern China.
There are relatively few Uyghur restaurants in the UK, the most well known being Etles in Walthamstow and Dilara in Finsbury Park. You're sadly more likely to have heard about the Uyghur people via the news than their culinary outposts; despite the enormity and diversity of the Xinjiang region, and the popularity of its dishes throughout China, the Turkic Muslim Uyghurs are an ethnic minority group that have long been brutally persecuted.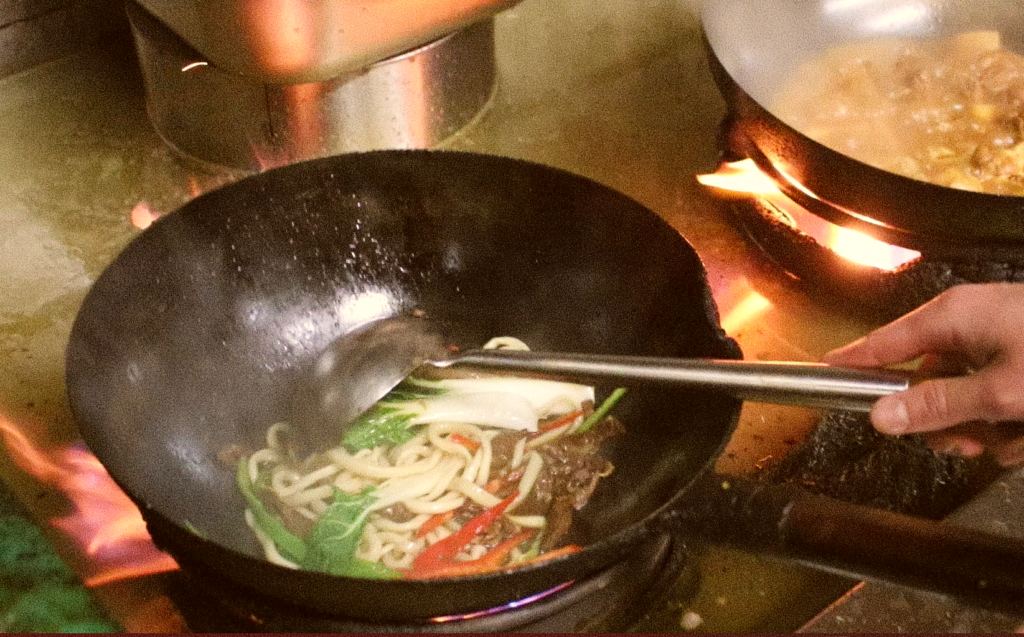 Kemal still has relatives in Xinjiang, but his immediate family sought refuge in Turkey when he was just twelve years old, before relocating to London four years ago. As one of the faces of the small Uyghur London diaspora, I asked Kemal if he sees his food as political. "Actually, no. People only know about our problems rather than our culture. So it's important to me to showcase the good things about my nationality", he says.
Kemal is working on a new speciality dish, which he coyly admits to consisting of the laghman hand pulled noodles, pak choi, pepper and a "really special sauce". Kemal is the sole proprietor and mastermind of the evolving menu which, at just twenty years old, is an impressive feat. He is greatly influenced by his father – who he hasn't seen in over four years –, himself a restaurant owner who is renowned throughout China and Turkey. Growing up, "I worked in lots of my family's restaurants. But strangely enough, I have never actually seen my father cook! But we talk about new dishes and ingredients all the time. The new dish is inspired by him", he explains.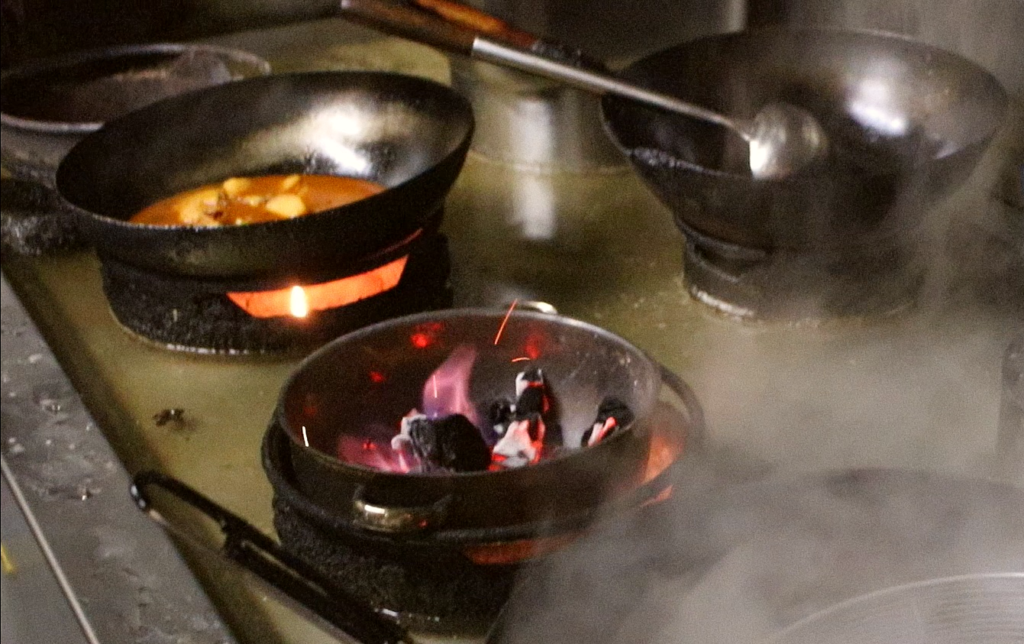 Kemal is ambitious and hopes to make this work-in-progress dish the new emblem of Uyghur cuisine. He compares the scale of his aspiration to the ubiquity of chow mein (in Mandarin 'ch'ao mien', meaning stir-fried noodles). Despite its Northern Chinese origins, for the most part chow mein has become the bastardised poster child for a generalised sense of Chinese food in the West. Kemal's dish will showcase the Xinjiang's rich influences from its eight neighbours that include Mongolia, India, Russia and Afghanistan, earning its name as the "bridge between China and Central Asia."
While the dishes are chicken, lamb and beef-heavy, the food is all halal. Carbohydrates, like the noodles and naans, are mainly wheat-based. Kemal cooks over open flames, letting the cumin crusted lamb skewers sizzle above red hot coals. I watch him pull the oily noodles from a dish coiled like a resting snake, before banging them on the counter so that they easily lengthen whilst retaining their thick, chewy bite. These will form our laghman dish, which will be served with shreds of tender beef and slithers of green and red pepper. For the base of the big chicken stew, Kemal uses the palm of his hand to flatten the noodles into sleek ribbons. They float in the broth, which is filled by chunks of chicken on the bone, pillowy potatoes and wads of charred chilis. Despite its immediate warming effect – thanks to the heat of star anise, cinnamon and sichuan peppercorns – it still retains a delicate, golden quality.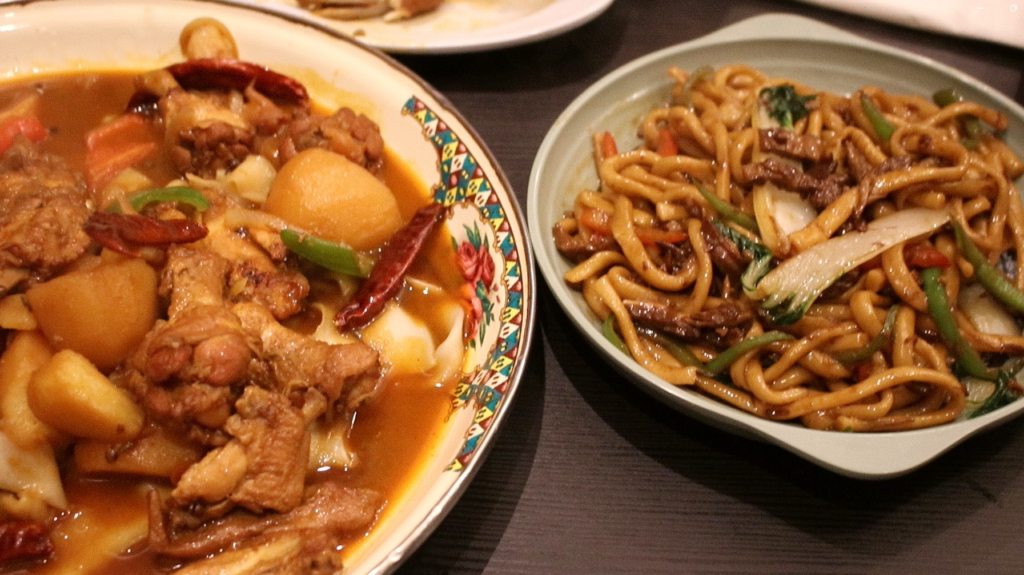 Kroran Uyghur and Kemal himself are known to other London Uyghur restaurants by virtue of his dad. Is this a sort of pressure? "Not really, but it is annoying that people assume that my dad is behind the business. It's true that I don't have a lot of experience and opening a restaurant has been a lot harder than I expected. For instance, I haven't had time to think about social media. But that will come soon. For now, I'm focusing on making the menu something everyone can enjoy, which also means making it low-price. I want my customers to come from everywhere, not just Chinese people who are already familiar with the cuisine", he explains.
Kroran Uyghur is indeed very welcoming, retaining a friendly and casual feel despite the dramatic and richly coloured paintings on the wall. Kemal tells me they depict some of the Uyghur's musical culture, with figures in traditional dress playing instruments and dancing with gusto: "You can really feel that this is Uyghur. Like the lady dancing, and the people sitting sipping tea", he comments. Despite its relative anonymity on the internet, it is certainly worth seeking out Kemal's steaming and lovingly prepared food enjoyed among these joyful scenes. Kemal's dreams are big, and we're all likely to benefit from them.
Visit Kroran Uyghur at 151 Homerton High St, London E9 6AS, and learn more about the people behind your favourite restaurants and cafes via Hawkker's Spotlight Series.