In 1991, Will Davenport would plant five acres of vines at Horsmonden in Kent. Some thirty years and 20 further acres later, he has established himself as a distinguished winemaker and owner of the multi-award-winning, organic Davenport Wines.
In celebration of English Wine Week 2022, Davenport sat down with Hawkker to discuss his journey in the winemaking business, being at the forefront of organic vineyard farming practices, and the exciting growth of the British wine world.
"I've just always worked in some form of wine business," Davenport states, explaining his journey to becoming a vineyard owner. "Starting with retail shops in London, work experience on vineyards abroad, and eventually doing a winemaking diploma in Australia." Though the idea of English wine is still sometimes met with cynicism, the British winemaking sector is booming; Vine hectarage more than doubled between 2012 and 2020, while sales in 2021 increased by 30% from the previous year. "The UK is a young producer, still finding its feet and defining itself," reflects Davenport. However, "English wines are now more recognised in the wine trade, and there are increasing numbers of professional businesses investing in the UK wine industry.
"Every wine region has its own style, which is why the wine trade is so interesting. Our advantage is that we can make wines with naturally lower alcohol levels, and slow-ripening grapes can produce more aromatic wines. And with sparkling wine, the cooler UK climate means that we don't need to worry about the acidity being too low," which helps explain why a whopping 64% of English wines are sparkling. The cooler British climate provides further advantages to winemakers. "As climate change progresses," he continues, "some wine regions will become more challenging, but the UK may prove to be more resilient because we are already on the cooler end of the spectrum."
A Glance At The Davenport Wines Selection
Horsmonden Dry White – A dry English wine with aromatic peach and floral fruit, with a soft and broad palate. Made from Bacchus, Ortega, Huxelrebe, Faber, and Siegerrebe varieties from 32-year-old organic vines, with no added yeast.
Limney Estate Sparkling Wine – Chardonnay, Pinot Noir, Pinot Meunier varieties are traditionally blended for this 2016 vintage, which has spent 4.5 years maturing in the bottle on lees. This gives the wine plenty of yeast character combined with a surprisingly youthful fruitiness.
Limney Estate Sparkling Rosé – The perfect wine for a warm, sunny day, served chilled. The current 2018 vintage blends Chardonnay and Pinot Noir using the traditional method for a light rose colour.
Blanc de Blancs Sparkling Wine – A 100% Chardonnay sparkling wine with a dry balance and aromas of white fruit (peach, baked apple) with a clean finish. The current vintage is from 2015.
*Sold Out* Diamond Fields Pinot Noir – "This wine always sells out, as production volumes are small," explains Will. Matured for ten months in old French oak barrels, this still red wine is unfiltered and has no added yeast.
In line with growing concerns over the climate emergency's impact on farming at large, Davenport Vineyards prides itself on its sustainable approach to winemaking and unrelenting drive to find greener solutions.
Davenport converted to organic farming practices at a time when it was considered extremely risky, though he explains that "I didn't know. At the time we wanted to try it out because I wasn't happy to use chemical weedkillers, fertilisers, and fungicides on our vines. However, the wine quality is always the most important factor and, if the wine has lost any quality, we would have had a re-think about organics. In the end though, the wine quality improved over the organic conversion, so we're still doing it!
"I noticed the wines becoming softer, fruitier, and more aromatic. The wine just seems to find its own natural balance, so we don't need to interfere in the winery with acidity adjustments etc. I am not an expert on the science of drinking wine, but I believe that some of the chemicals used in viticulture and winemaking do end up in the wine. This has been proven by several studies. Personally, I don't want to risk drinking wine that contains traces of pesticides."
Davenport Vineyards is certified by the Soil Association, the UK's largest organic certification body. "Soil Association wines also have a much lower maximum limit for sulphite additions (100 mg/L) compared to non-organic wines (210 mg/L)," Davenport tells us. "So while many winemakers do keep sulphite levels as low as possible, Soil Association wineries are annually inspected, so they have a guarantee of maximum sulphites."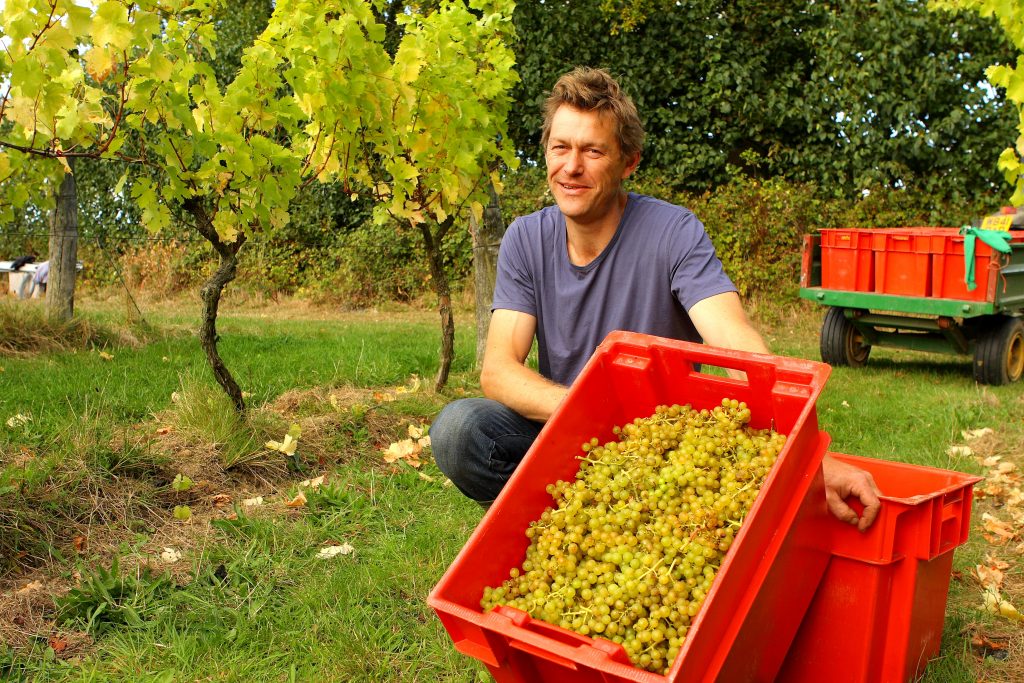 Davenport's sustainability efforts don't stop there. As he explains, "organic certification doesn't cover all aspects of sustainability, such as wildlife biodiversity, waste recycling, etc., so we have looked at these but also at areas like packaging waste, using local suppliers, ensuring social wellbeing (employing local people for harvest), and more… Everything we do has some impact on the environment, including making wine," Davenport muses. "We try to make our wines with as little energy as possible, mostly generated on-site by solar panels. We also consider the carbon footprint of every stage in winemaking. When you receive a wine delivery from us, you might notice that the bottle is a lighter weight than most wine bottles – that's because the cork is natural cork from Portugal, the label is FSC certified paper, and the carton is made from 100% recycled board."
The vineyard sites themselves are also part of Davenport's push towards a healthier, more biodynamic environment. "We leave areas un-mowed to create a habitat for insects and grass seeds for birds. We've also installed 20 bird nesting boxes, and the fields around the winery are managed as wildflower hay meadows. Hedges are trimmed only when absolutely needed, often on a 4-5 year cycle, so that they provide a mix of habitats for nesting birds."
Thinking back to Davenport Vineyards' decades-long journey, Will Davenport reflects on some of his proudest moments: "Winning the Amorim Sustainability Award in 2018 for the most sustainable wine producer worldwide, and also the Gore Browne trophy for the Best UK wine in 2014 – we're the only organic producer to ever win any trophy in the WineGB Awards."
As for what comes next, it's all about "carrying on making the best wines we can and selling them to people that love them! Hopefully we can find ways to increase the quality of our wines, too. And I would like to think that we can all continue to enjoy our work, as without that there would be no point."
Keep an eye out for further interviews as Hawkker spotlights some of the individuals at the forefront of England's expanding wine trade.