Borough Market is a go-to place for tourists and London locals alike. The market is renowned for its fresh produce, artisanal foodstuffs, gourmet snacks, and international cuisine. Market visitors will find everything from British and European classics, to Middle Eastern and Latin American dishes, reflecting London's diverse culinary scene. Whether you're looking for traditional fish and chips, unique cheeses, gourmet sandwiches, delectable pastries, or exotic street food, Borough Market is likely to have something to satisfy your taste buds.
Some of the vendors present can vary from day to day, but below you'll find five incredible places to grab a meal for less than £10.
Hawkker tip! Go as early as possible in the day to avoid the crowds, as it can get very busy, especially in the summer and on weekends.
Head to The Black Pig for ridiculously amazing Italian sandwiches! Find this stand at the back of Borough Market, right in the middle of the food court. You can watch them make your sandwich fresh right in front of you on their hot grill.
They have a small, but extremely well-curated menu. Their speciality is slow roast pork, which you can get for £12 or £11 – still an absolute bargain if you ask us! But if you are strictly under the £10 budget, their 'Veggie One' is just £9, with smoked Scamorza cheese, honey truffle mayo, fennel apple slaw and salsa Verde. And bonus, all their sandwiches are HUGE: Juicy, delicious, and made with passion.
If you want to recreate their sandwiches from the comfort of your own home, head to their website to purchase their sauce selection, which includes the 'Honey Truffle Parmesan' mayonnaise with white truffle oil and 30-month aged parmesan, their salsa Verde and also their picked red chilli with confit garlic.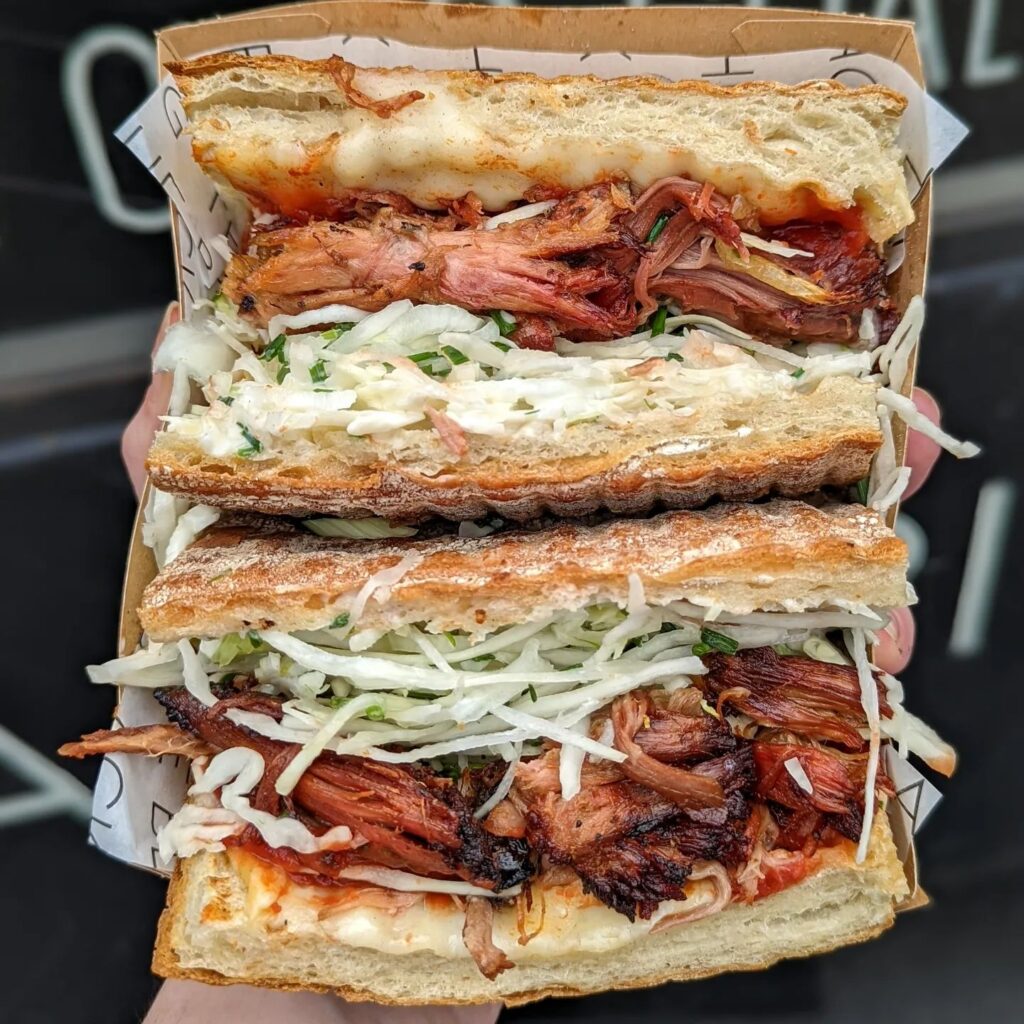 You'll know exactly why this stand made our list as soon as you see this gorgeous pan of bubbling risotto! You can smell the incredible aromas of this spelt dish from far away, teasing earthy flavours and an unexpected freshness.
Grab a hearty, filling bowl of risotto for just £8.50. It's made with a variety of sauteed mushrooms and generally doused in parmesan. You can also add truffle oil for £2.50 or go wild with their Aussie black truffle oil for an additional £8.
The lovely team is also on hand to offer you a spoonful to sample, so you can try before you buy! There might be a long queue, but it moves fast.
Fresh pitas made to order, bursting with flavours inspired by childhood memories, and recreated in this inviting Borough Market stand. The team frequently visits the Middle East to perfect their craft, sourcing the finest ingredients, including tahini, fresh spices, and date and honey Amba sauce.
When it comes to filled pitas, we sometimes find it's a struggle to get a bite with a bit of everything! Shuk's pitas are the exception because they mix all their ingredients before stuffing them into the soft, fluffy pocket, meaning you enjoy an incredible combination of Tel Aviv flavours with every bite.
Their Sabich is filled with roast aubergine, chopped egg, tomatoes, pickled cucumber, Amba tahini and fresh herbs. It's absolute bliss and just £10.25.
You can also find out more by reading our interview with the founders of Shuk.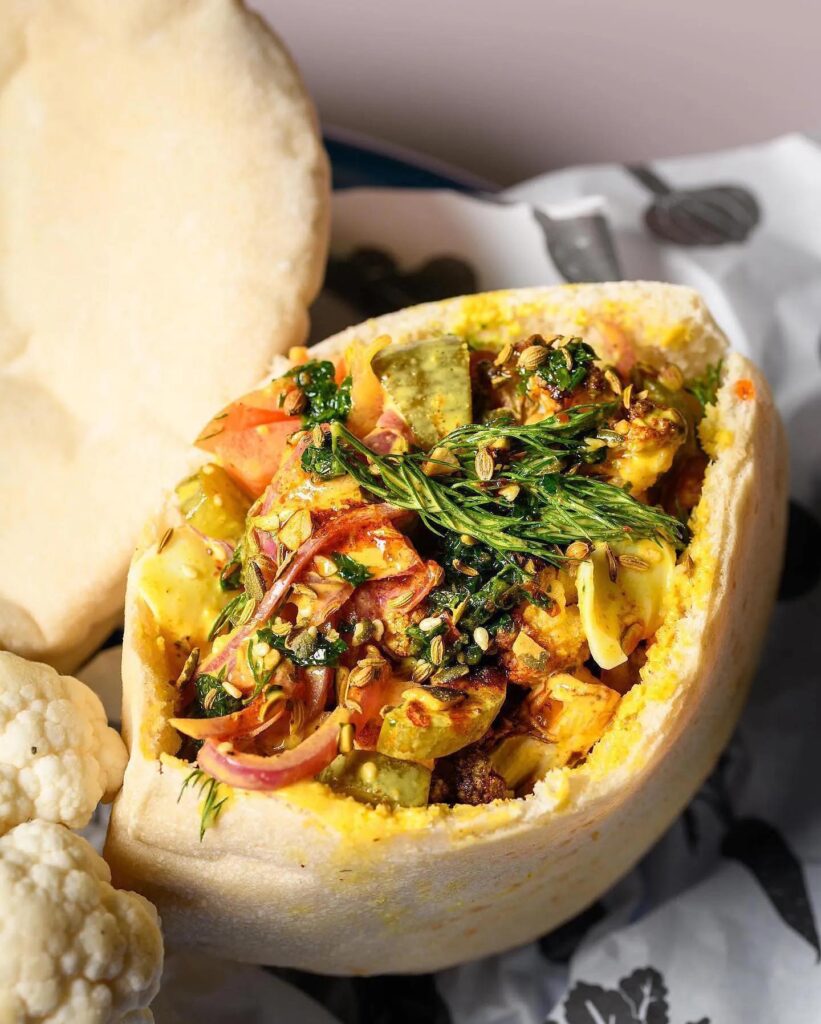 Taken from a phrase that's commonly painted on trucks and buses in India to encourage drivers to sound their horn if they wish to overtake, this is the name of a delicious Indian street food stand in Borough Market.
For just £8, you can enjoy their moong dal dosa, samosa chaat, dosa chaat or their egg kati roll. This is such an amazing price for the amount of food you are given, and for how filling it is. Their dishes also take you beyond curry, with a fully vegetarian menu that packs incredible flavour.
As with most places at the market, every dish is made to order, and you can enjoy watching it being made for a complete sensory experience.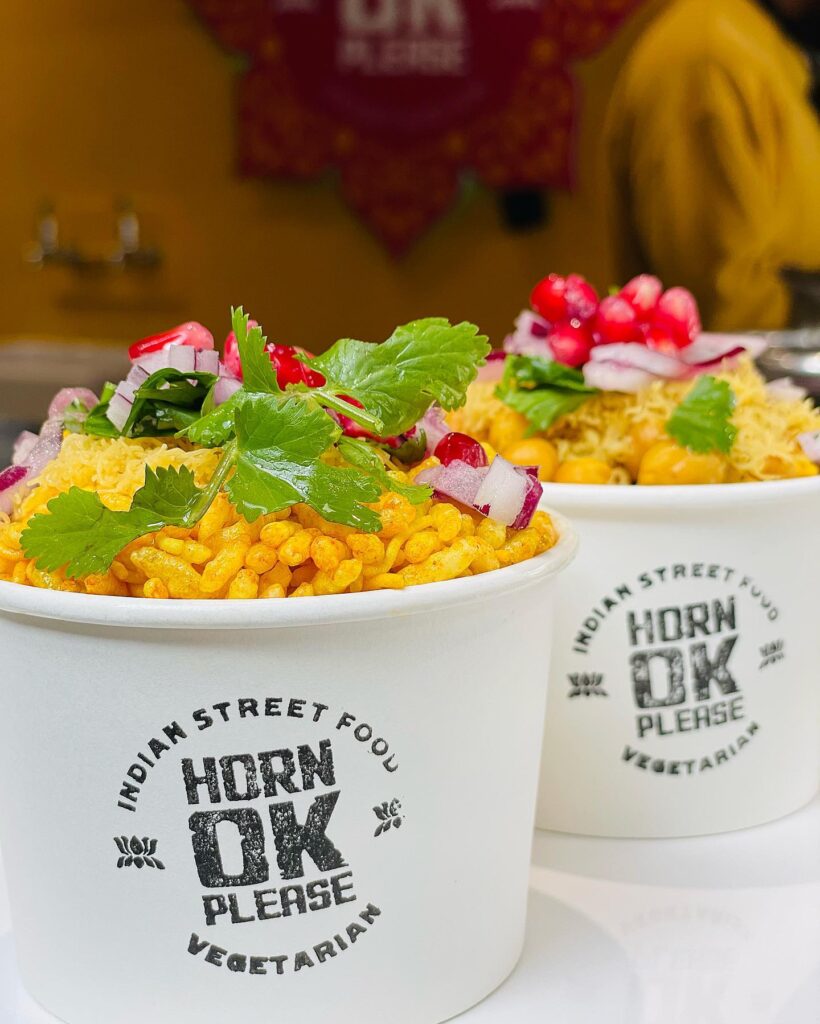 A fourth-generation business that has been operating since 1944, this place offers what is hands-down the best salt beef and falafel.
The owner is his own biggest critic, which means he works tirelessly to ensure the highest quality salt beef is served. It's juicy, with the perfect texture, and served with crunchy pickles and the softest, doughiest bread.
Choose a falafel wrap with all the trimmings for just £7.50, a falafel salad for £8.50 or go for the salt beef bagels for £8 with gherkins and mustard, £9 on rye or splurge £11 to enjoy their hot salt beef on a challah roll with Russian dressing coleslaw, fried latke bits, mustard and melted Emmental cheese.
Borough Market is a worthwhile bucket list item for those visiting London and, if you live here, we hope this list also encourages you to visit these vendors and enjoy some delicious, affordable eats!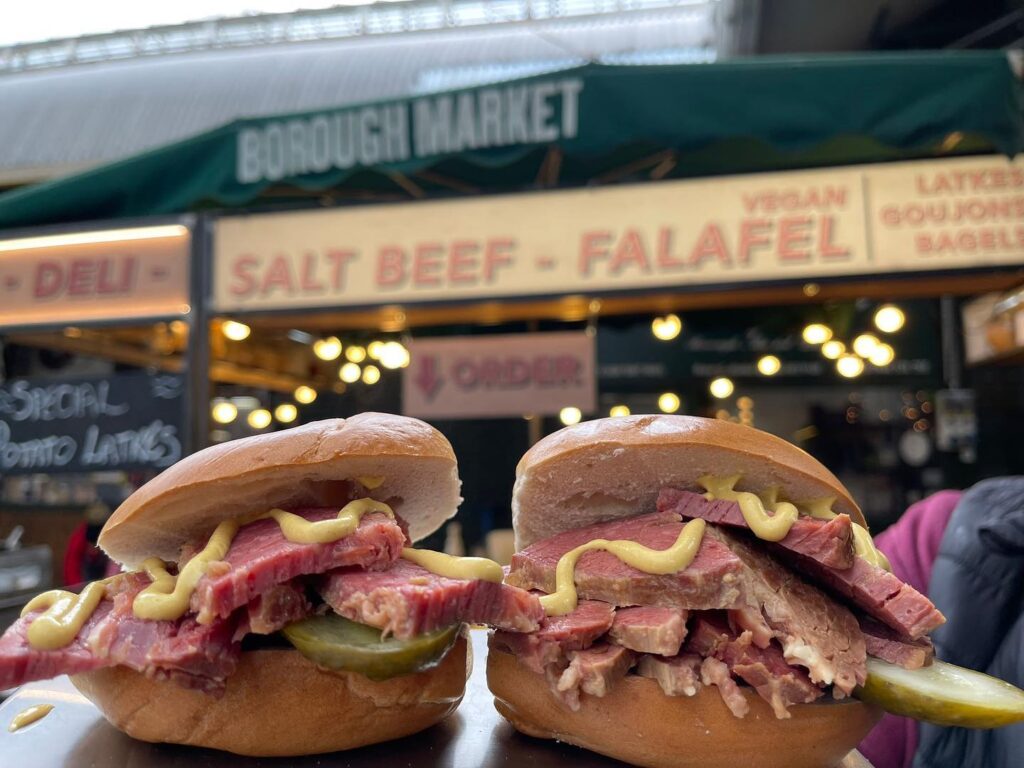 Know some delicious, affordable restaurants that you want to share? Make a Hawkker List of your favourite spots and help others find great food on the cheap!
You can also find the above spots, and many more, on our own regularly-updated list of affordable eats in London.