What started as a "fun thing to do on Saturdays" has become an intergenerational institution on Clapham Junction's ever-buzzing Northcote road. Founded by Sebastian Vince, Breadstall has experienced quite the metamorphosis over its 25-year history. Today, they're renowned for their authentic Italian biga dough pizza, with a crust so good you won't want to mess around with too many toppings — Breadstall has certainly come a long way since its days of selling fresh ciabatta and French viennoiserie.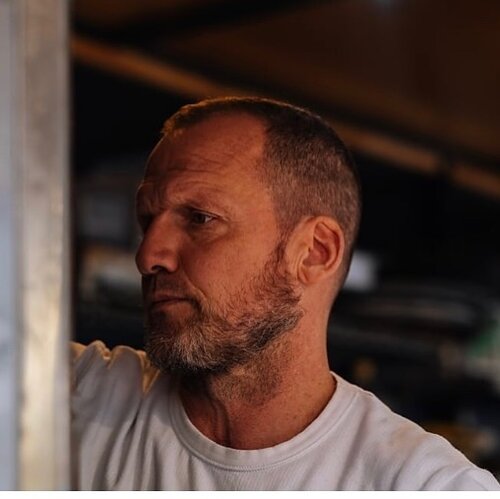 Breadstall founder Sebastian recalls the institution's earliest days: "In the beginning, I loved piling massive amounts of bread, cakes, and all sorts of other stuff onto a 14m-long market stall table and hearing people go 'WOW!'. Then somehow, by the end of the day we'd have sold all of it. That always amazed me."
With roots in Berwick St market, Breadstall migrated south of the river to Clapham Junction after a "chance conversation with the guy next to me, who sold olives," explains Sebastian. It only took a few years before Breadstall made its home on Northcote Road, where it still resides today. The new location allowed access to ovens and kitchen prep areas, which enabled Sebastian's team to expand their range of offerings with various goodies that have come and gone over the years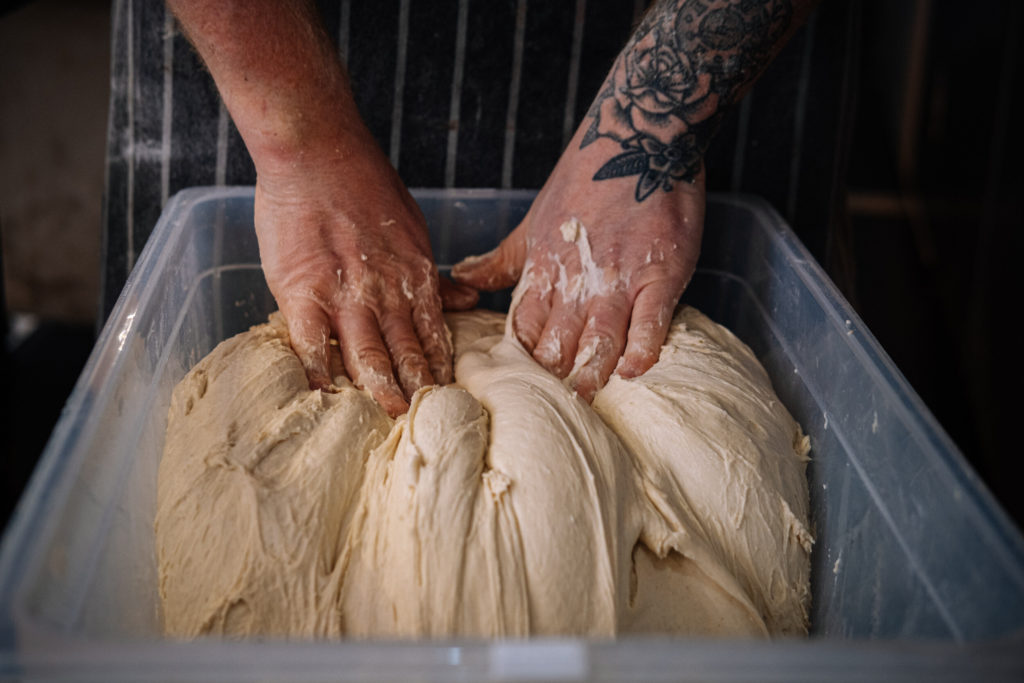 When asked about the transformation of Breadstall from a bread and cake vendor to a pizza-only joint, Sebastian explains that he "always envied the bakers when I went to visit them. Seeing their skill and their commitment to their craft… they seemed really centred and content to me. I really envied them. Gradually, the pizza-making took up more and more space. The dough got better and as I got more obsessed with it, I got tired of making it in whatever small corner of the stall was available at the time. So, I took a bit of a risk and decided to concentrate on one thing."
Safe to say, the gamble paid off for Sebastian; Breadstall has a constant stream of satisfied customers and they've also added a few tables dressed with cute, checkered cloths, giving customers the option to stay and enjoy their freshly-made slice while it's still steaming hot.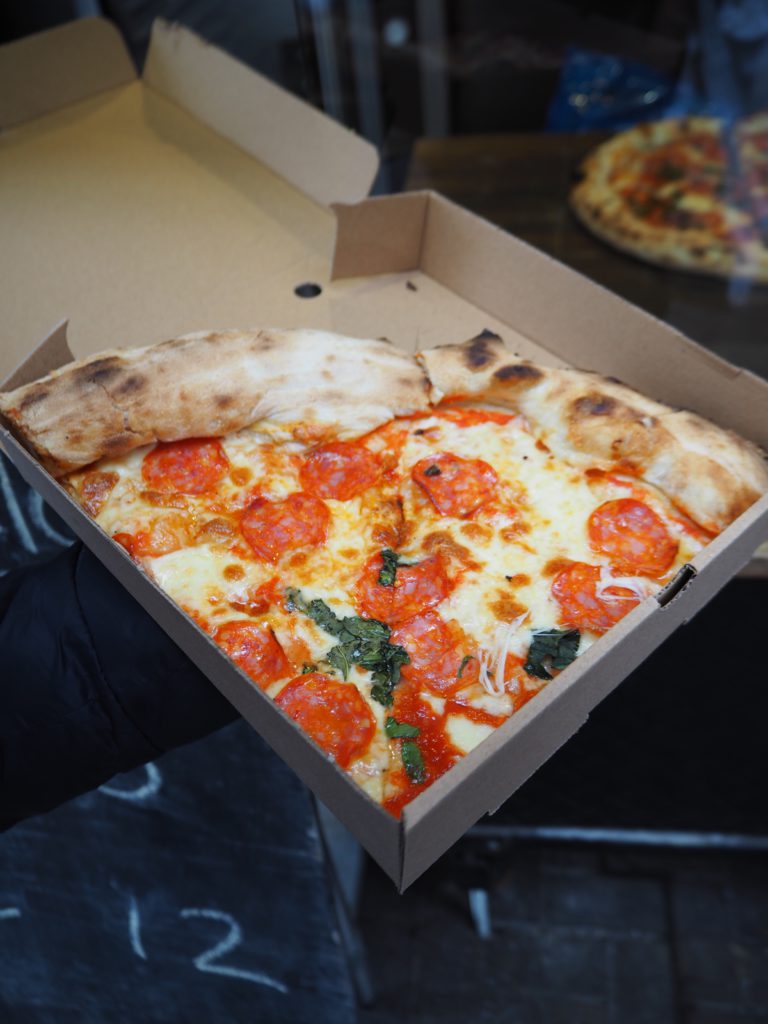 Biga (a rude Italian word we'll leave you to look up if you wish to) dough is a type of Italian sourdough that uses baker's yeast instead of wild yeast, allowing for a longer dough fermentation period (72hrs minimum). This technique results in a lighter, crunchier crust than traditional sourdough, which can sometimes be a little chewy and flat. Sebastian's obsession with dough-making is a craft he has worked hard at, and it shows.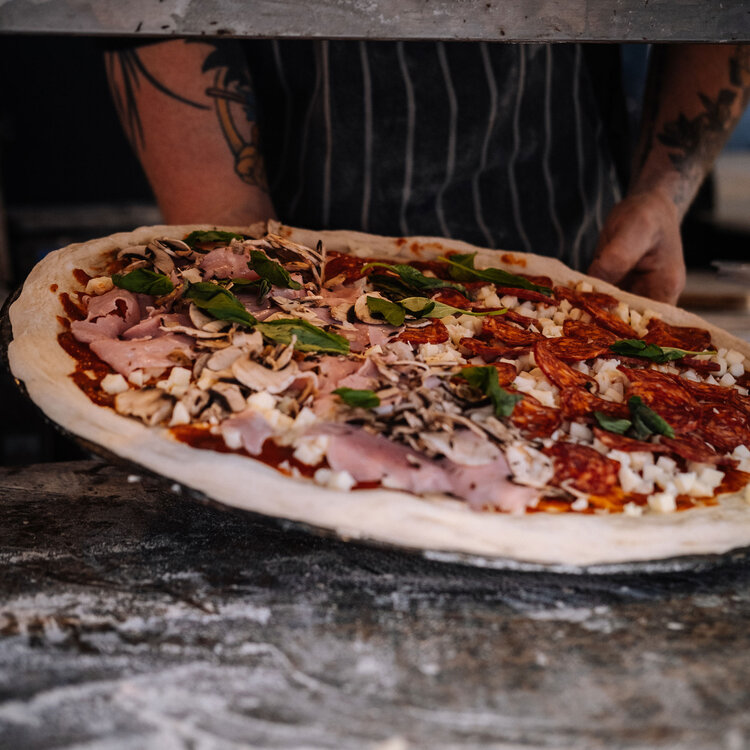 There's no single speciality pizza at Breadstall; the magic really is all in that deliciously light and crisp base. While they offer a range of toppings, including spicy spianata, goats cheese with vegetables, beef ragu with mushrooms, and fennel pork sausage, most customers opt for the classics, like a margherita, pepperoni or ham and mushrooms.
Sebastian jokes, "I have other stuff in my repertoire, and sometimes I feel like a piano bar performer where everyone just asks me to play 'My Way' all the time. I did a collab with a very talented Ooni Ambassador called @pizzarosha — who's Iranian but based in Germany — and her combos are so fresh and interesting. But I'm very into making my dough the best it can be, so it's a bit like getting a really good baguette, where all you want to put in it is something simple that won't overshadow the bread, like a good piece of ham or some nice cheese."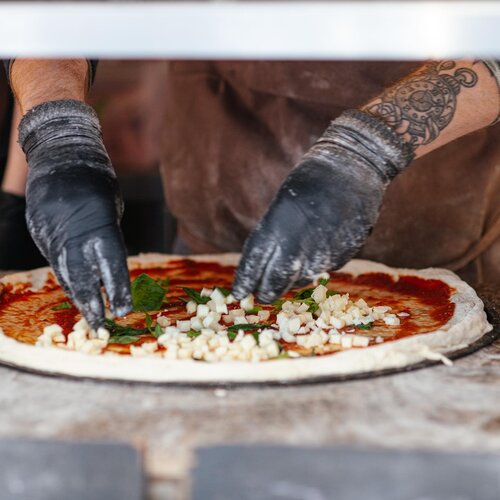 When asked about the measure of a good pizza, Sebastian uses a great analogy: "I think for any pizzeria, the margherita is the one that showcases all its talents and doesn't let you hide behind any gimmicks. The dough, the sauce, the quality of the cheese, the deftness of getting the ratios of all that right… it's like the little black dress of pizzas. You can have a £500 little black dress and a £50 one and on the face of it, they both look the same, but the cut, the fabric, or the build quality will always show."
While the pizza is clearly popular with the locals, there have been challenges along the way. "I never set out to make so much pizza, and right now at the weekends we literally can't make any more than we already do. And because we're a stall, all the gas, water, etc. has to be brought in." However, Sebastian reflects, "making dough outside, with all the constantly changing conditions that involves, has made me a much better dough man than if I'd learned the craft in a more constant environment."
The move from selling bread to making pizza does at times raise a few teasing eyebrows. "We don't sell bread anymore and I still get a few people doing the whole 'but you're called Breadstall!' thing. When I decided to concentrate on pizza, I did consider a whole name change to something more pizza-centric, but 25 years is a long time being Breadstall. I've seen youngsters as customers become parents, and now their kids are customers. It's a bit of an institution now. So it's Breadstall Pizza."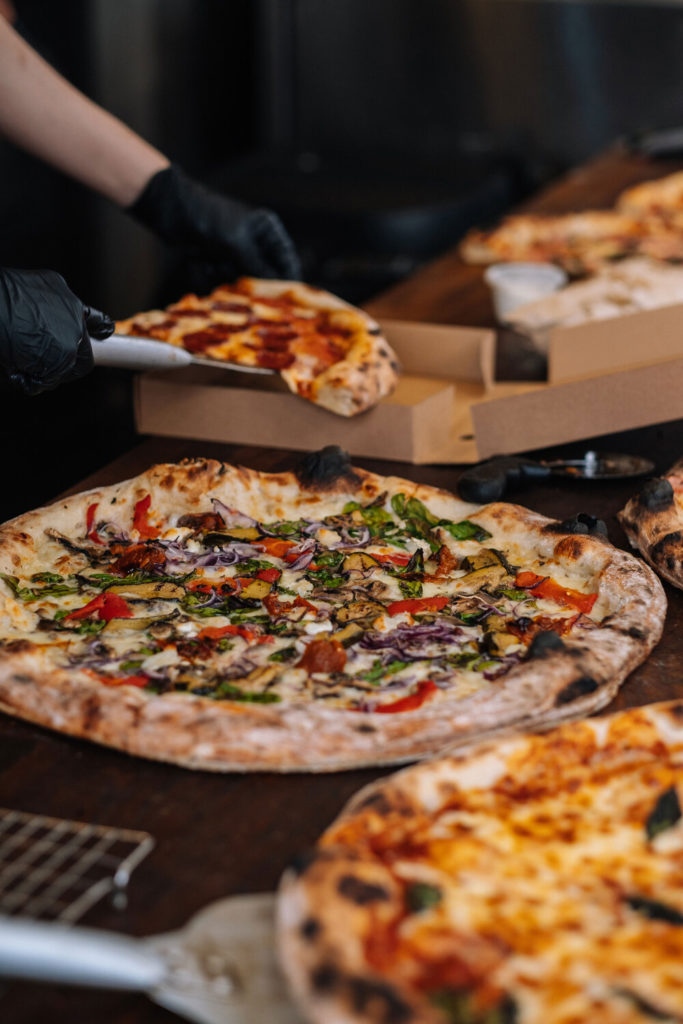 After 25 years of creating an array of mouth-watering foods, we asked Sebastian what he'd like to see next for Breadstall: "I'd like to have a dough kitchen in a bricks and mortar spot nearby. I've got my eye on somewhere, but it's early days. You'll be able to come in and have a slice at a table and maybe a beer and watch the dough being made right there next to you. It'll be great."
Checkout Breadstall here: https://www.breadstall.com/