With a million-and-one decisions to be made as an independent food entrepreneur we know that sometimes a few pointers can save a lot of time. As part of our blog series to help small vendors, we've teamed up with our friends at GM Packaging to help answer a few of the common questions vendors have around packaging choices.
Packaging Practicalities 🤔
I am vendor who has a relatively "wet" and hot meal (e.g. Japanese Ramen) what should I think about in terms of packaging design?
Wet products should be placed within a lined packaging solution, we would recommend something which is PE lined as this is recyclable and tolerant of heat.
With hot products, your packaging should have ventilation holes to prevent sweating in the material.
I want to minimise the space my packaging takes up at my stall what should I avoid/ go for?
Choosing flexible packaging which can be used for all or most of your food can prevent having to buy and store too many variations of packaging. Think of lids that are compatible with multiple sizes of pot, or drink cups that you can also use for fries.
Flat packaging can be great for those who do not have the storage space available however the time and effort needed to build-up the container should be taken into consideration.
My customers might want to reheat or microwave their food later – what do I need to think about here?
We would recommend the clear PP plastic microwave containers as they are recyclable and specifically made for food to be reheated in.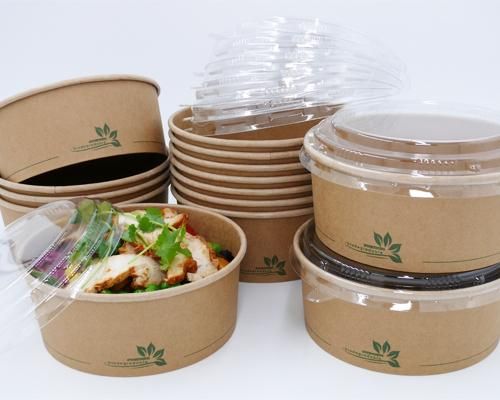 Standing out from the Crowd ⭐️
Can I display my branding on packaging?
You can print on almost any type of packaging (subject to minimum order quanities). Packaging materials such as Kraft, Paper and greaseproof are some of the 'easier' to print and have smaller order quantities whereas items such as a plastic salad box can become a little more difficult.
One thing to keep in mind when choosing colours for your printing design is the contrast against the packaging – usually either white, or Kraft (brown).
What is the smallest print runs you can typically accommodate for packaging runs? What's the lead time on print runs?
Print runs differ depending on the product you are interested in customising. For example: we can produce Coffee Cups and Ice cream tubs for a minimum order of 10-15,000 and printed greaseproof paper 2000 sheets.
Other packaging items are roughly a 25,000 minimum order quantity.
Lead times vary this would differ depending on the product, they can be anything from 4-12 weeks.
How else can I use packaging to make my business stand out?
If you don't want to commit to fully branded containers, you could order branded stickers (with low minimum quantities). In the same vein as self-assembled packaging, keep in mind that affixing stickers to hundreds of containers will take some time
Think about what your customers will be transporting your food or drinks with. We stock bags including; paper handle takeaway carriers, block bottom grab bags, plastic carrier bags, paper sandwich bags/wedges and more. All of which are customisable with your branding.
You can also provide branded paper napkins, which come in a range of material qualities and colour choices.
I want to make environmentally-conscious packaging choices, what advice do you have here?
There are many different types of materials available to choose from, when it comes to trying to choose the material that is most green can depend on you as a vendor and how you expect the materials will be disposed of once used. Many people immediately assume choosing something which is 'compostable' such as sugarcane, pulp or PLA is the best option and the most 'Green' however these are only 'green' if they are correctly disposed of in an industrial composting facility. Whereas on the other hand people assume foil and plastic are not 'green' but this is incorrect if they are correctly placed in recycling then this can be a green option. In contrast, when it comes to the more 'traditional' polystyrene this in no way is 'green' as this cannot be recycled or composted.
Do you have any not-so-obvious tips when choosing packaging? (thinking outside of the box!)
Cupcakes in coffee cups, brownies in pizza boxes, sweets in smoothie cups, snack size fish and chips in Kraft cups, bigger portion fish and chips in pizza boxes, popcorn in crepe cones. We also have some packaging options for specific dishes, such as individual pizza slice trays or burger sleeves.
What else should I be thinking about in terms of my overall consumables' purchases?
We stock many other catering supplies suitable for food preparation, things like cling film, aluminium foil dispensers, cutter boxes and refill rolls, day dot stickers or food labels, blue roll and a range of various type of napkins.
---
Thanks to GM Packaging for helping us with these answers, you can check out all their products, they're based in the UK love helping independent vendors find the right packaging for them.
View this post on Instagram